Estimated read time: 4-5 minutes
This archived news story is available only for your personal, non-commercial use. Information in the story may be outdated or superseded by additional information. Reading or replaying the story in its archived form does not constitute a republication of the story.
Lori Prichard reporting
Produced by Kelly JustWhen you quit a job, it normally means goodbye paycheck, goodbye health insurance. That may not be the case if you work for the Garfield County School District. KSL 5 News exposes the unusual contract involving this southern Utah school district. The deal has residents demanding answers and has launched a state auditor's investigation.
A copy of that contract was faxed to KSL 5 News by a concerned citizen. The terms are unlike any we've ever seen.
Leland Pollack owns the corner Chevron in Panguitch. The station doubles as a town hub, where people gather daily to talk current events. The contract between the district and its former business administrator came as a complete surprise to this taxpayer.
"When it comes to money," said Pollack, "I'd like to know."
According to the contract, the two-year deal began Jan. 1, 2009. There is a $68,000-per-year salary, plus medical insurance, sick leave and a retirement fund plan. It is pretty standard stuff until you see page two. There, the contract states the business administrator can collect his full two years of pay without actually working for two years. The contract says he can quit early and still collect "...all of the aggregate salary he would have earned...." Then, the contract promises "...family health, dental, accident and life insurance coverage..." to the business administrator and his wife after he quits. These benefits last until both become eligible for Medicare at age 65. Barely six months into the job, business administrator Justin Baugh took advantage of the deal. He resigned and demanded the district pay up.
How did Pollack react to those terms? He told KSL 5 News, "It seems a little bit like it should be looked into."
Parents picking up kids outside Panguitch Elementary gave a similar response. It is the first they had heard about the pricey promises being made with their tax dollars.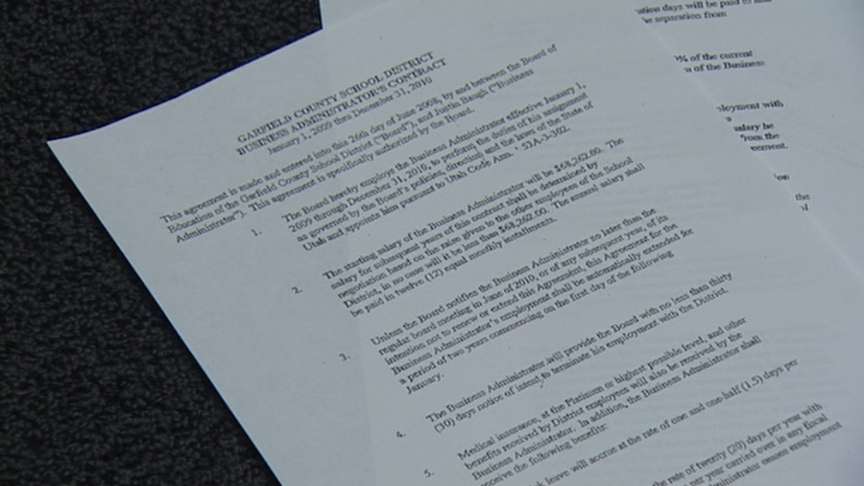 KSL 5 News investigative reporter Lori Prichard showed people the contract and explained that Baugh no longer works for the school district.
"I don't think that's right," said Garfield County resident Danny Fletcher.
Another resident, who wanted to remain anonymous said, "I think the teachers should get the money and not somebody else that's willing to bail out."
KSL 5 News wanted to hear directly from the district and went straight to Garfield County School District's Acting Superintendent Janice Hatch.
"Right now we are involved in an active investigation," said Hatch, "and so we really have no comment on that contract."
It turns out that both the county attorney and the state auditor are taking a closer look at the district. Because of that, Hatch wouldn't give KSL 5 News much insight on the situation.
Prichard did ask Hatch, "Does your contract read like that?"
Hatch replied, "No, my contract does not read like that."
The current school board president claims Justin Baugh's contract should not read like that either, that the document is not valid. By phone, Ken Platt told KSL 5 News the district discovered the deal after Baugh left and was "quite surprised." He claims someone changed it without board approval. But you can see this contract was signed by the former school board president and the district superintendent. So is this the contract everyone signed? Or did someone change the terms along the way? Until that question can be answered, there is some good news for taxpayers. Platt says right now, the district is "not honoring" the contract.
Utah State Auditor Auston Johnson confirmed that his office is investigating.
"The contract came up as a question in the things that we're looking at," said Johnson.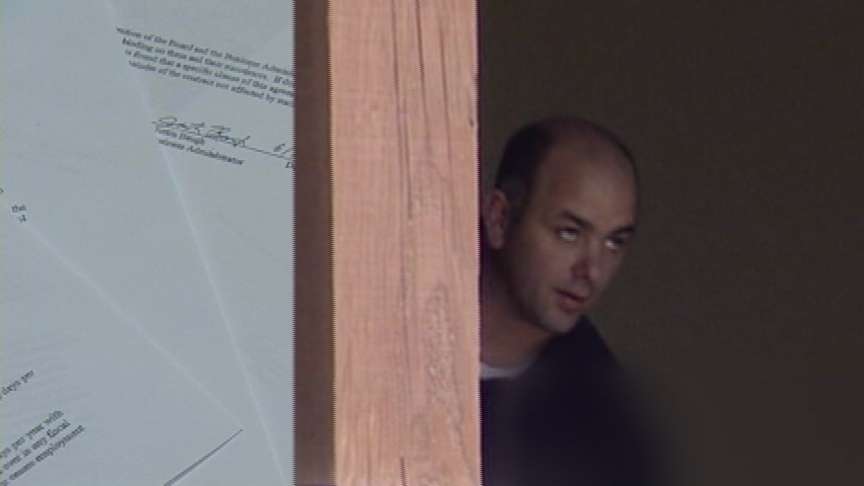 Like the school district, he won't talk a lot about an ongoing case, but says his office does need to examine the Garfield County School District's entire financial situation.
"There's enough here that we want to find, get to the bottom of it," said Johnson. "And I don't know what that is yet."
KSL 5 News tried to get to the bottom of things by going directly to the former administrator, to give him a chance to address the contract.
Lori Prichard told Baugh, "They are insinuating that you changed the contract and that's why the state is investigating."
Baugh replied, "I don't have any comment. I'm not going to comment on that."
The state auditor's investigation is expected to take several months. KSL 5 will let you know the results.
This story is just the first in a series of reports we will bring you from time to time, called "Following Your Money". Our plan is to be more aggressive investigating government. We want to hold elected officials and bureaucrats responsible for how they spend your money. And we're asking for your help. To pass along problems and stories we might not know about send an e-mail to iteam@ksl.com.
×
Related links
Most recent Utah stories