Estimated read time: 3-4 minutes

This archived news story is available only for your personal, non-commercial use. Information in the story may be outdated or superseded by additional information. Reading or replaying the story in its archived form does not constitute a republication of the story.

SALT LAKE CITY -- Some Salt Lake City residents are furious about a 200 percent increase in parking fees. But it's only a few thousand selected residents who are affected: those who pay for the privilege of parking in front of their own homes.

There are signs in certain parts of the city which place restrictions on parking, except for cars that have a special residential sticker. But for homeowners who need one of those permits to park at their home, the city just tripled the cost.

The home Helene Bloomenthal has lived in for 24 of her 82 years has no driveway or garage. She pays for a special permit to park at all hours in front of her own home. And the fee just went up, from $12 a year to $36.

**Goals of Salt Lake City permit parking**

1. Reduce potentially hazardous traffic conditions and congestion resulting from long-term parking of commuter motor vehicles in the designated area. 2. Protect the area from polluted air, excessive noise and refuse caused by entry and exit of commuter vehicles. 3. Protect the residents of the area from unreasonable burdens in obtaining parking near their residences and in gaining access to their residences and/or property. 4. Preserve the safety of children, pedestrians and in general promote traffic safety, good order and alleviate hardships caused by parking congestion often resulting in strained interpersonal relationships. -[*Salt Lake City Transportation Division*](http://www.slcgov.com/transportation/Parking/default.htm)

"I want to know why?" Bloomenthal said. "There's a principal involved. How dare they increase us? For what? What do they do for us?"

She lives in one of nine zones designated by the city as "heavily impacted" by commuter parking. They include near the Capitol and LDS Hospital, the University of Utah and Judge High, Westminster College and the baseball stadium.

Salt Lake City Transportation Director Tim Harpst said, "Some residential areas are so close to major traffic generators that the street is overwhelmed with commuters parking on the street."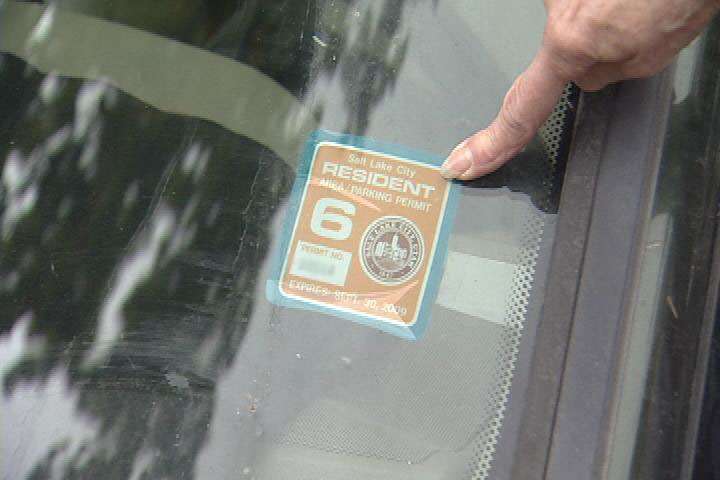 The zones have parking restrictions to discourage non-residents. Residents pay to be exempt from the restrictions.
"Really, the people who are living there are getting a much higher benefit and flexibility in parking than anyone else," Harpst said. "And so, for that, there's a fee involved."
"We pay taxes," Bloomenthal said. "We pay to have our car registered. How many more things are going to be placed upon us?"
Harpst said the permits are strictly voluntary. Not only that, the neighborhoods themselves indicated willingness years ago to have the zones created. "People make choices to live in these areas, too," Harpst said.
In the latest fiscal year, the city raised the fee for the first time in 24 years because a study showed the permit program was losing money. According to Harpst, $36 a permit is the break-even rate.
He also said residents not only get a permit for their car, they also get 2 visitor/guest passes.
Bloomenthal has helped organize a petition drive to reduce the fee or eliminate the permit. She claims the city tried to sneak the increase through without notice.
The city council did hold public hearings on the budget, and the fee increase was included, but many residents may not have realized it.
------
Story compiled with contributions from John Hollenhorst and Marc Giauque.
×
Related links
Most recent Utah stories