Estimated read time: 3-4 minutes
This archived news story is available only for your personal, non-commercial use. Information in the story may be outdated or superseded by additional information. Reading or replaying the story in its archived form does not constitute a republication of the story.
HILL AIR FORCE BASE -- A security breach at Hill Air Force Base Wednesday morning has authorities trying to figure out how and why a man forced his way onto the base and stayed there for hours.
Police say the man pulled up to the south gate entrance at about 4 a.m. Lt. Colonel Tony Maisonet, chief of security forces for the 75th Security Forces Squadron, said, "He was stopped by our guard, who asked him for his identification."
When the man couldn't show identification, the guard told him to wait a second so he could talk to a supervisor. That's when the man took off, flooring his SUV straight into restraining barriers, which were activated by the guard.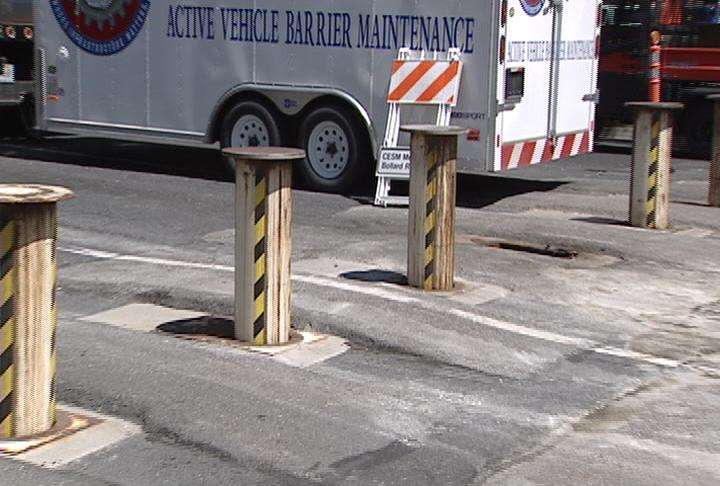 When his car didn't make it through, he took off again, only this time on foot.
"He shows up at a restricted area, manned by someone who is not an armed guard or anything, checks the ID. That individual says 'Yea, you don't belong here.' He takes off again," Maisonet said.
Mobile patrols started searching the base because the gate guards couldn't leave their post.
"Hill is a pretty big base, and there are a lot of places one individual can hide effectively. Because it happened so early in the morning, we think he might have just decided to hide out in an area for a while," Maisonet said.
He went on to say, "We crowd around our aircraft when something like this happens to make sure he wasn't there."
They finally found him hours later, huddled near a display aircraft on the east side of the base near the golf course.
"He was injured, so he kind of just took a break," Maisonet said. "He was just hiding there."
Base police detained him and started the interview process, but they still aren't releasing details about who he is or what his motive may have been.
"We did find all kinds of identification in there, false identification," Maisonet said. "It appears he's obtained some other people's IDs, Social Security numbers, ID cards."
They don't believe he was planning anything sinister. Maisonet said, "No, no, not at this time. We've exhausted all those possibilities, and all those scenarios in our heads based on what he had."
He added, "I'm not sure of his issue right now."
The incident is still under investigation.
Hill Air Force Base military police plan turned he man over to an outside law enforcement agency Wednesday night.
------
Story compiled with contributions from Courtney Orton, Jed Boal, Marc Giauque and Andrew Adams.
×
Most recent Utah stories
More stories you may be interested in