Estimated read time: 2-3 minutes
This archived news story is available only for your personal, non-commercial use. Information in the story may be outdated or superseded by additional information. Reading or replaying the story in its archived form does not constitute a republication of the story.
SALT LAKE CITY -- A new survey out of Creighton University shows the economy in the Mountain States will be on the rebound in the last half of the year.
Every year, they ask managers, purchasers and the like questions about growth, needs, and employment. According to the answers for July, the survey suggests Utah's economy is in recovery.
Utah's overall index, or business conditions index, rose from 40.03 percent in June to 52.6 percent in July. Here's how the Business Conditions Index works: anything below 50 percent is leaning toward a recession and anything above shows the economy is strengthening.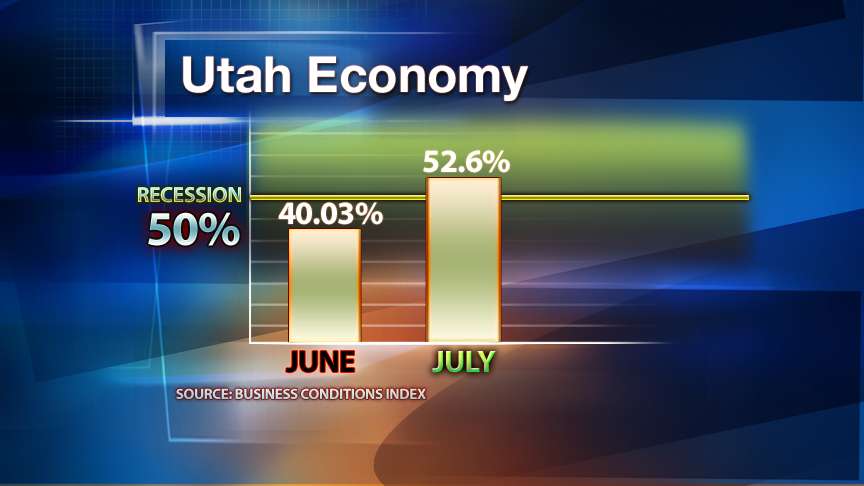 Mark Knold, with the Utah Department of Workforce Services, says, "They're saying for the second half of year the economy is improving and going to pick up."

He says while the numbers are positive for Utah's economy, it doesn't mean unemployment in the state will drop. "I'm thinking job gains won't come until the first half of next year," Knold says.

He says that's because job growth typically doesn't happen until well after the economy has rebounded, and this year, job losses are at a historic rate.

Knold says, "For the year of 2009, we're looking at job losses around 5 percent, that's about 64,000 jobs that would have been lost in state of Utah."

**Mountain States Economic July Survey Highlights**

• Business conditions index climbs above growth neutral • Region loses job. Expect more losses, but at slower rate • Inflationary pressures (cost of raw materials and supplies) elevated • Approximately 48 percent of firms expect more layoffs in 2009 *-[Creighton University](http://www.creighton.edu/business/economicoutlook/)*

But if the numbers from the index are correct, our economy will start the rebound, and those with the Governor's office of Economic Affairs say they believe it will. Though no one from the office could talk to us on camera, they say they watch this index closely, and they too anticipate positive growth in the next six to 12 months.

They also point out that Utah has weathered the economic storm as good as or better than any other state, and the health care and energy industries continue to grow.

And even though Knold says we've never seen job losses like that outside of the Great Depression time period, compared to other states included in the Business Conditions Index, Utah's unemployment rate doesn't look that bad.

E-mail: abutterfield@ksl.com

×
Related links
Most recent Utah stories