Estimated read time: 1-2 minutes
This archived news story is available only for your personal, non-commercial use. Information in the story may be outdated or superseded by additional information. Reading or replaying the story in its archived form does not constitute a republication of the story.
WEST JORDAN -- The torching of a South Jordan police officer's patrol car is being labeled as arson. It happened early Thursday morning, and investigators are now following leads, hoping to put someone behind bars soon.
Fire investigators say they have several witness accounts they're looking into. What they don't know is why somebody targeted this patrol car.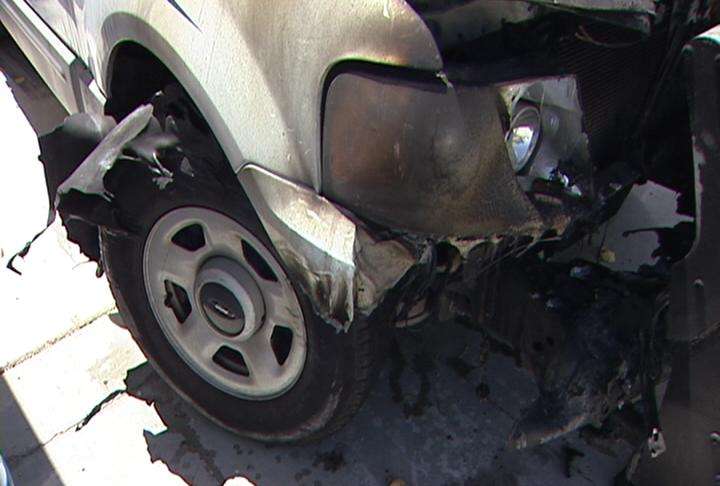 It happened in West Jordan near 5200 W. Saguaro Drive, in front of the officer's home, around 3 a.m. The officer is actually a member of the South Jordan Police Department's K-9 unit.
Unified Fire Authority was the first agency to respond. Firefighters were able to put out the flames quickly, but not before much of the front end was damaged.
"It's a brazen act that causes some concern because it puts people in real danger. And any time we have that scenario that plays out, we take it very seriously," said UFA Capt. Clint Smith.
Fire investigators found accelerants on the front of the car. They believe this fire was set intentionally, and they're following information from witnesses.
The West Jordan Fire Department is now investigating. Fire officials say they're unaware of any other incident in the area similar to this one. They're hoping more people will come forward with information.
Investigators say this is not just a crime involving a vehicle, this is a dangerous attack on public property on public authority and they really want to catch whoever is responsible.
If you have any information on who may be involved in the arson, contact the West Jordan Fire Department at 801-840-4000.
E-mail: wjohnson@ksl.com
×
Most recent Utah stories