Estimated read time: 3-4 minutes

This archived news story is available only for your personal, non-commercial use. Information in the story may be outdated or superseded by additional information. Reading or replaying the story in its archived form does not constitute a republication of the story.

UTAH COUNTY -- Last weekend's deadly landslide in Logan prompted some Utah County residents to contact KSL News about a canal in their backyard.

The people are frustrated because a major safety threat has still not been fixed almost five years after Congress supposedly addressed the problem.

At least a dozen people, mostly children, have drowned in the so-called Murdock Canal over the years. Officially called the Provo Reservoir Canal, it runs 21 miles through old farm country, now urban neighborhoods, between Provo Canyon and Point of the Mountain.

**What is the Provo Reservoir Canal?** ![](http://media.bonnint.net/slc/1281/128146/12814630.jpg)

The Provo Reservoir Canal runs from the Murdock Diversion at the mouth of Provo Canyon 23 miles north to the Jordan Narrows at the Utah County/Salt Lake County line. The canal is an earthen canal with some concrete lined sections. It has a bottom width of between 6 and 8 feet. -*Provo River Water Users Assoc.*

When Julie Jensen considered moving next to it with her five kids last year, she was reassured the canal would soon be covered up. "They said, 'Yes, the funding had been in place.' It was supposed to start this past winter," Jensen said.

But after buying the house in American Fork and moving in, she's miffed that construction work still hasn't begun.

"I can't say for sure I wouldn't have bought the house," she said. "But that took away all the concerns I had."

It was back in 2004 that Congress passed a bill to make it happen. The canal would be buried, with a recreation trail on top.

At the time, officials said it would become a great asset to communities along it's length.

"Effectively, a linear park," one official called in 2004.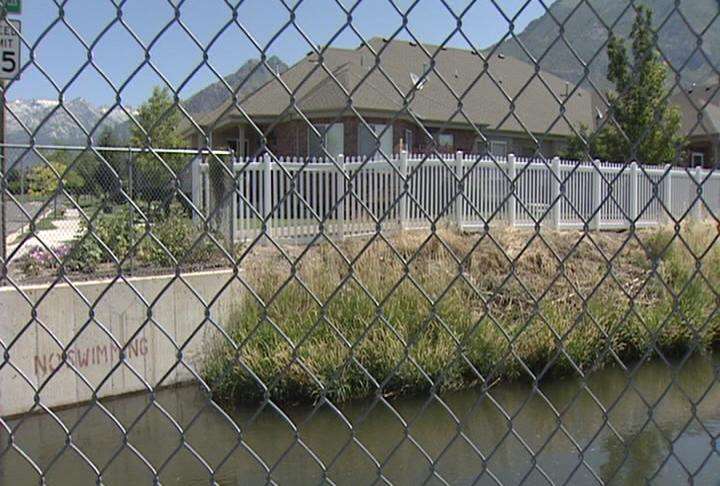 Almost five years later, five water agencies are still negotiating a complex array of agreements and contracts.
"Just lots of tiny details," said Jeff Budge, of the the Provo River Water Users Association. "It takes a while to get everyone talking on the same page and agreeing to how everything's going to function."
Bruce Barrett, of the U.S. Bureau of Reclamation, said, "Well, for everyone that wants to see it happen quick, it's frustrating. But making sure that it's done right, and that it's complete, and that it serves the needs of all parties for the future, is paramount."
Another concern of the canal's neighbors is that even where it's fenced there are hundreds of gates that are typically kept unlocked and open during the irrigating season.
Canal officials say that's to provide access to safety inspectors three times daily.
"Three sets of eyes, every day," Barrett said.
"To do the work that they need to do, and drive the canal as much and as often as they do, the gates do need to be open," Budge added.
But the open invitation of kids to moving water, after years of promises, is a huge frustration to neighbors.
The five agencies still haven't formally voted to appropriate the money -- $150 million -- but officials say they're working hard and meeting every two weeks to get the agreements completed.
They hope to begin preliminary utility work this fall and finish the project by 2013.
E-mail: jhollenhorst@ksl.com
×
Related stories
Most recent Utah stories