Estimated read time: 2-3 minutes
This archived news story is available only for your personal, non-commercial use. Information in the story may be outdated or superseded by additional information. Reading or replaying the story in its archived form does not constitute a republication of the story.
SALT LAKE CITY -- Die-hard Ute fans camped outside the University of Utah Bookstore overnight to get their hands on a one-of-a-kind piece of real estate -- a piece of the old artificial turf that was pulled up and replaced in Rice Eccles Stadium.
The school is selling the old turf from Rice-Eccles Stadium, hallowed ground that contains the blood, sweat and tears of the 2004 and 2008 seasons and a lot of other memories.
The long line of people wearing red outside the university bookstore gave it away that the turf sale was on.
U of U Bookstore Marketing Director Mike Cherry says as many as 150 people lined up well before 8 a.m. Wednesday for a chance at the not-so-dirt-cheap deal. About a dozen had even camped out overnight.
Ryan Lawrence showed up outside the bookstore Tuesday around 6 p.m. and decided to camp out.
The Ute fan says, "I've been called crazy for a lot of stuff we do for Ute stuff."
Jeff Webster and his family weren't too far behind Lawrence. Webster says some family members slept out in the car.
"We slept on the cement," he said.
The boxes are designed to be keepsakes. "You get a piece of turf that's about 12 inches wide by about 10 inches tall," says Cherry. "It comes in a nice, commemorative box, wooden box. It's got a letter of authenticity sticker that's on the inside lid of the box. It's got two little paragraphs about the undefeated seasons. It is signed by the director of Rice-Eccles Stadium."
It also has an embossed seal to prevent counterfeiting.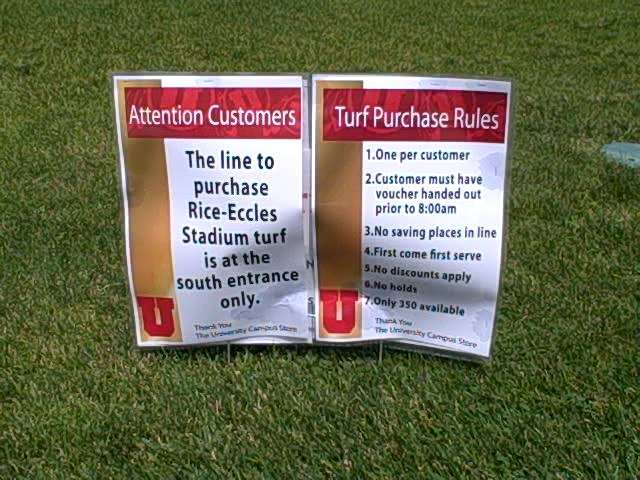 There were only 450 made but only 350 of those were available to the public. The catch? There is a limit of one per person.
Cherry said the intent was to create a buzz.
"We've tried to keep this as close to a collector's item as we possibly can," he said.
And watching the Ute fans being handed their boxes Wednesday, it was apparent that they were sold.
Katie Steenblik told us, "I got a good one!"
"Dude perfect one. It's exactly what I wanted," said Brock Reece.
At $99 a piece, the Ute fans we spoke with thought they were getting a piece of history and a screaming deal.
The bookstore did not sell out immediately. At 1:00 Wednesday afternoon, they put the turf up for sale online.
------
Compiled with information from Becky Bruce and Lori Prichard
×
Photos
Related stories
Most recent Utah stories