Estimated read time: 2-3 minutes
This archived news story is available only for your personal, non-commercial use. Information in the story may be outdated or superseded by additional information. Reading or replaying the story in its archived form does not constitute a republication of the story.
We are destroying the oceans and threatening our own survival. That was the warning today from a scientist who's considered a legend in deep-sea exploring.
Dr. Sylvia Earle is in town for some lectures and a fundraiser at the Living Planet Aquarium in Sandy. Earle is guest of honor at a private party tonight and an aquarium fundraiser tomorrow night. She's the so-called "explorer in residence" for National Geographic.
If you think her worries don't concern us in landlocked Utah, she says, think again. Earle has gone deeper than anyone else ever has in a diving suit. She's explored undersea for almost six decades.
She says, "I've seen changes that I feel driven to tell people about." She's worried about an endangered species: humans. She says our life-support system is in trouble."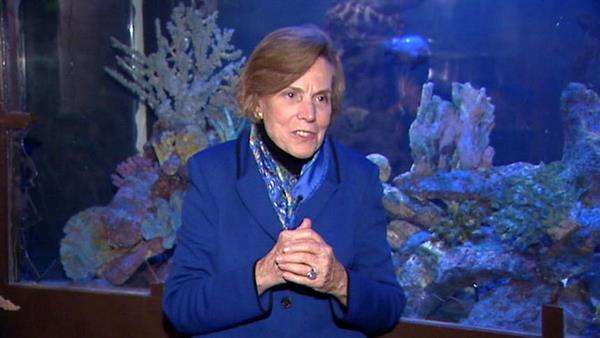 She says the oceans regulate the planet's temperatures and keep Earth's ecosystem in balance. "Most of the oxygen that we breathe comes from the ocean, little green things in the ocean," explains Earle.
Even those of us hundreds of miles from the coast depend on healthy oceans. She says, "Every drop you drink, every breath you take, you're connected to the ocean."
But rivers are carrying vast amounts of fertilizers, chemicals and plastics into the sea. She says we are changing the chemistry of the ocean.
Extra carbon in air pollution is warming the planet and making oceans more acidic. She says, "Coral reefs may dissolve. That's one of the big concerns. The backbones of little fish, as they're growing up, they won't get to be big fish."
Our appetites are wiping out existing big fish species, 90 percent have disappeared so far. She explains, "They're just missing in action. We've consumed them."
If this generation doesn't act, she says, it may be too late. She asks, "How much of your heart do you need to stay alive? We need to protect the blue part of the planet."
She's stopped eating fish and recommends that for others. More broadly, she says people need to take personal responsibility through sustainable living practices, and political leaders need to take action to protect air and water.
If you want more on those issues, check the related links on the right of the story.
E-mail: hollenhorst@ksl.com
×
Related links
Most recent Features stories