Estimated read time: 2-3 minutes
This archived news story is available only for your personal, non-commercial use. Information in the story may be outdated or superseded by additional information. Reading or replaying the story in its archived form does not constitute a republication of the story.
SALT LAKE CITY -- Some students at the University of Utah formed a new group to try to stop their peers from committing suicide. They call it "Talk. I'll Listen."
You can't miss the sign in front of the Phi Delta Theta House at the University of Utah. "We wanted colors people could see," said Arian Mohajer.
Mohajer is a member of the "Talk. I'll Listen." group. She and others in the group hope the sign, and their shirts, gets people's attention.
"If people are having a bad day, they can easily spot a pink or blue shirt, you know?" Mohajer said. "You're promising when you wear the shirt you are a pure outlet for that day."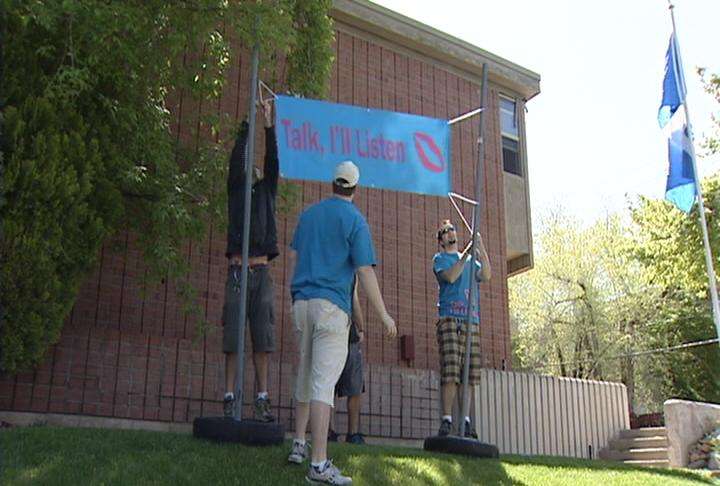 "Someone who doesn't have a friend can come up and talk to us," explained group member Armin Nazarina.
The group formed after their friend Christopher Owens killed himself.
"He was always the one who made us laugh," Mohajer said.
"We kinda figured it was 'cause he didn't have anyone to talk too, so we want to let people know there's somebody to talk to no matter what," Nazarina said.
The group is new and is recognized by the university. There are about 25 members who have completed training and are ready to listen.
"Today there's people who just do the talk, talk, talk; listening is an important part of communication that I think sometimes we lose," said group member Amanda Ermer.
Now the group just needs to get the word out about what they are, and they're hoping to raise money so that if a peer does need professional counseling, the group can help pay for it.
Group members say if they save just one life, then it's all worth it. "I know we can really make a difference," Mohajer said.
Once the word gets out about the group, they hope fellow students may feel more comfortable talking to a peer.
E-mail: abutterfield@ksl.com
×
Most recent Utah stories