Estimated read time: 1-2 minutes
This archived news story is available only for your personal, non-commercial use. Information in the story may be outdated or superseded by additional information. Reading or replaying the story in its archived form does not constitute a republication of the story.
OGDEN -- Several students were dumping out garbage cans on campus at Weber State University Tuesday, and what they found made a few of the students upset.
Chris Bentley is not a garbage man at Weber State University, but he still has a good reason to be carrying around garbage cans. He's the president of the Environmental Club at Weber State.
He and fellow members wanted to show something to students. "We kicked over some garbage cans, and we separate the trash from the true recyclable materials," he explained.
He said a lot of the items in the trash cans can easily be recycled. "Especially on campus, there are recycling containers all over, and usually they are right next to garbage cans, but people just don't have it in their mindset yet," he said.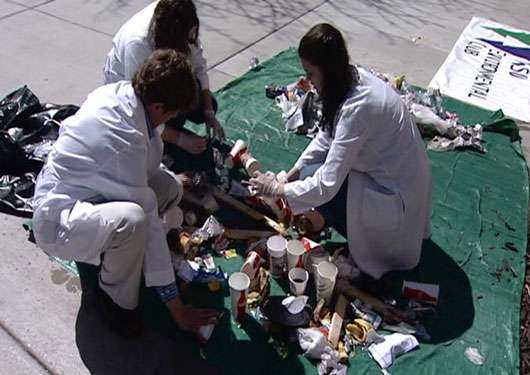 The show of separating garbage was to get people to stop and notice and consider what they throw away.
"It's silly to fill our landfills with materials that can actually be reused and reclaimed," he said. "Seventy percent of our waste can actually be recycled, but right now we are only recycling about 30 percent, so there's room to improve."
Bentley hopes if he can get people to recycle, it will lead to other earth-friendly habits. He said, "They might think about other things as well, like possibly carpooling or finding other alternative transportation."
E-mail: abutterfield@ksl.com
×
Most recent Utah stories