Estimated read time: 2-3 minutes
This archived news story is available only for your personal, non-commercial use. Information in the story may be outdated or superseded by additional information. Reading or replaying the story in its archived form does not constitute a republication of the story.
SALT LAKE CITY -- Many Utahns who would never think of drinking and driving admit they've fallen asleep at the wheel. That finding and others have prompted a new campaign to open our eyes about the hazards of drowsy driving.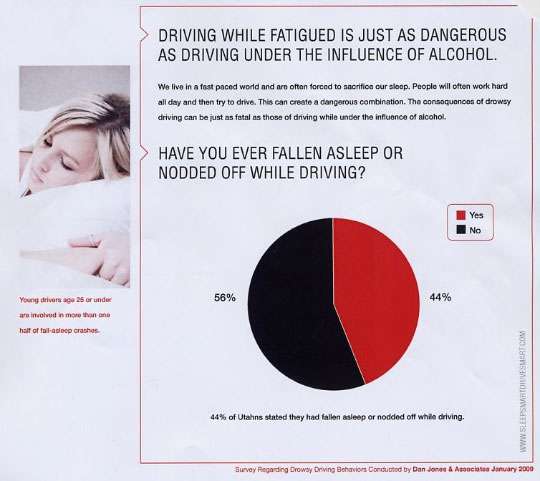 New research shows nearly half -- 44 percent -- of Utah drivers admit to falling asleep behind the wheel. A convincing perspective of the problem can be seen from a deputy dash-cam that was rolling when an approaching driver fell asleep in northern Utah.
Utah Highway Patrol Lt. Lee Perry explains: "[He] loses control, tries to regain control, he comes through the median. He's carrying a lot of weight, so he rolls three times. He yanks the wheel so hard, and that's what happens when somebody's fatigued or tired."
Perry continued, "I'm looking at the exact same driving pattern for a drunk driver that I find in fatigued drivers."
That's the biggest misperception a coalition of safety groups wants to clear up: drunk driving and drowsy driving are equally fatal.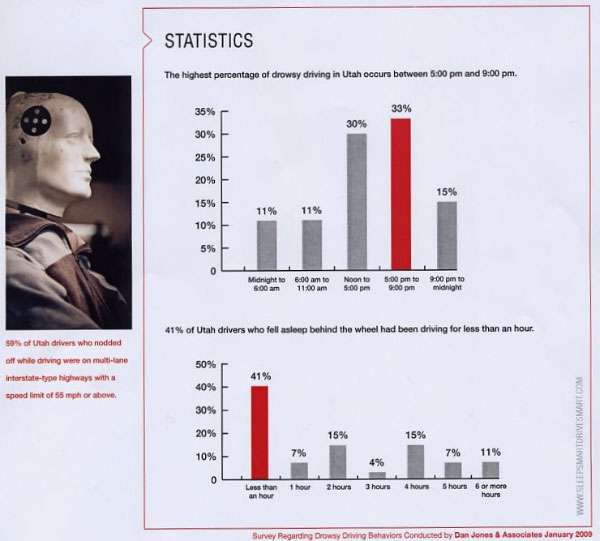 Another is the time they occur. It's not overnight, as some might think: 3:00 in the afternoon is considered prime time.
"We know that the blood pressure peaks twice a day and adrenaline peaks twice a day, and this is after the afternoon peak," explained Dr. David Jack, with the Med One Sleep Lab.
People think when they get tired, they can simply roll down the window, turn up the radio or pop some gum. Doctors say that will work for a few minutes, then you're often worse than before.
"What you're doing is stimulating your adrenaline, and that adrenaline wears out very quickly. And when it wears out, you're almost worse off than when you started," Jack said.
To help change attitudes, troopers have started cracking down on those they suspect or who admit to falling asleep. Rather than giving a warning, they'll issue a ticket, as they would in other serious offenses.
"We haven't gotten the message out enough that driving tired is every bit as dangerous," Perry said.
To Stay Safe, when you're tired, switch drivers or take a short nap. Don't try to keep driving. To learn more about the Sleep Smart, Drive Smart campaign, CLICK HERE.
E-mail: dwimmer@ksl.com
×
Related links
Most recent Utah stories