Estimated read time: 1-2 minutes
This archived news story is available only for your personal, non-commercial use. Information in the story may be outdated or superseded by additional information. Reading or replaying the story in its archived form does not constitute a republication of the story.
As the economy slid last year, the Utah Highway Patrol did its part to slow down the business of illegal drugs: State troopers took plenty of profit out of the drug pipeline that runs right through Utah.
Three interstates through Utah provide major pipelines for nationwide drug running, but state troopers regularly seize the goods. The Utah Department of Public Safety Criminal Interdiction Team made 134 busts in 2008 -- the best ever.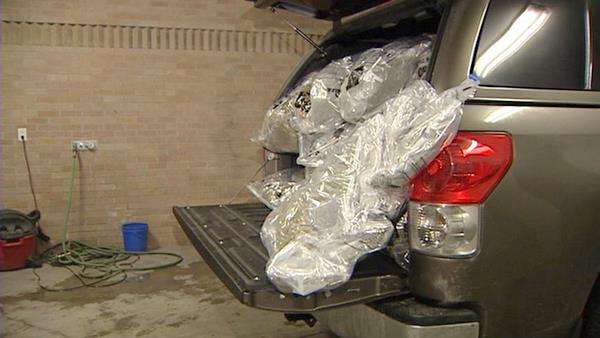 "I credit great training from our UHP training staff, as well as the officers taking a high-profile stance at looking beyond just the normal traffic stop," said UHP Lt. Chris Simmons
Ten troopers, specially trained to spot drug runners, work the known drug corridors of Interstate 15, Interstate 80, and Interstate 70.
"We saturate one area, concentrating on a high volume of traffic stops, and then they detect criminal behavior beyond that -- essentially, looking beyond that natural traffic stop," Simmons said.
They pull over a lot of cars for traffic violations and look for giveaway behavior. It's a numbers game.
2008 UHP Pipeline Seizures:- Marijuana -- 3,165 pounds, worth $9.6 million
Cocaine -- 50 pounds, worth $3.3 million
Heroin 2.15 pounds, worth $51,600
X 4.25 pounds, worth $85,000
Hash 3.6 pounds, worth $10,800
10 vehicles, worth $97,440
$871,572 in cash
Already this year, UHP has made a record 19 seizures in January. Last weekend, troopers busted a 56-year-old woman hauling 162 pounds of marijuana. "The last two years on I-80, we've made a significant impact on the marijuana harvest in northern California," Simmons said.
The drug team leader says he doesn't think there are more drugs rolling through the state, they're just using better training and tactics.
E-mail: jboal@ksl.com
×
Most recent Utah stories