Estimated read time: 4-5 minutes
SALT LAKE CITY — Utah's capital city officially ended up with more than 4 feet of snow throughout the meteorological winter, as the season wrapped up Tuesday.
Salt Lake City officially received 53.3 inches of snow during the months of December, January and February, according to National Weather Service data. Adding in October and November totals, the city has already received 56.4 inches of snow this water year, pushing this season's total above the normal of 51.9 inches.
In fact, this year's seasonal total is already the most snow the city has received since 69.9 inches of snow fell a decade ago, according to weather service records. But it still has a long way to go to match the record of 117.3 inches set during the 1951-1952 season.
Of course, the strongest snowfall levels have been in the mountains.
The weather service's official Alta station recorded nearly 31 feet of snow throughout the meteorological winter, boosting its seasonal total to a little more than 38½ feet. Alta Ski Area reports receiving 584 inches of snow by Wednesday afternoon, which is about 48½ feet. Brighton is the only resort snowier in North America, drawing 49 feet, according to KSL meteorologist Matt Johnson.
"They're having a hard time figuring out where to put all this snow at these mountain resorts," he said.
❄️As meteorological spring commences, here's a look at this winter season's snowfall statistics, hot off the press! The first graphic shows the snowfall this season (Oct 1 2022 through Feb 28 2023) across the contiguous U.S. pic.twitter.com/xnQP4Sallr

— NWS Weather Prediction Center (@NWSWPC) March 1, 2023
But the National Weather Climate Prediction Center posted a graphic of the water year so far to social media on Wednesday, noting that 10 to 40 feet of snow or more have already fallen in Utah's mountains since October. Most of the rest of Utah has already received multiple feet of snow, like Salt Lake City.
Utah's snowpack, the calculation of the water within the snow, benefited greatly from it. The statewide snowpack more than quintupled from 3.8 inches on Dec. 1 to 19.3 inches by the end of February, according to Natural Resources Conservation Service data.
It was a very snowy meteorological winter. So what's in store for meteorological spring?
A snowy March?
Spring is an important season for Utah because it's the wettest one for many parts of the state. Salt Lake City normally receives 5.73 inches of precipitation during March, April and May.
Wednesday's storm means meteorological spring did get off to a strong start. Utah typically continues to pack onto the mountain snowpack through early April; April 16 is also Salt Lake City's normal last day of snow.
Johnson said the rest of this week should be calm, aside from a small storm that passes through northern Utah on Friday morning. Yet the wintry activity is expected to return next week.
The Climate Prediction Center posted a notice Tuesday warning of increased probabilities for below-normal temperatures across the U.S. from March 8 through March 24, including Utah. Utah's strongest probability is at the beginning, where chances of below-normal temperatures range between 60% to 80% or more.
That said, Johnson explains that Utah is still in the midst of transitioning into a "mild, wet pattern" instead of the current "cold, wet pattern."
The center's outlook also notes Utah has a strong probability of having above-normal precipitation this month. Johnson adds that long-range forecasts indicate a potential for multiple atmospheric rivers to set up in March, which would keep the snow flowing.
Drying out in southern Utah?
The rest of the outlook isn't as clear for northern Utah, while the probability of drier and warmer conditions begins to build up in central and southern Utah through April and May.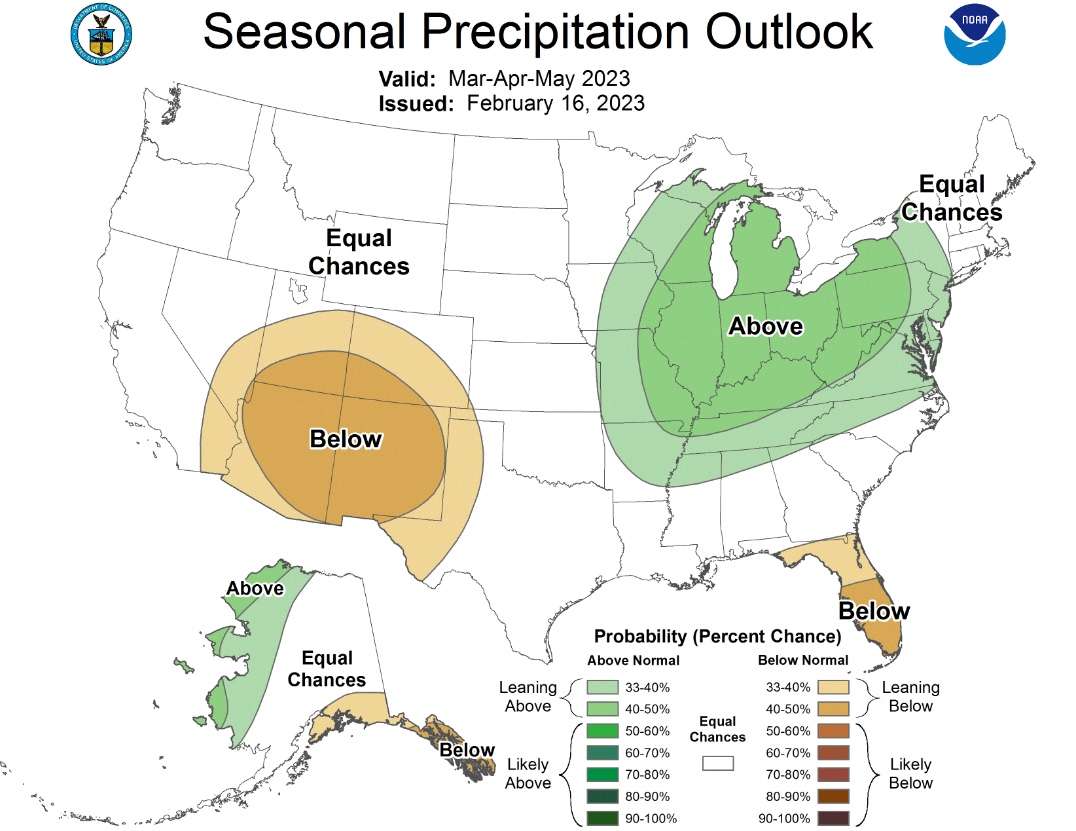 The Climate Prediction Center lists Salt Lake City as having almost an equal probability of above-normal, normal or below-normal temperatures and precipitation. St. George, on the other hand, has nearly a 70% probability of having near-normal or above-normal temperatures, and a 44% probability of below-normal precipitation, according to the long-range outlook.
But any additional precipitation during the meteorological spring would be good for Utah as it deals with an ongoing drought that began with a terribly-dry spring three years ago.
The winter storms have already weakened the drought's severity. The U.S. Drought Monitor listed only about 4% of Utah in at least extreme drought conditions by the end of meteorological winter; about half of the state remained in at least an extreme drought by the end of meteorological fall.
The ongoing snow and strong snowpack are why Candice Hasenyager, director of the Utah Division of Water Resources, called 2023 Utah's "opportunity year," in a drought update last week.
"In order to take full advantage of our plentiful snowpack, we must continue to use our water wisely," she said. "One good snow year won't pull the state out of drought. And by using less water, we will become more drought resilient."
×
Most recent Utah weather stories