Estimated read time: 5-6 minutes
PROVO — Lauren Gustin entered the season as arguably (perhaps inarguably?) the best player on the BYU women's basketball team. But she had an issue.
On a team that lost four of five regular starters and around 85% of its offense, the 6-foot-1 junior from Salem Hills needed to take a bigger role on offense. Already an elite rebounder, an All-West Coast Conference first teamer from a year ago and Katrina McClain Power Forward of the Year watch list candidate this season, Gustin's offense didn't always match her prowess on the glass.
Every time she'd box out, rise up or scrap her way to a rebound, her first instinct would be to kick it out to a shooter. She even did it during offseason workouts.
So new coach Amber Whiting set about to change that habit.
"I blew the whistle a couple of times, and told her 'Don't do that,'" Whiting said. "With all her work, she's earned that shot. Go take it.
"I liked to instill confidence in her, that I believe in her and she can keep shooting."
Through 10 games of the 2022-23 season, Gustin has been the rock for a rebuilding BYU squad in Whiting's first season, one that opens West Coast Conference play at No. 23 Gonzaga (9-2) with a 4-6 record (3 p.m. MST, WCC Network).
Any modicum of success has come through Gustin, with a significant assist from Nani Falatea, who is averaging 13.8 points, 4.9 rebounds and 4.8 assists in over 35 minutes per game.
But Gustin, too, has increased her offensive production, averaging 16.0 points and 13.7 rebounds per game, a walking double-double that includes 18 points and 15 rebounds in last week's rivalry game against No. 15 Utah. Through 10 games, Gustin is tied for the most double-doubles in the NCAA Division I women's basketball, ranks second in rebounds per game and No. 3 in total rebounds with 137.
Her 10 consecutive double-doubles is believed to be the longest streak in BYU history since Tina Gunn Robinson opened the 1979-80 season with 17 consecutive games with double-figure points and rebounds. Robinson finished that season with 27 double-doubles.
No player in the NCAA era has beaten the combined knack for scoring and rebounding as Robinson, a BYU Hall of Famer who played in the pre-NCAA era and earned Kodak All America first team honors as as senior while finishing first in the nation in scoring, fourth in rebounding and 14th in field goal percentage.
For obvious reasons, Gustin admits it's an honor simply to be considered in the same phrase as Robinson. But the former Utah Miss Basketball and NJCAA All America honorable mention at Salt Lake Community College wouldn't be anywhere without her teammates, she adds.
"We obviously lost a lot of players, so all of us have had to step up our role on offense and defense," Gustin said. "I've had to fill in some gaps losing so much talent, but also my coaches and teammates have put me in good positions to do all that offensively and keep rebounding."
So what has been the biggest difference in turning a 10.7-point scorer, 11.5-rebounder per game double-double machine into something even greater? There's that whistle that echoed in her eardrums in practice, and her teammates, of course.
A year after expanding her offensive game to shooting a team-high 53.9% from the field (including a handful of 3-pointers), Gustin's greatest ability may be her availability.
The daughter of former BYU all-conference basketball player Scarlett Overly and Wyoming quarterback John Gustin has averaged 37.7 minutes per game through the first 10 games of the season. She's played all 40 minutes three times, often refusing to come off the floor when Whiting tried to pull her during a timeout against Oklahoma, Ball State and Boise State. She's also played 37 minutes or more four other times.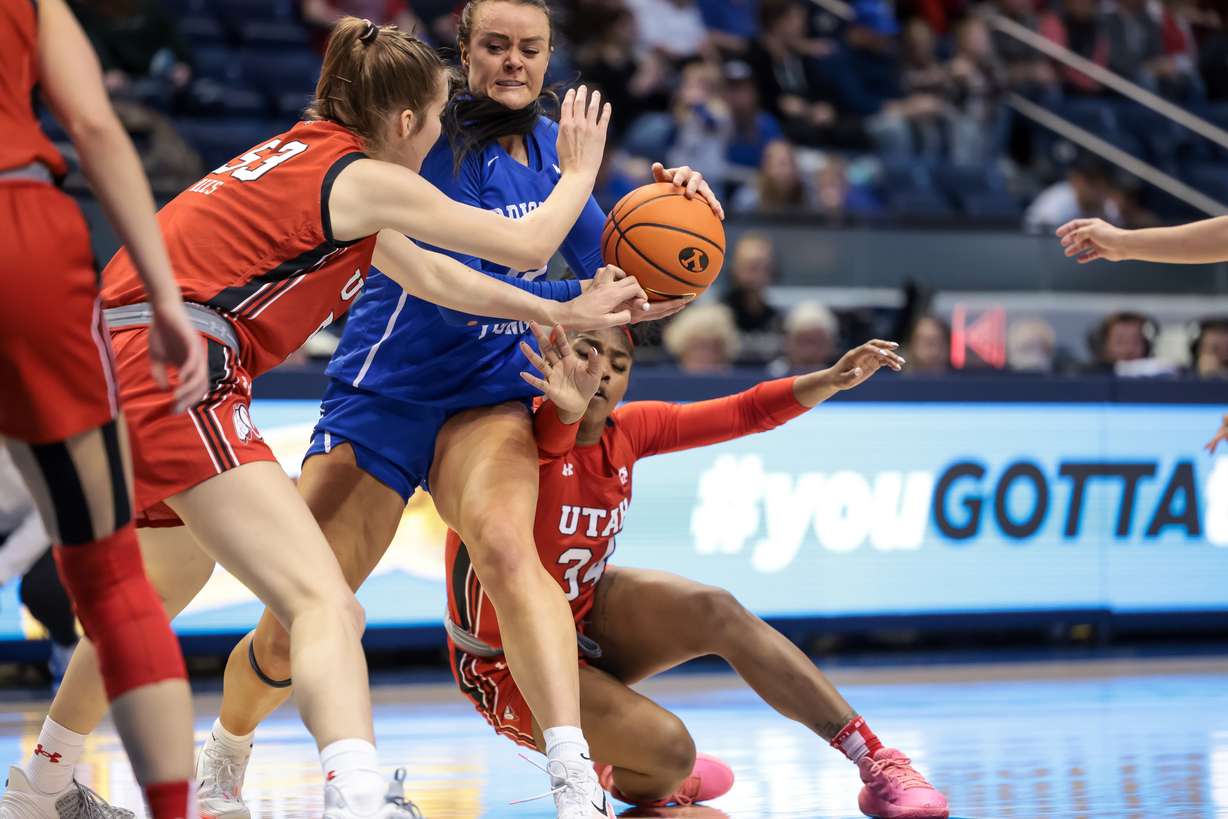 Tired much?
"I think it's just about recovery," she said. "I put in the work during the summer, and I feel ready to go to play those long minutes. But I also feel like our coaches did a good job pushing us in practice so that we are in shape and we are ready for the games."
Gustin credits a post-game recovery routine that includes treatment with head women's basketball athletic trainer Jeff Hurst, a strength and conditioning staff that has fine-tuned her routine over the past three years, and a post-game meal of chicken or salmon, rice and sweet potatoes for keeping her healthy.
She also had to give up something. A self-described gym rat, Gustin has had to cut back on the extra hours she spends in the gym during the season. That means fewer days of weight training, and more time focused on proper sleep and nutrition than an extra three-hour workout on her own.
"At first it was hard," she admits with a smile, "but I feel a lot better. Basketball is the most important thing right now."
And Gustin may be the most important piece of BYU's basketball season.
"She's a rock," Whiting said. "She's that very consistent, dependable player out there. If we're ever having a drought or struggling to score, then we can get her a touch and see what happens."
That includes Saturday against the Zags, and Monday's follow-up against fellow WCC contender Portland.
"You're going to have to face them some time," Whiting said. "I told the girls to go in, to fight, to try to control what we can control. And let's see what happens."
×
Most recent BYU Basketball stories