Estimated read time: 10-11 minutes
SALT LAKE CITY — Utah's efforts to remove a halt on its law outlawing abortion is continuing to move forward in the Utah Supreme Court, as both parties and other organizations on both sides of the issue have filed briefs over the last week and months.
The "trigger law," passed through SB174 during the 2020 legislative session, prohibits abortions in Utah except under specific conditions. It went into effect after the U.S. Supreme Court overturned Roe v. Wade. Planned Parenthood of Utah filed a lawsuit claiming the trigger law is unconstitutional, and a few days later a judge agreed with them, issuing a temporary injunction against the trigger ban and allowing abortions in the state to continue.
The state appealed that decision to halt the ban from going into effect in August, and the injunction is currently being briefed in the Utah Supreme Court. As of Friday, both sides have filed briefs in the case, along with many outside parties who filed amicus curiae briefs.
Brief from Utah government
Utah's brief, filed on Dec. 2, argues that 3rd District Judge Andrew Stone was wrong to prevent the trigger law from staying in effect. The state said Planned Parenthood cannot support the law being placed on hold "based on an implied constitutional right to abortion," and that a preliminary injunction — the act that put the law on hold — should only be used in extraordinary circumstances.
The brief says Planned Parenthood Association of Utah "has no possibility of winning on its claims" — which is required for a preliminary injunction. It said Stone did not comment on the strength of the claims but only said they were not frivolous.
The state continued arguments presented in the 3rd District Court hearing regarding whether a hold should be placed on the trigger law going into effect, saying the Constitution does not protect a right to abortion and that prior to Roe v. Wade, Utah law criminalized abortion and has never recognized an abortion right.
"The Constitution's original public meaning has not changed to embrace an implied right to abortion," the brief says.
It argues that Planned Parenthood would not face harm without an injunction and the court should not have included third-party harms when making this decision. Instead, the brief says, Utah and the public's interests are harmed because of the injunction, because of their interest in preserving human life.
"That injury outweighs any PPAU harm — or harm to PPAU employees or patients — that denying equitable relief might cause," the brief said.
Support from organizations, doctors, Legislature
The American College of Pediatricians and said protecting unborn life "reflects scientific fact." The doctors argued not allowing people to protect unborn life would be a departure from the judiciary's role in the Utah Constitution and the court should remain neutral on abortion.
Another medical organization, the American Association of Pro-Life Obstetricians and Gynecologists, argues in a brief that the trigger law supports Utah's interest in material health, citing published studies, and said the exceptions built into the trigger law are in line with medical ethics.
Utah's Legislature also submitted an amicus curiae brief supporting the state and the bill it passed. It argues that the 3rd District Court did not give enough consideration to the public interest — specifically the public's interest in preserving unborn lives and in laws supporting the will of the people.
"Utahns were shocked and saddened recently when two elementary school children were struck and killed while walking to school. Their deaths are rightly considered a horrible tragedy. The cutting short of any human life is a tragedy. And because SB174 was prevented from taking effect, the lives of enough children to fill two average-size Utah elementary schools — not just two school classes, but two entire schools — have been terminated," the brief says.
"If preserving the lives of that many human beings is not a substantial enough public interest to outweigh whatever burdens plaintiff and its patrons may have to bear, then nothing is."
In line with what the state's brief argues, the Utah Legislature said the court should have required Planned Parenthood to show that it was likely to succeed before issuing an injunction — and that the court's action was not in line with maintaining a separation of powers.
"As the voice of the people, the Legislature should not have its hands tied every time an applicant merely speculates that there must be some provision of the Constitution that the legislative enactment violates," the brief said.
The Sutherland Institute, a policy and educational think tank, argues in an amicus brief that Utah abortion regulations do not conflict with religious freedom clauses in the Constitution; contesting Planned Parenthood's argument that the abortion laws impose a religious view of when life begins.
A Utah Eagle Forum brief in favor of the state's position focuses on a lack of standing from Planned Parenthood, meaning it would not be directly harmed and doesn't have any reason to file the lawsuit. It said Planned Parenthood does not have a substantial relationship with its patients, and those patients could represent themselves.
The Thomas More Society and Family Watch International, neither of which is based in Utah, filed a joint brief, arguing the abortion regulations don't interfere with rights to determine family composition, equal rights, and other Utah Constitution sections cited in the lawsuit. Both organizations said they promote protecting unborn life.
A brief filed by Pro-Life Utah focuses on using linguistic analysis to reveal the public's understanding of what the Constitution says regarding abortion. It argues historical linguistic analysis shows Utahns viewed abortion as criminally and moral corrupt when ratifying the Constitution, and newspapers and legal decisions prior to Roe v. Wade do not show any evidence that abortion was a protected right.
Pro-Life Utah held a memorial service on Wednesday at the state Capitol to honor the 1,746 unborn babies who have been aborted since the preliminary injunction was put into place, with a flower and a bell rung for each unborn baby.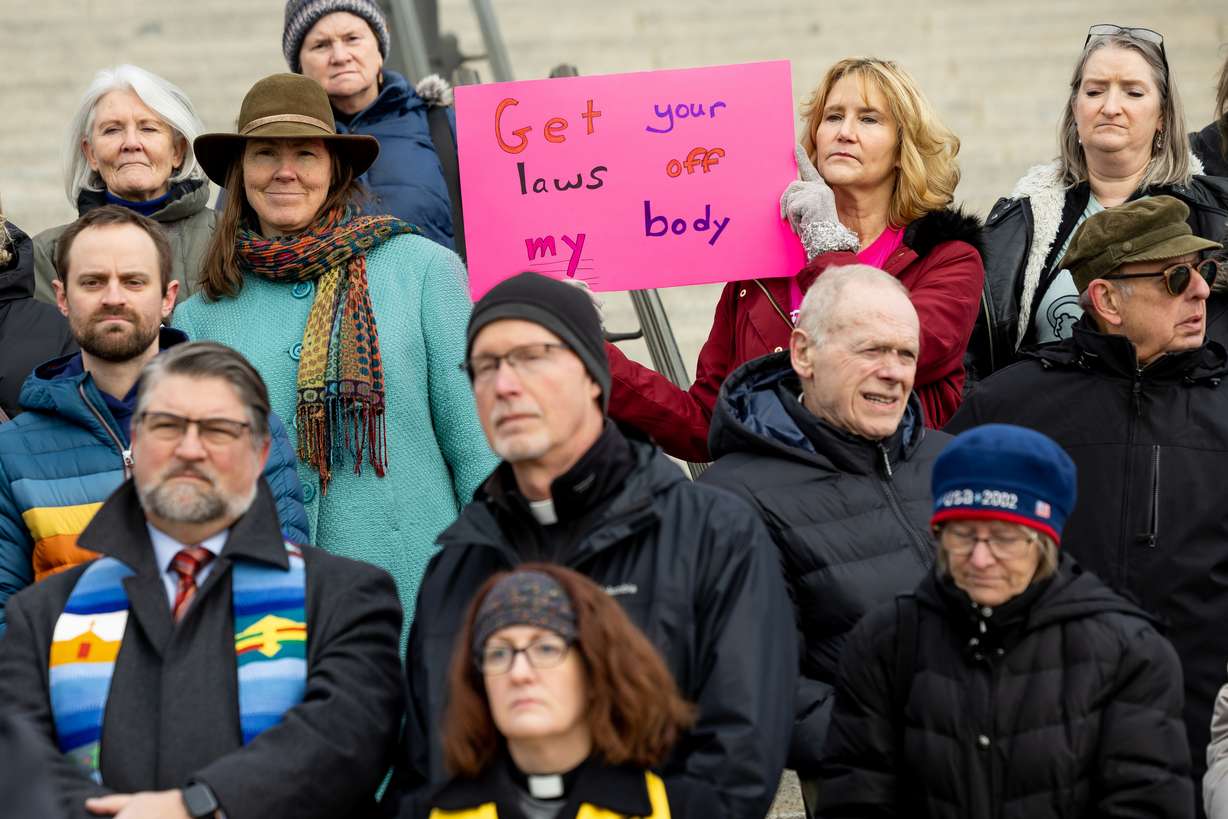 "These are the babies that should have been saved. Our trigger law should have protected them. Sadly, because of Judge Stone, we are left with nothing to remember them by except the knowledge of the violence and injustice that brought about their death," said Deanna Holland, executive director of Pro-Life Utah. "We were there in solemn respect. These children mattered. They had life that was taken from them. Where was their choice?"
Planned Parenthood's arguments
Planned Parenthood of Utah's brief was filed last Friday and argues that Stone's decision to prevent the trigger ban from going into effect should stand.
"For half a century, the United States Constitution guaranteed Utahns — like all Americans — the right to have an abortion, thus protecting their intimate moral and medical decisions from coercive governmental intrusion. But on June 24, 2022, the U.S. Supreme Court eliminated that guarantee," the brief said.
It argues that the preliminary injunction preserves the status quo, and is "unremarkable" when compared with SB174, which would criminalize something that has been constitutionally protected for 50 years.
The organization said there would be irreparable harm from the ban, and public interest supports the stop on the ban. They said the law threatens Planned Parenthood and its staff with criminal charges, which is enough to give it standing to file a lawsuit, but also as a health provider, they have legal and ethical obligations to support the rights of its patients.
"The relationship between an abortion provider and a patient is substantial," the brief says.
Planned Parenthood argues that the trigger ban law would require women to face health risks by delaying abortions or delivering a baby without having a choice. Planned Parenthood discussed constitution clauses about privacy, right of conscious, equal rights and others and why they are sufficient to keep the halt on the abortion ban.
The organization says Utah uses the wrong standard for constitutional interpretation, and the court does not need to consider the Constitution's original meaning.
Planned Parenthood is confident Utah will not receive relief from the Supreme Court through the appeal, and said the state did not offer supporting evidence for its claims.
"The state does not come close to overcoming the extensive, one-sided record supporting the injunction, and its various quibbles with the district court's analysis mischaracterize that court's rationale, ignore on-point precedent, or both," Planned Parenthood said.
Support from churches, League of Women Voters
A group of religious organizations and clergy in Utah supported Planned Parenthood in a brief filed Wednesday, and argue that Utah has unique protections for religious exercise, and that the abortion ban violates those and forces one religion's ideals on the entire state.
The brief was filed by multiple Unitarian churches — Temple Har Shalom, the First Baptist Church of Salt Lake City, the Mount Tabor Lutheran Church and the Utah Muslim Civic League — along with leaders of those churches, Phyllis Spiegel, bishop of the Episcopal Diocese of Utah, and Rev. Nancy J. Cormack-Hughes, a Presbyterian hospital chaplain.
These congregations do not teach that life begins at conception or abortion is always immoral, it said, calling the abortion prohibition "draconian."
"None of these congregations have ecclesiastical structures in which one anointed leader determines what is moral behavior for all members of the religion. … These congregations all have faith traditions that rely upon the individual member's discernment as to what is moral behavior in their individual lives based on the teachings of their faith, including when to access abortion care," the brief says.
These religions organizations, along with the Utah League of Women Voters, held a press conference Thursday on the steps of the state Capitol to voice their support for Planned Parenthood and discuss their briefs.
"There is an unfortunate misconception that religions are monolithic and all oppose abortion. Nothing could be further from the truth," said Rev. Curtis Price with the First Baptist Church of Salt Lake City.
He said clergy from multiple faiths facilitated access to abortion prior to Roe v. Wade, and that the choice to have a child or get an abortion is a personal moral decision.
"This is a matter of faith. Respecting the dignity of every human being means respecting the rights and freedom of women to control their own bodies, destinies and futures," he said.
The Utah League of Women Voters brief, which will be filed on Friday, argues that the trigger law violates the equal rights clause of the Utah Constitution by denying women, but not men, reproductive health care.
"It forces most women who become pregnant to carry the fetus to term and give birth, despite greater risks to their health. In contrast, no laws force men to devote their bodies to giving life to another by, for example, requiring blood donations or bone marrow donations or kidney donations to keep their children alive," a statement about the brief says.
The League of Women Voters also argues that motherhood limits women's ability to participate equally in society and being denied an abortion can limit a woman's opportunities.
"Women's ability to fully participate in the workforce is a critical issue for every business in Utah," the statement said.
What's next?
Utah's reply to Planned Parenthood's brief is due by Feb. 17; and other organizations can still file amicus curiae briefs. After the briefs are filed, the Utah Supreme Court will listen to arguments and begin considering the case and eventually issue a written ruling.
While the Supreme Court is considering the injunction, the case is moving forward in the 3rd District Court. Planned Parenthood of Utah's brief says that it is currently working on fact discovery.
×
Photos
Related stories
Most recent Police & Courts stories