Estimated read time: 6-7 minutes
ALBUQUERQUE, N.M. — In a bowl season that is often unpredictable, where individual matchups regularly come down to motivations, will and want to be there, one thing seems certain as BYU and Southern Methodist inch closer to kickoff Saturday in the New Mexico Bowl (5:30 p.m. MST, ABC).
Take the over.
The Cougars (7-5) and Mustangs (7-5) are on a collision course of offense, with points expected and an over/under that continues to climb from the moment it opened at 64 points at several Las Vegas sportsbooks, as well as a few on reservation land in the Land of Enchantment. SMU is a 3.5-point favorite.
For good reason, too.
The Mustangs earned bowl eligibility for the fourth-straight season in head coach Rhett Lashlee's inaugural campaign, primarily on the strength of quarterback Tanner Mordecai and the offense.
SMU finished the regular season ranked among the top-15 nationally in the FBS: the No. 5 passing offense at 324.9 yards per game, No. 11 scoring offense averaging 38.4 points, No. 12 total offense with 279.8 yards, No. 12 first-down offense with 302 yards, No. 13 red-zone conversion rate at .914, No. 8 in blocked kicks at four and No. 10 in fewest penalties averaging just 4.42 per game.
It's the type of offense that worries just about everyone, head coach Kalani Sitake said, including the defensive-minded seventh-season Cougars coach in that statement.
"They lean heavily on Mordecai and his abilities to spread the ball out," Sitake said. "He can attack you downfield, but he can also run the ball, too. They have a bunch of guys that can run. They can do fly sweeps and they can get the receivers involved. They have a good and big physical offensive line, and that is why they score a lot of points. Defensively, you have to be ready for it."
The Cougars can try to stop the SMU offense, which is led by the program's all-time leader in career 300-yard passing games. Mordecai, the 6-foot-3, 214-pound Oklahoma transfer has an arm that has thrown for 3,306 yards with 31 touchdowns and just nine interceptions, as well as legs that have carried him to 118 yards and two scores.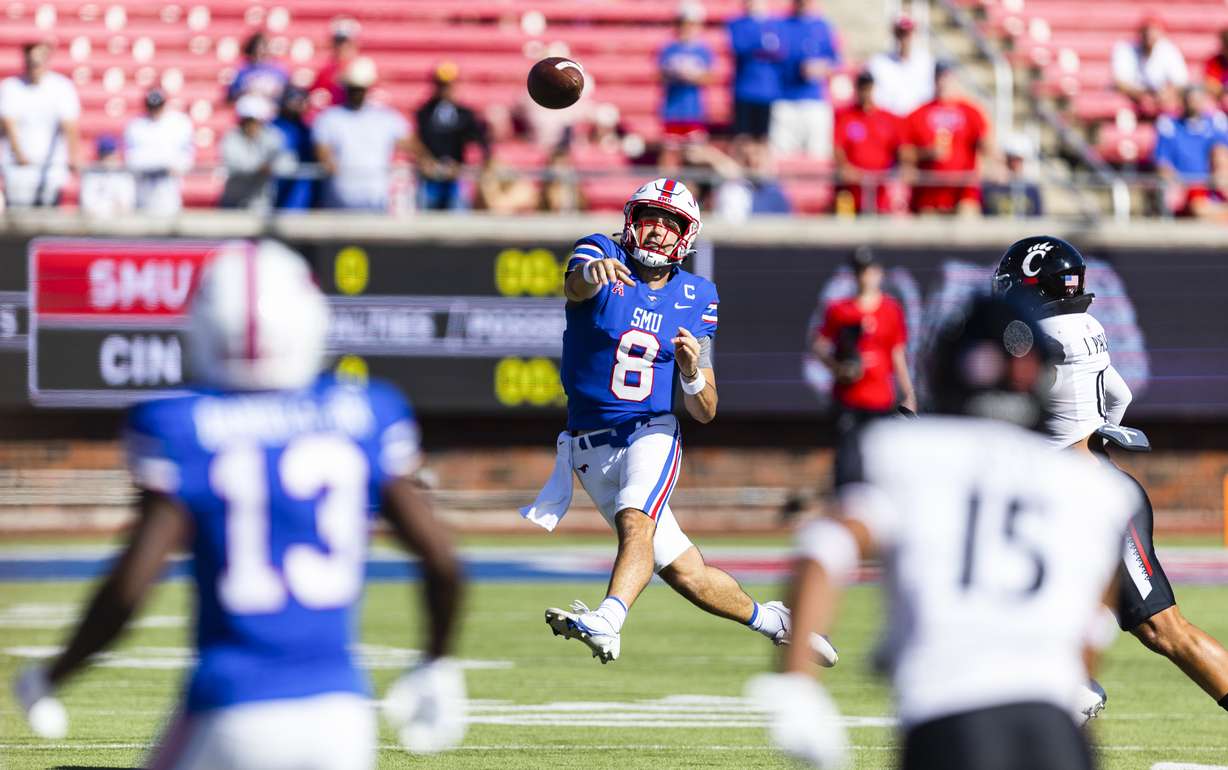 Even without leading receiver Rashee Rice, the 1,355-yard, 10-touchdown receiver who has been ruled out for the bowl game with a foot injury, the Mustangs' offense poses problems.
Sure, Sitake will try to stop the Mustangs in the absence of a full-time defensive coordinator (incoming coordinator Jay Hill won't join BYU in New Mexico until the bowl game, along with new special teams coordinator Kelly Poppinga, to manage recruiting and better prepare for the 2023 season that starts Big 12 play). But "stop" has been something no defense has been able to do in 2022.
One's best hope is to slow SMU down, and hope that the offense can keep up. Offensive coordinator Aaron Roderick knows what he's up against in that regard, too, as he schemes with an offense that still includes receivers Chase Roberts, Keanu Hill and Puka Nacua, the multi-tool athlete with a team-high 10 touchdowns, five receiving and five on the ground that ranks 67th nationally in total touchdowns.
"We try to incorporate the (opposing team) into our game plan, in how they play, the flow of the game," Roderick said. "That's an every week thing; that's what I've been doing for years."
Roderick's keep-up task could prove even more difficult without starting quarterback Jaren Hall, the 3,171-yard passer of 31 touchdowns and six interceptions who has been limited in practice since an ankle injury suffered in the 35-26 regular-season finale at Stanford.
The BYU coaches hold out hope that Hall will be able to play — especially after primary backup Jacob Conover hit the transfer portal and committed to Arizona State last week — but Roderick introduced doubt that Hall may not be 100% by Saturday when he met with the media Tuesday.
"Yesterday (Monday), I thought he had a great chance to play. Today (Tuesday), I would say his chances are not quite as good as I would hope," Roderick admitted with candor. "But there's still a chance."
Sitake agreed with his offensive coordinator's assessment Wednesday when he spoke with the media at the New Mexico Bowl's welcome dinner.
"I think the closer we get to the game, it is going to be hard for me to say yes to that one," Sitake said when asked if Hall would be ready. "We thought on Monday when I talked to you guys at the press conference, we thought there would be a chance. … But it is looking more like (Hall is) not close to performing."
Roderick said that each of the backup quarterbacks, Boise State transfer Cade Fennegan, Utah transfer Nick Billoups and Sol-Jay Maiava-Peters, have each been earning reps in practice. Sources close to the program told KSL.com that Fennegan has received a majority of those reps, but he's also coming off an ankle injury that kept him out for part of the regular season, as well, and only returned to full practice in the last few weeks.
None of the three have played in 2022 with BYU, though Fennegan owns the most Division I experience, stemming from his freshman season at Boise State when the fourth-string signal caller was pressed into action due to injuries and COVID-19 to throw for 182 yards, two touchdowns and an interception in three games that included a 51-17 loss to BYU.
Hall was seen Wednesday night playing games in the bowl-sponsored arcade with several teammates while wearing a walking boot, though the extent of his injury remains uncertain.
The Cougars could also rely on a heavy run presence to counteract SMU's prolific offense, and that is likely to be close to full strength. Roderick confirmed Sitake's initial appraisal that running back Lopini Katoa won't be available Saturday, though the senior did travel to the bowl game, along with several players' wives and families, as has become customary for the postseason.
The ground game will be led by California transfer Chris Brooks, who piled on 725 yards and five touchdowns in 10 games during the regular season while also dealing with a hamstring injury before most recently rolling up 164 yards on 23 carries in the regular-season finale. He'll be joined by breakout back Hinckley Ropati and speedster Miles Davis in the Cougars backfield.
"The dude's value is tremendous," Ropati said of Brooks. "He brings an edge and this attitude to the running back room of finishing strong and making the most of your opportunities. I think that's what Chris brings most to the running back room; you see the guy that is built like a tank, and he runs really hard. But at the same time, he can finesse a bit.
"I love his style of run play, and try to study him and the other guys in the room to apply to my game. He has a huge impact in our running back room."
Which brings it back to the defense, one that ranked in the bottom third of the FBS in both scoring defense and total defense, but will be tasked with slowing down Mordecai and the Mustangs as much as possible.
"They're a very explosive offensive that can really move the ball and put points on the board, so we're not expecting anything different," defensive end Tyler Batty said. "They have a very established identity and I think they're going to stick to it, try to run it, throw it and move it down the field.
"I'm really excited to play SMU, it will be a really fun game."
New Mexico Bowl on the air
Saturday, Dec. 17
Kickoff: 5:30 p.m. MT
TV: ABC (Tony Hart, Brock Osweiler, Taylor McGregor)
Streaming: WatchESPN
Radio: BYUradio SiriusXM 143, KSL 1160 AM/102.7 FM (Greg Wrubell, Riley Nelson, Mitchell Juergens)
Series: BYU leads, 3-0
×
Most recent BYU Football stories