Estimated read time: 5-6 minutes
PROVO — Kalani Sitake knew he was going to get the question, so he had an answer for it early when he met with the media on Monday, two days before his BYU football team is set to fly to Albuquerque to get ready for the New Mexico Bowl.
The seventh-year BYU head coach was quick with his answer, too. Will quarterback Jaren Hall be available for the bowl game?
"Jaren has not been eliminated from contention to play, so there's that," Sitake said. "He hasn't been participating as much as we'd like him to be in practices, but this week will tell.
"Today will be important for us to see how much he's progressed and where he's at, but he's still in the mix."
The question was an honest one. Hall, the redshirt junior signal caller who started all 12 games for the Cougars in 2022 and threw for 3,171 yards and 31 touchdowns with six interceptions, hobbled off the field in the second half of BYU's 35-26 win at Stanford in the regular-season finale.
The former Maple Mountain standout limped into postgame interviews with a handful of local media behind the Cougars' locker room and insisted he would be ready to play in the bowl game, whenever that was. But reports out of practice have been less conclusive.
One source close to the team said that Boise State transfer Cade Fennegan and fellow backups Sol-Jay Maiava-Peters and Nick Billoups took the majority of snaps last week in practice while Hall continued to recover from the apparent ankle injury.
If nothing else, it shows the Cougars have contingency plans just in case Hall can't play Saturday at University Stadium (5:30 p.m. MST, ABC). Hall also has a future in football to think about, whether that involves coming back for one final season of eligibility as BYU moves into the Big 12 Conference or declaring for the NFL draft.
The fifth-year junior hasn't made a decision on that matter, but he will soon enough, and Sitake understands those decisions.
"If there's a chance that he can play, he wants to. Knowing his competitiveness, he wants to get on the field and play," Sitake said. "But it's our responsibility to keep him safe, knowing that he has potential to play at the next level, and that he does it the right way."
Hall's availability wasn't the only one discussed Monday. The Cougars will be without senior running back Lopini Katoa for the bowl game, meaning the American Fork product's time at BYU has come to an end. The sixth-year senior ran for 340 yards and two touchdowns in 10 games in his final season after opting to return to finish out his eligibility during last year's postseason.
Cal transfer Christopher Brooks, breakout back Hinckley Ropati and Las Vegas-bred speedster Miles Davis have been cleared to play, Sitake said.
But the Cougars will also be without a number of players who have already declared for the transfer portal, including backup quarterback Jacob Conover and linebacker Tate Romney (who have both committed to return home to new Arizona State coach Kenny Dillingham).
Linebacker Keenan Pili has also entered the transfer portal, joining injured defensive end and Utah commit Logan Fano, and offensive lineman Campbell Barrington, along with reserve wide receiver Terence Fall.
That leaves a likely starting linebacker rotation of Pepe Tanuvasas, Ben Bywater and Jackson Kaufusi, who hasn't started a game but played in 10 contests with 10 tackles and is currently listed atop the depth chart at the rover position, to help hold down a prolific SMU offense directed by quarterback Tanner Mordecai.
Sitake also mentioned Josh Wilson, Micah Wilson, Logan Pili, Bodie Schoonover and Morgan Pyper will see more time, and defensive end Fisher Jackson will likely move to linebacker for the bowl game, as well.
"Keenan is a great player and a great friend. I'm excited for him and the opportunities he's going to have elsewhere," said BYU defensive end Tyler Batty, who has 46 tackles and a team-high six tackles for loss with four quarterback hurries and a fumble recovery. "But as for the linebackers we have, I'm confident in our guys. I still think we have a lot of depth."
The personnel shuffling continues with the coaching staff, as well. Incoming defensive coordinator Jay Hill and assistant Kelly Poppinga are minimally involved in bowl prep and won't join the team in New Mexico until later in the week.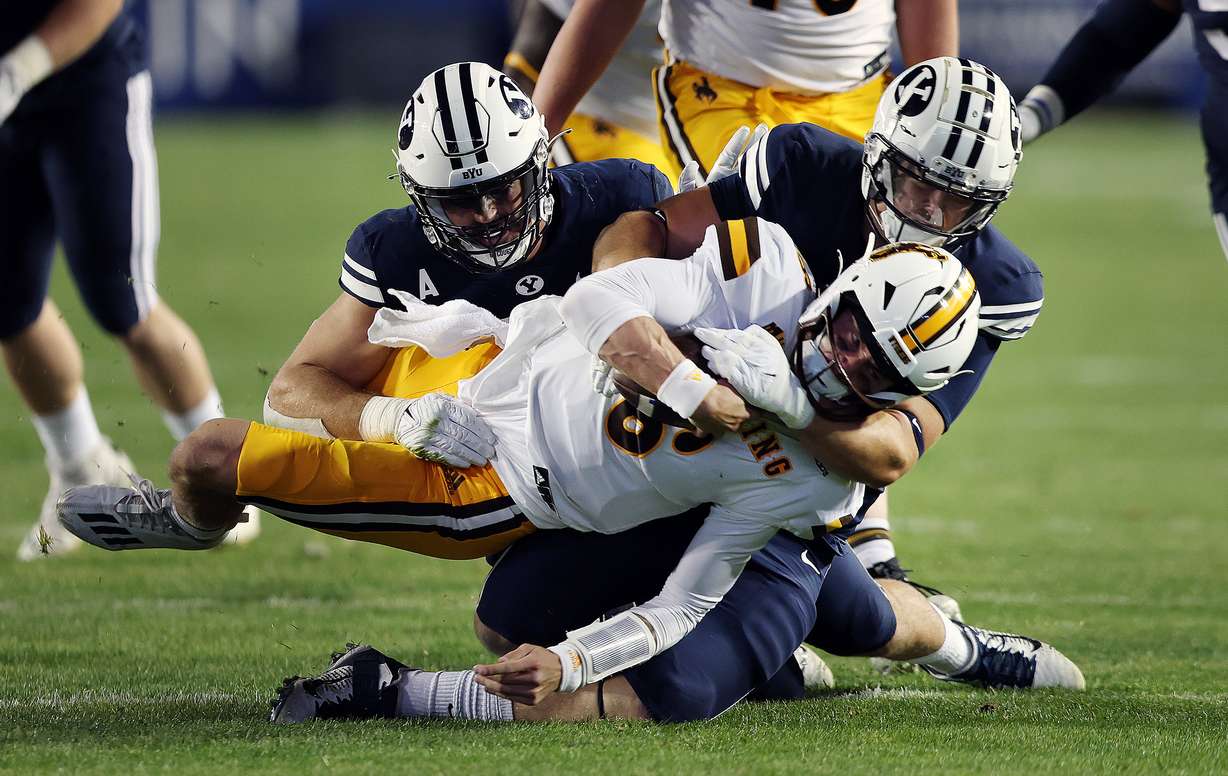 Former assistant head coach and special teams coordinator Ed Lamb has already reported to his new job at Northern Colorado, taking former graduate assistant and first-time cornerbacks coach DJ Williams with him. That leaves defensive analyst Gavin Fowler to run special teams and likely help out cornerbacks coach Jernaro Gilford with the defensive backs, as well.
Fellow analyst Jan Jorgensen has also taken over as something of an interim defensive line coach, including edge rushers like Batty, with Sitake continuing to call the plays on defense.
"Jan's a great coach, and he played here, too," Batty said of the Cougars' single-season sack leader since 2000. "He's been a great person to have in this time of transition. It's been awesome being able to train with him."
Sitake also confirmed that head strength and conditioning coach Nu'u Tafisi and assistant Justin McClure have moved on from the program, as first reported Sunday by KSL.com. Spencer Reid has taken over as head strength coach on an interim basis, working with assistants Kalani Simeona and Dalton Elliott, as well as an increased emphasis with director of sports performance Coleby Clawson and director of sports science Skyler Mayne to help in the weight room and conditioning activities.
Sitake thanked Tafisi and McClure for their time with the program, but said the program "needed a change."
"We're looking in a different direction than we've tried to do with our players, and looking at our sports science program and the athletic training room," the coach said. "We're trying to bridge all of that … to keep our players healthy."
×
Most recent BYU Football stories