Estimated read time: 5-6 minutes
ALBUQUERQUE, N.M. — If BYU assistant coach Jernaro Gilford seems more tired these days, consider what he's under.
The cornerbacks coach since 2016 has been the only defensive assistant (so far) retained by incoming defensive coordinator and assistant head coach Jay Hill. That essentially makes him the second-in-commander on the defense under head coach and defensive play caller Kalani Sitake for the Cougars' New Mexico Bowl game Saturday against SMU (5:30 p.m. MST, ABC).
Armed with an army of mostly graduate assistants and analysts, Gilford has been critical in helping BYU figure out how to stop — or at least slow down — a Mustang passing game that ranks in the top-15 nationally in most major statistical categories.
Add to it his responsibilities on the recruiting trail, where Gilford his the road as soon as the current contact period opened last Friday, and his work in the transfer portal, where he's plucked both current starters in Kaleb Hayes (Oregon State) and Gabe Jeudy-Lally (Vanderbilt), and it's a wonder that Gilford has any time to sleep.
Or does he?
"I may take a nap," Gilford joked after meeting with the media Tuesday, the day before BYU left for Albuquerque.
Tireless. Energetic. Active. There's a reason Hill wasted no time letting players, coaches, fans and the media know that the former BYU cornerback was sticking around.
If he's any busier than usual, though, the assistant who players call "Coach G" doesn't show it.
"G is G. If I had to be honest, G is chill; we break down some film, and we just chop it up. Things are really easy when it comes to G," said Jeudy-Lally, no stranger to coaching changes from his time at Vanderbilt. "If he is busier, he's a pretty calm cat.
"He gets us right in the film room and on the film, so I'm excited for this weekend, for sure."
Gilford knows BYU, and he loves BYU. The 2004 graduate and All-Mountain West honoree was kicked out of school — twice — for well-documented foibles with the university. But at the behest of his mother, he returned both times to earn a degree in sociology and later added a master's in education from Whittier College while beginning his coaching career after a stint at a sporting goods store.
If anyone can recruit the type of athletes BYU needs for the Big 12 era, it's Gilford, who is not a member of The Church of Jesus Christ of Latter-day Saints but openly holds BYU standards in high regard.
"Coach G goes out and gets the guys who can make an impact on the field right away, especially in my personal opinion last year," Jeudy-Lally said. "I think that G gets kids who are hesitant to come here, to show him that he's done it. He's been able to go through and been here for a long time.
"I think that G's value, you can't put into words. He does so much for us in our room, and everybody that has thought about coming here. He's more than a coach; he's a friend of mine. I respect him a lot, and I'm happy he's staying. It was a big factor for me. Now that he's here, I don't have much to worry about."
How does he do it?
"Personally, he's a real dude. He's going to bring out the potential within these dudes," Hayes said. "Everyone trusts Coach G in this process; a lot of guys like myself, we came here for G.
"He's been familiar with the program. He played here, and he's comfortable with what's around with this environment. I had a feeling he would stay; he's an important piece on this BYU coaching staff, and what they are going to do in the coming years."
If nothing else, Gilford has been much more than a cornerbacks coach for the final game of the 2022 season after splitting from close friend and mentor Ed Lamb for the first time in 10 years, as well as former defensive coordinator Ilaisa Tuiaki for the first time in seven.
Busier than usual? Maybe. He's not quite the defensive coordinator — Sitake's still there, remember? But his role has certainly increased. It's manageable, but an increase, too.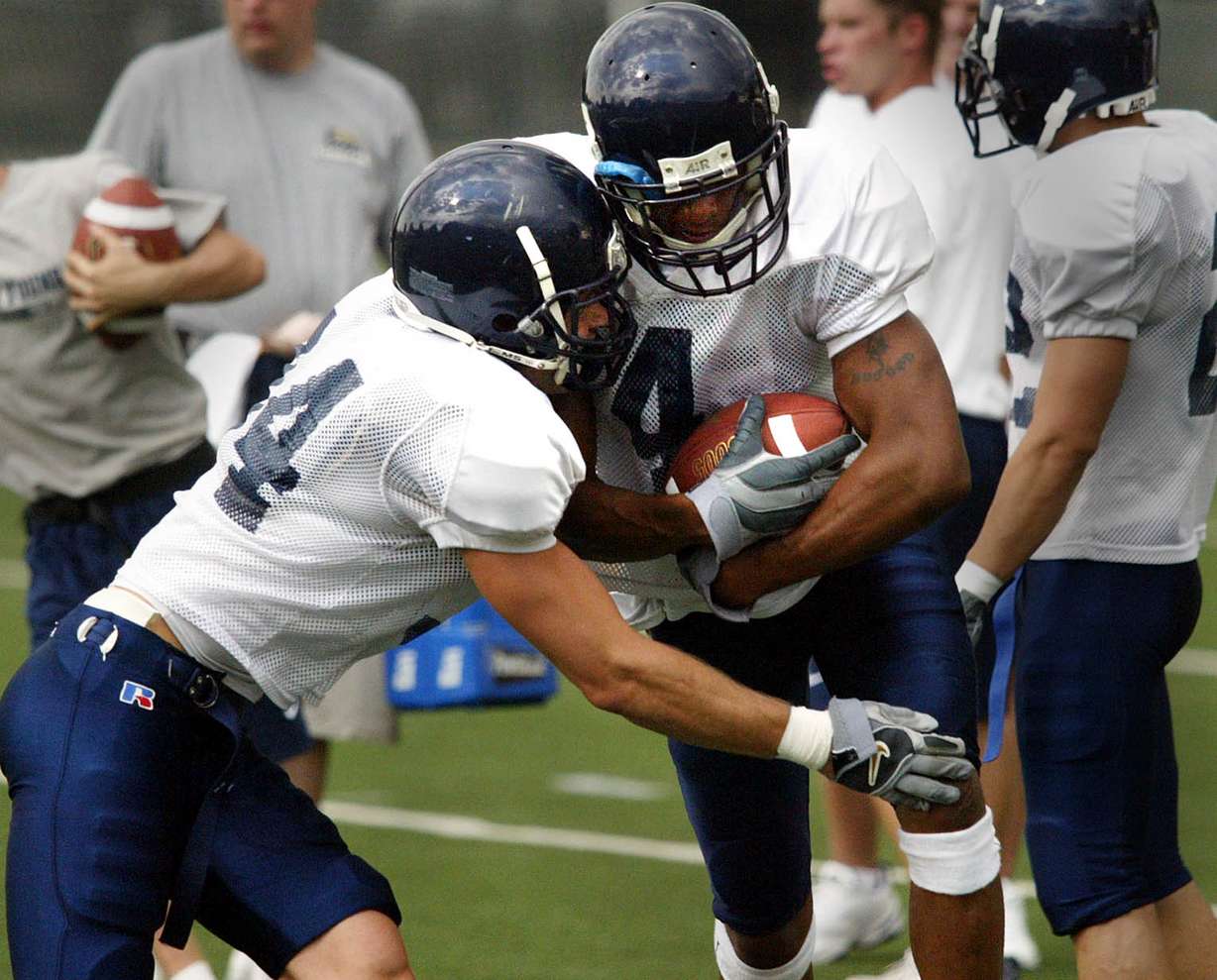 "I have a bigger role than normal," Gilford said. "But collectively, Kalani, myself, the analysts, the GAs, we're all kind of putting part in it to come together with the whole game plan."
Gilford has known of Hill for a while — the two were considered rivals when Gilford was at SUU, and Hill in leading Weber State's turnaround to one of the best teams in the Big Sky and the Football Championship Subdivision.
If things had gone differently, he might've been one of Hill's defensive assistants rather than follow Lamb to Cedar City, even.
"When Coach Lamb hired me at SUU, I honestly almost went to Weber," said Gilford, who described Hill as a no-nonsense coach who demands the best from his players. "I worked his camps before, we played against each other multiple times at SUU and Weber.
"He's a guy I've always looked at his defenses, and the guy can coach his butt off. He's a football guy and I can't wait to get going with him."
But for now, the focus remains on SMU and holding down Rhett Lashlee's offense directed by star quarterback Tanner Mordecai, the 3,306-yard passer with 31 touchdowns, nine interceptions and a Davey O'Brien Award semifinal bid.
"Getting ready for a team that has ran 90-100 plays per game and is going to throw it around, played in games that haven't punted the ball, have a staple of wideouts that can run and catch and get yards after the catch, it's definitely going to be a huge challenge," Gilford said. "But the players are getting up for it."
×
Most recent BYU Football stories