Estimated read time: 5-6 minutes
PROVO — Growing up in Utah County, Jay Hill admits he was a huge BYU fan.
His parents, both BYU alums, took him to football games at then-Cougar Stadium in the fall, and his father — a particular fan of BYU basketball — would drive the young Hill to the Marriott Center every winter. Hill had posters of BYU players hanging in his bedroom, and there's little doubt a dream or two of playing for the Cougars crossed his mind at least once while standing out at Lehi High.
It's funny how life takes us all away from dreams of our youth, including Hill, who was a standout cornerback at the Ricks College before finishing his career at the University of Utah. That's where his coaching career began as a graduate assistant under Ron McBride in 2001. He spent nine years on Salt Lake City's east bench, primarily as a defensive assistant and special teams coordinator to Kyle Whittingham, before accepting his first head coaching job in 2014 at Weber State and going 68-39 with six FCS playoff berths and four Big Sky championships.
He also met a young, enterprising defensive coordinator named Kalani Sitake, and seven years into Sitake's regime as BYU head coach, Hill's own football journey came back to where it all began when he was introduced as BYU's associate head coach and defensive coordinator Wednesday morning in Provo.
"It's kind of weird how life brings you full circle," Hill said, adjusting the collar on his crisp, new BYU shirt. "I'm excited to be back."
Hill inherits a defense that had fallen into the bottom third of the Football Bowl Subdivision, ranking No. 93 in total defense and No. 100 in scoring defense en route to the Cougars' 7-5 record in 2022. His task? Build it back up, and get ready for the Big 12 come July 1, 2023.
He's not tasked alone, though.
"I think (the defense) is going to look very similar to what Kalani ran when he was defensive coordinator at the University of Utah and we worked closely together on that," said Hill, a proponent of the 4-3 alignment. "I think it's going to look a lot like what we ran at Weber State when I coordinated and it led the league in basically every statistical category.
"There are going to be times that we play coverage, times that we blitz; we're going to keep quarterbacks on their toes. I promise that we have an idea of what this defense is going to look like."
After good-naturedly sparring with Sitake for nearly a decade, the duo became fast friends on Whittingham's staff, even showing up to the same home visits and high school games on the recruiting trail.
A power couple who recruited players up and down the west coast, into Nevada and the Pacific Northwest, and throughout Texas for the Utes, Sitake and Hill know they will need to upgrade the talent at BYU to compete with the Cougars' new Power Five peers. That upgrade starts now for Hill, who will be available to consult and evaluate but not actively coach in BYU's bowl game Dec. 17 against Southern Methodist (5:30 p.m. MST, ABC).
He has other important matters to finish, like finalizing his defensive staff — he's already said that cornerbacks coach Jernaro Gilford, and Kelly Poppinga will return to Provo in a yet-unnamed defensive assistant position in addition to special teams coordinator — and hitting the transfer portal.
Defensive coaching staff
"It's a never-ending cycle of recruiting and the transfer portal," Hill said.
It's a lot to do for what is believed to be the highest-paid assistant coach in BYU football history. As a private institution, BYU does not disclose salary information. But sources close to the coaching staff have said that Hill's salary will far exceed the $366,475 he was making on his last contract at Weber State, and could reach close to $1 million with bonuses and incentives.
Regardless of the finer details, that kind of financial commitment to an assistant coach is unprecedented at a university where legendary Hall of Fame coach LaVell Edwards famously made around $150,000 annually as one of the highest-paid BYU employees in the 90s.
Hill should be worth every penny, after engineering a defense that ranked in the top-15 nationally this past year.
"Going into the Big 12 Conference, it's about taking care of your program and also taking care of your players," Sitake said. "You have to do everything you can to function to attract high-level players, but also high-level coaches. Jay is a high-level coach.
"He's a great evaluator, an amazing recruiter, I worked with him in recruiting and I'm excited to get back working with him."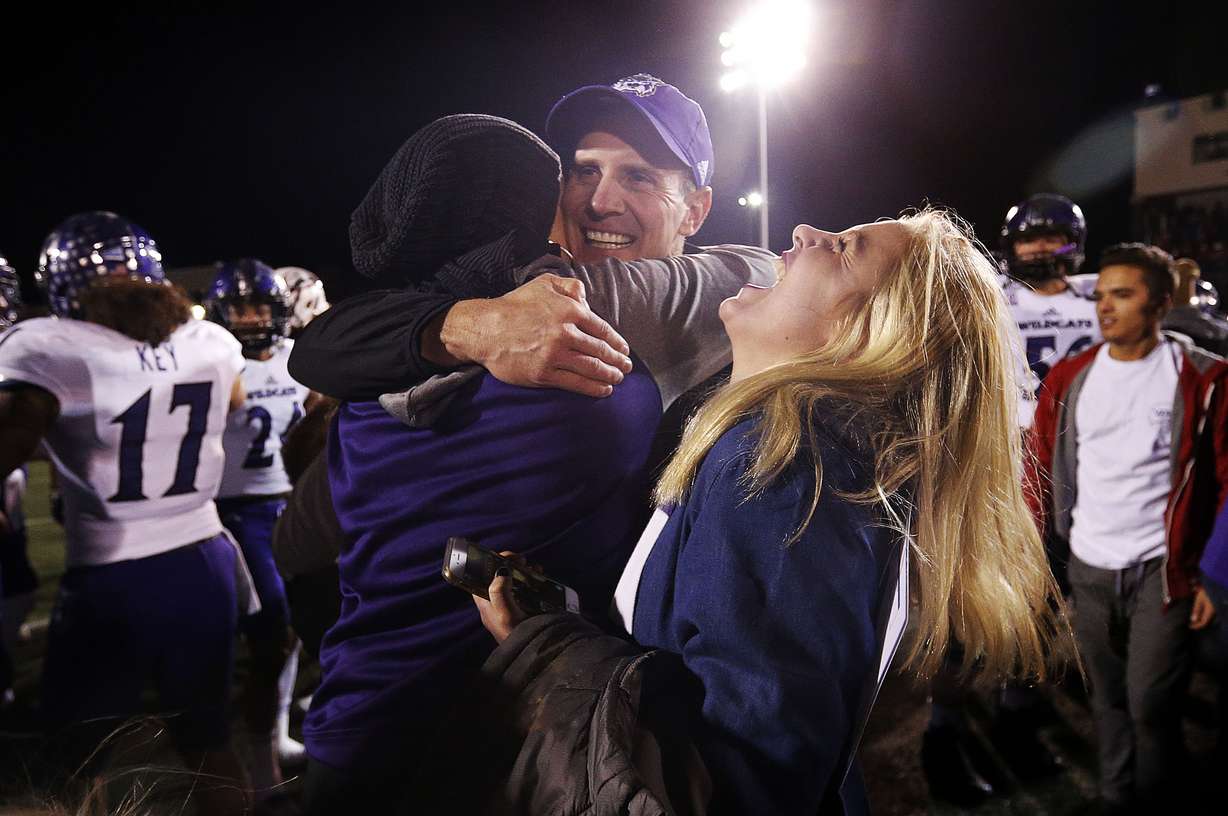 Hill was "absolutely" Sitake's top choice to replace outgoing defensive coordinator Ilaisa Tuiaki. Truth be told, he's wanted to coach with him again for a while after the nine years they spent together.
When Hill's daughter Ashtyn was accepted to BYU, where she will graduate soon after working at BYU Broadcasting, the Weber State coach called his old friend Sitake and wide receivers coach (and former Weber State offensive coordinator) Fesi Sitake to ask them to keep an eye on daddy's little girl.
"It just so happens that I saw her a lot, with her role at BYUtv," the older Sitake said with a laugh.
Now he'll see Ashtyn's dad even more as he comes full circle toward preparing BYU football for the biggest challenge the program has faced to date.
"I believe in everything that BYU is doing and the direction they're heading," Hill said. "That excitement of what we can continue to build is exciting to me, and that's what drew me to this opportunity."
×
Photos
Most recent BYU Football stories