Estimated read time: 4-5 minutes
PROVO — BYU's Ed Lamb built his coaching name in the Big Sky, where he took over a moribund program at Southern Utah and competed for league titles and FCS playoff appearances before returning to his alma mater as assistant head coach and special teams coordinator.
Now he's back to work his magic again.
After seven seasons at his alma mater, Lamb will become the 18th head coach at the University of Northern Colorado since 1893, the school announced Tuesday. The news, first reported nationally by The Athletic and locally by Greeley/Fort Collins radio station KFKA, makes Lamb the second coordinator to leave BYU, after seventh-year defensive coordinator Ilaisa Tuiaki announced following the regular season that he was stepping down.
Lamb replaces Ed McCaffrey, the former Denver Broncos wide receiver and father of San Francisco 49ers running back Christian McCaffrey who went 6-16 in two seasons at Northern Colorado, including a 4-12 record in Big Sky play after opting out of the spring 2020 season played amid the backdrop of the COVID-19 pandemic.
"I am incredibly excited to welcome Coach Lamb, his wife Sarah and their family to UNC," Northern Colorado athletic director Darren Dunn said. "It was evident through our process Coach Lamb was the man to lead UNC football," said Director of Athletics Darren Dunn. "He is a man of high character who is a proven winner, tireless recruiter, and developer of young men. He's won championships as a head coach at the FCS level and has worked alongside and learned from some of the best coaches in football."
The Bears haven't won more than three games since a 6-5 season in 2016 and are 20 years removed from their last conference championship in 2002 after a 12-2 record, which included an 8-0 mark in the Division II North Central Conference. UNC moved up to Division I in 2004, and joined the Big Sky in 2006.
Of course, if anyone can turn around such a program, it may be Lamb. The 48-year-old former BYU defensive end who played on four conference championship teams at BYU and Ricks College anchored one of the best defenses in BYU history in 1996, which allowed just 18.7 points and 295.2 yards per game en route to a 14-1 record and Cotton Bowl win for a No. 5 final ranking.
After spending time at the University of Redlands, Idaho and on Jim Harbaugh's staff at San Diego, Lamb was named head coach of an SUU program mired in a 19-game losing skid in 2008 and immediately went 9-13 in the next two seasons. By 2010, the Thunderbirds were Great West Conference champions, accepted an invitation to join the Big Sky in 2012, and finished tied for fifth in the league in their first season.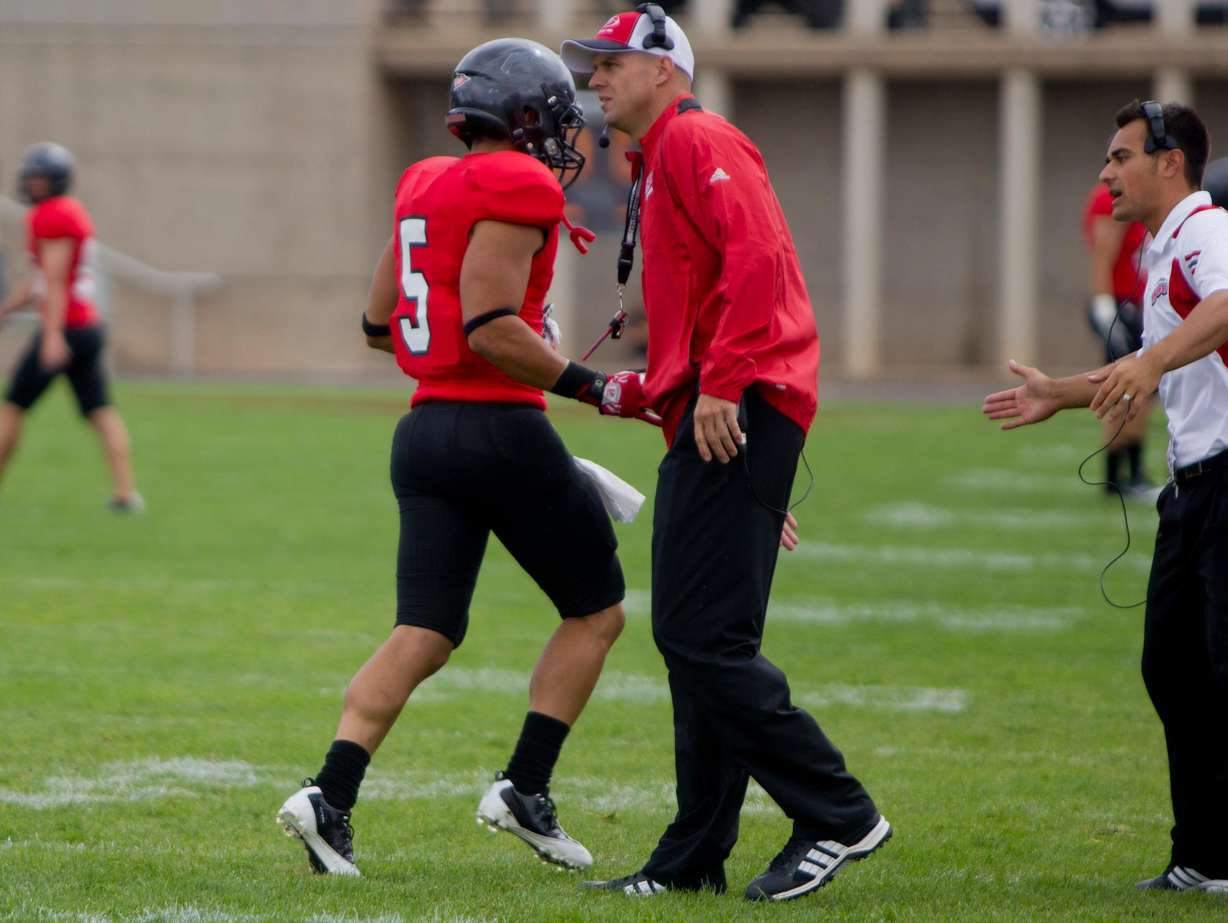 A two-time Eddie Robinson FCS Coach of the Year Award finalist, Lamb clinched the Thunderbirds' first FCS Playoff appearance in 2013, then went on to win the conference title with an 8-4 record and 7-1 mark in Big Sky play in 2015 that included another playoff appearances. After putting together a 45-47 record in four seasons in Cedar City, he joined first-time head coach Kalani Sitake at BYU as assistant head coach and special teams coordinator, where he's also coached linebackers and safeties.
"First and foremost, Ed is a tremendous person, a great husband, and father with an incredible family," BYU coach Kalani Sitake said. "He is a successful and experienced head coach who knows how to establish a culture and lead a football program. Ed has played a significant role in developing our program and the operating systems we use to run our program. As a coach, he has expertise coaching all three phases of the game, offense, defense, and special teams, so he is uniquely prepared to mentor his coaching staff and players to be successful."
The Bears aren't without talent, either, after placing seven players to All-Big Sky honors in 2022, though second-team linebacker Elijah Anderson-Taylor is in the transfer portal with a move in mind away from Greeley, Colorado.
Lamb will also bring along at least one member of the coaching staff at BYU. DJ Williams will join Lamb's defensive staff as cornerbacks coach, KSL.com has confirmed. ESPN was the first to report Williams' hire.
The former Utah State defensive back standout from Smyrna, Tennessee, most recently worked as a graduate assistant with cornerbacks coach Jernaro Gilford, mentoring a room that included Kaleb Hayes, D'Angelo Mandell and recent Vanderbilt transfer Gabe Jeudy-Lally.
×
Most recent BYU Football stories