Estimated read time: 5-6 minutes
PROVO — It may be surprising that both BYU coach Kalani Sitake and SMU counterpart Rhett Lashlee had any time Monday to meet with the media for the official New Mexico Bowl kickoff press event.
Maybe holding the meetup with media on both sides virtually via videoconferencing helped.
Not only are the two coaches preparing for the Dec. 17 bowl game (5:30 p.m. MST, ABC), but both coaching staffs have also begun hitting the recruiting trail after the latest contact period opened on Friday.
Several years ago, bowl games provided 15 practices for teams to develop young players and help prepare for the opponent. But that isn't as much the case in modern college football, said Lashlee, who just wrapped up his first regular season in Dallas with an explosive offense and a 7-5 record.
"Given the nature of where our game is with transfers and recruiting and the timing of it, (those practices are) more about preparing for the game than recruiting," Lashlee said. "For the most part, we know who is going to play. Other than a little bit of time in those practices, you don't have the time to do both — and you've got to spend as much time recruiting."
BYU coaches have already begun hitting the recruiting trail, and they already had a fourth player hit the transfer portal by its opening with wide receiver Terence Fall. That list also includes backup quarterback Jacob Conover and starting tackle Campbell Barrington.
Sitake said starting quarterback Jaren Hall has been "banged up" after leaving the Cougars' regular-season finale at Stanford with an apparent ankle injury, but he's still anticipating playing before the redshirt junior makes a decision about leaving for the NFL draft or returning for his final season of eligibility.
In Hall's place, Cade Fennegan, Nick Billoups and Sol-Jay Maiava-Peters have been taking more reps in practice over the past week, though BYU didn't know its opponent until Sunday.
As for Conover's transfer, it didn't take Sitake by surprise — nor did any of the guys currently hitting the portal, he said.
"I've had really good conversations with Conover especially," Sitake said. "It was a good moment, and I hope those guys get what they are looking for. I want to be one that always mentors young men, and sometimes leaving is the best option."
The Cougars are also searching for a defensive coordinator after Ilaisa Tuiaki stepped down. Sitake said he'll continue to call the plays on defense during the bowl game, and a rotating cast of graduate assistants and defensive analysts like BYU grads Vince Feula and Gavin Fowler will help fill the gaps, as well.
"If it's a good play, then I called it. If it's a bad one, it's one of the other guys," Sitake joked of the play-calling. "This is the time of year where there's a lot of movement in the world of football and coaching. But right now, we've had some good practices with our guys so far."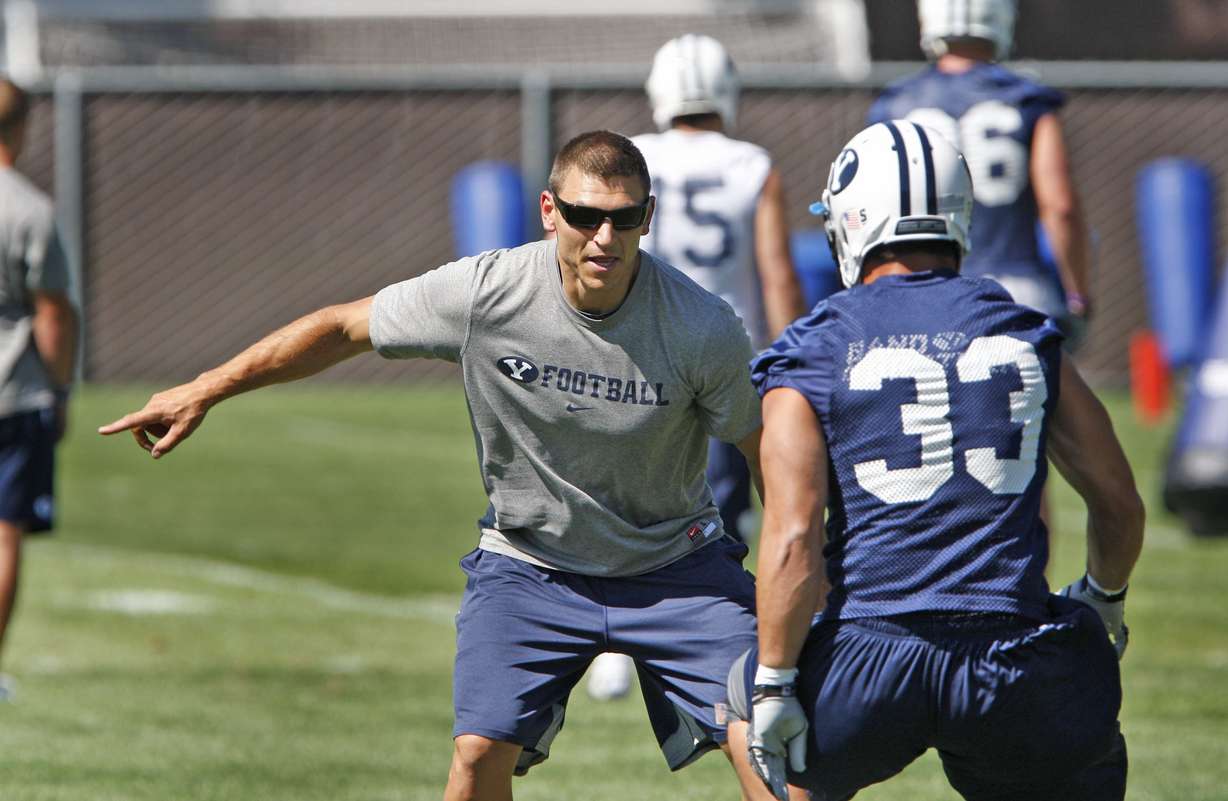 Is K-Pop coming home?
Former BYU and NFL linebacker Kelly Poppinga, who spent six years on Bronco Mendenhall's coaching staff before following his coach to Virginia, will return to BYU after one season at Boise State, according to a report from Bronco Nation News late Sunday night.
Poppinga's role on the team is undetermined, but Boise State has sent a graduate assistant to recruit his prospects over the weekend, seemingly confirming that a deal is done. Tuiaki stepped down from the university after the Cougars' regular-season finale at Stanford a week ago, and BYU launched an immediate search for his replacement.
BYU did not respond to a request for comment, but sources close to the program were unsure that Poppinga was coming in as defensive coordinator. The 40-year-old native of Evanston, Wyoming, has experience coaching linebackers, edge rushers and running special teams during his career at BYU, Virginia and Boise State dating back to his time as a defensive intern on Bronco Mendenhall's staff in 2009.
During his time at Virginia, Poppinga helped the Cavaliers' linebackers to a top-15 mark nationally with 0.75 sacks per game and aided UVA to its first New Year's Six Bowl in program history. He spent the last year on Andy Avalos' staff at Boise State as edge coach and co-special teams coordinator.
He also helped recruit, develop and send several players to the NFL, including Kyle Van Noy, Alani Fua and Fred Warner, culminating in Van Noy's second-round selection by the Detroit Lions in 2014.
Poppinga was an All-Mountain West linebacker at BYU, and helped the Cougars win back-to-back league titles in 2006 and 2007, leading the team as a senior with 113 tackles. He spent parts of the 2008 season with the Miami Dolphins, St. Louis Rams and Arizona Cardinals.
Kickoff, broadcast change
As was expected, the New Mexico Bowl kickoff between BYU and SMU has shifted due to circumstances related to the NFL.
The NFL announced Monday that it was flexing the Week 15 game between the New York Giants and Washington Commanders to air on Sunday Night Football on Dec. 18. That, in turn, moved the Las Vegas Raiders' kickoff to Sunday at 2:05 p.m. MST on FOX.
Because of logistical concerns with replacing the field at the Las Vegas Bowl with the Raiders' home turf at Allegiant Stadium, ESPN opted to switch kickoff and broadcast arrangements for the Las Vegas and New Mexico bowl games. That means BYU and SMU will now kickoff on Dec. 17 at 5:30 p.m. MST on ABC, while Oregon State and Florida will slide into the new, earlier kickoff at 12:30 p.m. MST on ESPN.
×
Most recent BYU Football stories