Estimated read time: 5-6 minutes
PROVO — One day after BYU wrapped up a 7-5 regular season win with the program's first-ever 35-26 win at Stanford, a member of the coaching staff revealed he won't be back for the Cougars' first Big 12 campaign.
BYU defensive coordinator and defensive line coach Ilaisa Tuiaki announced on social media he is stepping down from his position on staff after seven years with the university, saying 'it's time to venture out and pursue a new challenge."
"It's not possible for me to express my true appreciation for Ilaisa and what he means to me as a friend, brother and coach," BYU coach Kalani Sitake said in a statement from the university. "Not only have we coached together more than a decade, but he and his wife Viola and their kids are like family to me and Timberly. I can't offer enough thanks for him for all he has done to help build our football program as our defensive coordinator the past seven years.
"His dedication is unquestioned and his trustworthiness is unmatched. He is completely selfless in how he handles everything he does. I have seen how much of an impact Ilaisa has had on the lives of the players he has coached and how much he genuinely cares about them and about their well-being. He will always be family to me and to so many others. I know he will continue to have that kind of impact as a coach as he takes on his next challenge."
Tuiaki is the second coach to resign from that final game on the Farm, after Stanford head coach David Shaw stepped from his position in the early hours of Sunday morning after his team's loss to wrap up the 3-9 campaign.
Tuiaki spent seven seasons on Sitake's coaching staff, a first-time FBS defensive coordinator for the first-time head coach who followed him through stops at Utah and Oregon State. He ran a "collaborative" defense with Sitake, a former BYU fullback whose background was on the defensive side of the ball with coordinator stops at Utah and Oregon State, as well as a rotating staff of defensive assistants.
But the struggles came to a head the past two seasons, including in 2022, when BYU ranked No. 93 nationally in total defense giving up 409.7 yards per game, 101st in scoring defense at 30.0 points per game, and 130th out of 131 teams in sacks with 1.08 per game for just 13 on the year. Only Colorado ranked worse in the final category, and the Buffs fired head coach Karl Dorrell on Oct. 2 after an 0-5 start.
But things really came to a head after a 52-35 loss to Arkansas on Oct. 15, when the Cougars gave up 52 points, 34 first downs and 644 yards to a Razorbacks team that went on to finish 6-6 with losses to Liberty and SEC bottom dweller Missouri. Tuiaki offered to resign the following Monday, according to the Deseret News, but Sitake wouldn't accept the resignation.
"There's accountability for everybody in the program," Sitake said after the loss to the Razorbacks. "I don't think this is the platform for me to explain it, but it is happening. That's my job, to make sure everybody in the program is doing their roles."
In the final game of the season, BYU gave up 371 yards to Stanford while holding a battered and injured Cardinal ground game to just 53 yards. Junior quarterback Tanner McKee, an NFL prospect, completed 31-of-40 yards for 313 yards and a touchdown to lead Stanford, who converted 7-of-13 third downs and both fourth-down attempts against the Cougars while accumulating 20 total first downs in 61 plays.
The long-time friend offered to demote his associate, and Tuiaki worked "exclusively with the defensive line" for the remainder of the year, appearing only briefly with the media while Sitake took a more active role in play calling for the rest of the year.
Tuiaki included a lengthy list of 'thank you' messages on Instagram, including Sitake, other assistant coaches, players and the BYU fan base — even as cantankerous as their relationship tended to be, at times.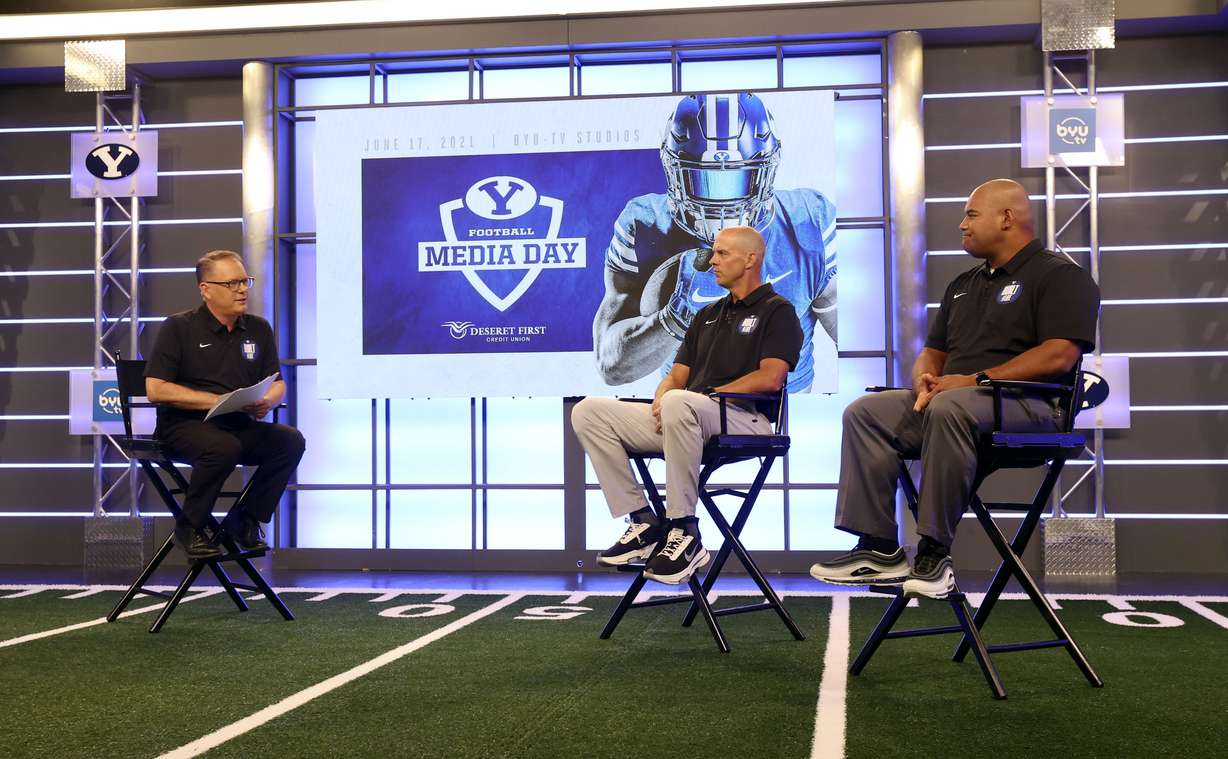 "I want to say thank you," Tuiaki wrote on Instagram. "Thank you to my friend, my brother and mentor Kalani Sitake for the opportunity to coordinate this defense all these years. Timberly, Skye, Sadie, KK, Sylvie, we love you dearly. The Tuiakis and Sitakes go way back to TVA in Laie and Fifth East in Provo. This job can't sever the bond that we've built in the fire of adversity growing up with nothing. Contrary to BYU fan belief, we aren't related! But we will forever be family."
"To my defensive staff who have worked countless hours with me, I've learned so much about the game of football as well as the game of life through you. Thank you for your loyalty and friendship.
"Thank you to all of the players through the years that I've had a chance to coach and recruit to BYU. A huge thank you to your families and to your wives who have joined you during the journey. Thank you for sharing and trusting us with your sons and husbands. I want you players to know that I gave you my best!
"To all of our True Blue Heroes and their families, thank you for sharing your lives and stories with us. I am forever changed, for the better, because of my acquaintance with you and the faith and love you live your lives by.
"To the passionate Cougar fan base, thank you for the memories. I've made a lot of friends and met a lot of awesome people during my time here.
"Thank you to the administration for the support through the years and the opportunity.
"And lastly, I want to say thank you to the best part of me. Thank you, Viola. Always silent, humble and supportive through everything. I love my family and look forward to another challenge and opportunity to grow with you."
BYU says it will begin a search for a new defensive coordinator immediately, and once in place, the new coordinator will "work with Sitake to determine any defensive staff needs."
×
Most recent BYU Football stories