Estimated read time: 4-5 minutes
PROVO — Jay Hill wasn't the only coordinator hire BYU made Wednesday morning.
Former BYU and NFL linebacker Kelly Poppinga was formally introduced as a defensive assistant and the new special teams coordinator on head coach Kalani Sitake's staff. He returns to BYU after one year at Boise State.
Prior to his lone season with the Broncos, Poppinga spent six years on Bronco Mendenhall's staff at Virginia, where he followed the former BYU head coach to Charlottesville after rising up the ranks in six years in Provo.
"I am so excited to work with Kelly," new BYU defensive coordinator and associate head coach Jay Hill said in a statement from the school. "Having coached against him when he was a player, I saw his toughness and tenacity up close. As a coach, his players always performed great on game day.
"He is a phenomenal recruiter that does the little things right and will bring great players into our program. BYU is lucky to have Kelly back, and I'm super excited to be working side-by-side with him. We can't wait to bring championship defense to Provo."
As special teams coordinator, Poppinga replaces former BYU assistant head coach Ed Lamb, who was installed as the Northern Colorado head coach Tuesday.
The native of Evanston, Wyoming, whose hire was first tipped by Bronco Nation News in Boise, has experience coaching linebackers, edge rushers and special teams.
At Boise State this year, Poppinga and the defensive staff led the No. 6-rated total defense in the FBS, and allowed just 281.3 yards per game and No. 11-ranked scoring defense at 18.5 points en route to the Mountain West championship game appearance.
But he hasn't been recruiting for Boise State since the NCAA's contact period opened Friday, with graduate assistants seen making home visits in his place. That led to speculation that Poppinga was on the move — and that move will take him, his wife Rebekah, and the couple's four daughters back to Provo.
"Kelly is a BYU guy who has a ton of previous experience with BYU football, having both played here and coached here," Sitake said. "He's recruited and coached some great players over his career, guys he has helped get to the NFL.
"Kelly is a tireless worker and a relentless recruiter. He brings outstanding experience as a special teams coordinator and defensive coach and coordinator from his time at Virginia in the ACC and with Boise State. I'm excited to have him back at BYU."
In addition to Poppinga, Hill said that cornerbacks coach Jernaro Gilford will also be retained, likely to the same position on his defensive staff. Linebackers coach Kevin Clune and safeties coach Preston Hadley, who also has experience coaching defensive ends and edge rushers this past season, will be considered as he and Sitake evaluate the overall staff makeup and potential new hires.
"Looking past that, it's going to be Kalani and I evaluating the rest of the staff," Hill added, "who is out there, and making sure we get the best fits for the program, on the field, and who is going to do the best job for the players, out recruiting, and putting those pieces in place."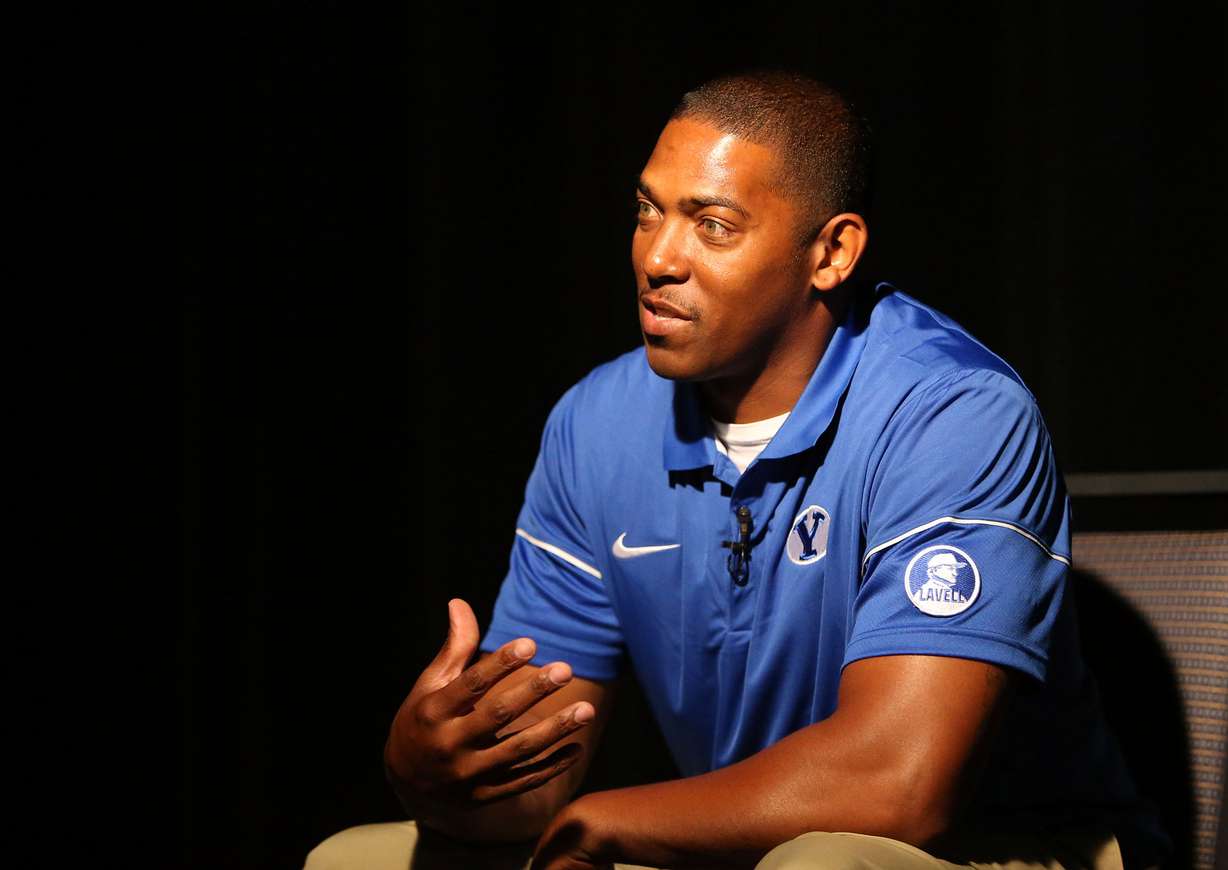 In addition to his role as cornerbacks coach, Gilford has also been one of BYU's strongest recruiters, bringing in players like Oregon State transfer Kaleb Hayes, Vanderbilt transfer Gabe Jeudy-Lally, and mentoring sixth-year starting cornerback D'Angelo Mandell, among others. A former All-Mountain West honoree who played at BYU from 1999-03, Gilford was beloved by fans during a tenure in Provo that included being kicked out of school twice (and returning) to finish his degree in sociology in 2004.
Gilford is possibly best known for his 2001 season, when he totaled 56 tackles and led the Cougars with six picks, including a 50-yard interception return to seal BYU's 24-21 victory over rival Utah in 2001.
In addition to running the defense at Weber State and special teams at Utah, Hill, a former cornerback at Ricks College and the U., also has experience coaching linebackers, cornerbacks, running backs and tight ends in position coaching duties.
Sitake and Hill will also likely look for a new defensive line coach to replace outgoing defensive coordinator Ilaisa Tuiaki. USC defensive line coach Shaun Nua was thought to be in the running for defensive coordinator, and the 40-year-old BYU graduate also earned a master's degree from BYU after a four-year NFL career that included a spot on the Pittsburgh Steelers' Super Bowl XL-winning roster in 2006.
Former Utah State interim head coach Frank Maile was also thought to be a candidate for the job, and currently works with Boise State's defensive line. But the former Aggie standout who spent his career in Logan save for a two-year stint at Vanderbilt and the past two seasons with the Broncos is also Andy Avalos' assistant head coach in the Treasure Valley.
×
Most recent BYU Football stories