Estimated read time: 6-7 minutes
ENOCH, Iron County — Carolyn Jones has been a constant in the election process in Iron County since 1972 when she first started as a poll worker. Since then, she hasn't missed — or even considered missing — a single election, nor does she plan to slow down anytime soon.
"As long as I have a brain, I'll be glad to do it. When they decide they don't need me anymore, I'll be done. But I will do it as long as I can, and as long as they need me," said Jones, who raises sheep and dairy heifers in Enoch with her husband. "Although we're retirement age, we'll never retire."
A lot has changed during Jones' half-century working Iron County polls, but her dedication to democracy in rural Southern Utah remains. Her first election experience, in fact, looked quite different than today's elections. It was held at a community member's home, with a wooden ballot box in one corner and three little booths with curtains in the living room. Jones and other poll workers counted each ballot by hand.
"It was a glorious experience," she said. Since then, Jones has seen elections transition to punch-card ballots and the resulting infamous hanging chads, to mail-in ballots and electronic ballot counting.
"Elections have changed a lot," Jones said. "But the system they have right now, of mail-in ballots, is the most foolproof rather than the old paper ballots we had. There's no way that the system can be hacked or that ballots can be cast without identification, without proving who you are, even with a mail-in ballot."
"I think anytime, in the state of Utah, you heard all kinds of conspiracy theories — they have no validity, at least not in the rural counties because we are spot on," she added. "If all the states would step up and take the precautions that they take in the state of Utah, we would have no reason for people to have conspiracy theories."
The changes Jones has seen extend beyond election systems, to the electorate itself.
"For many years, everyone who voted, voted every election. That's not the same and has not been since about 2000," she said, adding that the most difficult part of her 50 years as a poll worker has been seeing growing voter apathy. "Seeing as our communities grow and our society has changed so that people don't value their opportunity to make their voices heard and they're too busy with whatever their lives are to take care of the one thing that's the most important to our lives, which is our freedom."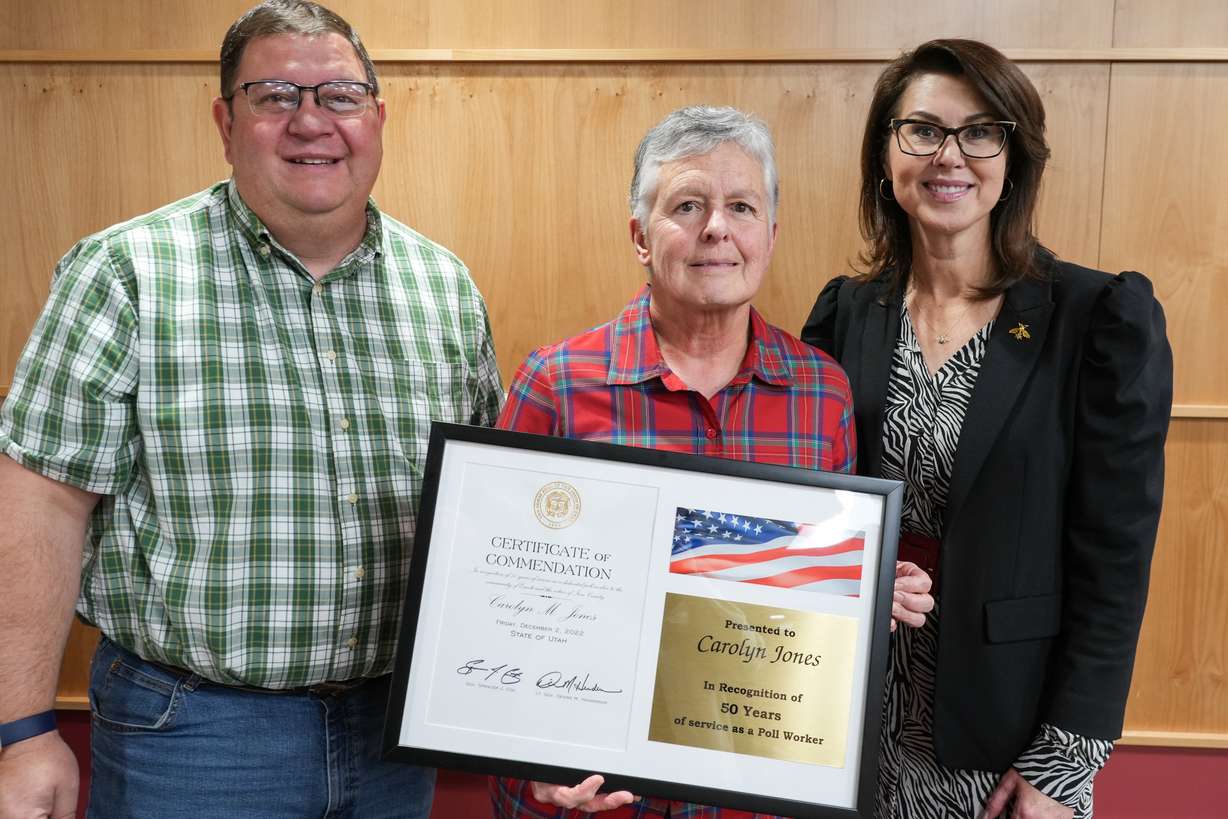 She encouraged people to spend a little time with history to better learn the value of freedom and the election processes. For those considering becoming poll workers, Jones suggests making the commitment to do so for a couple of years.
"The county clerk's office is always open for anyone to go, and they will take you through the process and show you the things that happen," she said.
Lessons from elections past
A handful of elections, in particular, stand out for Jones.
In 1984, for example, the county had about a 98% voter turnout, with the vast majority coming out in support of President Ronald Reagan. In contrast, a non-presidential election in the early 2000s only brought out 10% of voters.
"I wanted to cry," Jones said. "There were no big races going on, but people didn't vote for the people that they really have an opportunity to interact with. They just didn't come out and that was a sad year."
---
I've never not wanted to vote. Sometimes I've not wanted to vote for the people that were running, but I still wanted to vote.
– Carolyn Jones, Iron County election worker
---
President Bill Clinton's second election in 1996 also stands out to Jones. Enoch had recently constructed a new city building. Despite a lack of proper insulation in the building and bitter cold outside, Jones said there was better voter turnout than in other years in the '80s and '90s.
"We ended up with lines serpentined out to the road and around the back of the building at 8 o'clock at night because people were so anxious to vote," she said. "You can tell that we're obviously a Republican community, but it was amazing to see the people standing in line, in the cold, and it was about a quarter to, after 9, when we finally got everybody voted."
A decadeslong passion
Jones' passion for elections started at a young age. Born and raised in Enoch, Jones is the daughter of former county commissioner and state Sen. Ivan Matheson. She said both her parents stressed the importance of democracy — a legacy that Jones has passed to her own nine children — including one daughter who is also a poll worker — and 37 grandchildren.
"My folks were very patriotic and I lived for the day that I would turn 21 and be able to vote. ... We just grew up excited about elections, excited about the opportunity," she said. "I've never not wanted to vote. Sometimes I've not wanted to vote for the people that were running, but I still wanted to vote.
"My husband and I were newly married and we went the first day we could to register to vote — and it was one of the big days of our lives."
Once voting districts were split, as Iron County grew, Jones offered her own home for voter registration and Election Day voting. Interacting with community members has been the highlight of Jones' time as an election worker.
"Meeting the members of the community year after year, watching them grow and become solid citizens, seeing them take part in the democratic process and be willing to show up every election and voting," Jones said.
Carolyn Jones started as a poll worker in Enoch in 1972 & hasn't stopped since. Today in Parowan, I joined the county clerk to celebrate Carolyn's half-century of service to Iron County voters.

The state of Utah couldn't run without the help of the Carolyn Jones-es of the world. pic.twitter.com/RzxvF0H9oL

— Lt. Gov. Deidre M. Henderson (@LGHendersonUtah) December 3, 2022
Iron County Clerk Jon Whittaker said Jones' 50 years as a poll worker is remarkable. In fact, the only other poll worker that comes even close to the number of years Jones has served is in her 33rd year as a poll worker.
"The great thing about Carolyn is she is just steady and confident. She has done it so long that everyone knows her," Whittaker said. "My family moved in the Enoch area in the '70s, and my parents remember voting in her living room. I really appreciate the experience she brings, and I just really like her as a person."
Jones' half-century of service was celebrated by the county and Lt. Gov Deidre Henderson last week. "The state of Utah couldn't run without the help of the Carolyn Joneses of the world," Henderson tweeted.
Jones, though, is a bit embarrassed by all the hoopla. The notoriety is not why she's done what she has for half a century — she's done it for love of country.
"It's been a rewarding, amazing opportunity to help preserve the values and freedoms," she said. "I've loved to do that. November is a good time of year."
×
Photos
Related stories
Most recent Features stories