Estimated read time: 2-3 minutes
SALT LAKE CITY — Salt Lake City leaders say violent crime remains down in the city thanks in part to their continued partnership with federal law enforcers.
On Thursday, Mayor Erin Mendenhall and Police Chief Mike Brown joined Alcohol, Tobacco, Firearms and Explosives Special Agent-in-Charge Bradley Engelbert and FBI Special Agent-in-Charge Dennis Rice to give an update on the city's involvement in the Project Safe Neighborhoods initiative.
Project Safe Neighborhoods is a nationwide initiative started about 20 years ago by the U.S. Department of Justice. The goal is to bring local and federal police and prosecutors together to get guns and drugs off city streets. Salt Lake City reinvigorated its partnership in January 2021, after experiencing a dramatic 20% jump in violent crime in 2020.
---
Our residents and visitors here in the city deserve to feel safe every single day.
–Salt Lake City Mayor Erin Mendenhall
---
In November 2021 and in March, Mendenhall said the program was working. In her latest update Thursday, the mayor said Salt Lake City is continuing to see results.
"Our crime reduction strategies in this city are working," she said.
Overall crime in Salt Lake City is down about 9% as of Oct. 27, Mendenhall said. The partnership with federal authorities has resulted in 77 people being charged federally with serious crimes this year and 112 guns, 9 kilos of meth and 2 kilos of cocaine being taken off the street. The average sentence for a person who is arrested and convicted as part of Project Safe Neighborhoods is a little over three years in prison.
But even with all the statistics being touted by city leaders on Thursday, Engelbert said the "true measure of our success is that this community is safer because of what the individuals engaged in this project are doing."
He also praised the work of local law enforcers who have been taking guns off the street, which typically involves a confrontation between officers and someone who is possessing a gun illegally.
"Every gun that is brought in off the street, that is a gun that is not going to be used in a crime moving forward," he said.
Since the program was renewed in 2021, a total of 260 people have been charged federally, and investigators have seized 51 kilograms of methamphetamine and 306 guns, according to Salt Lake police.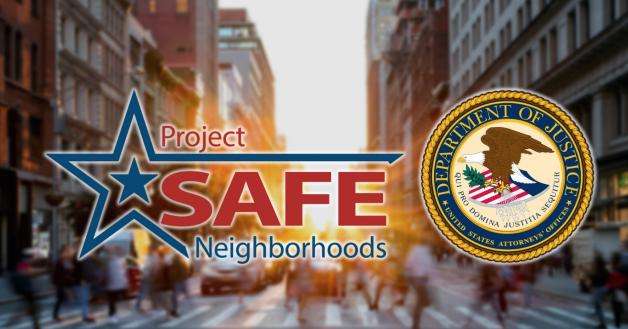 This year, violent crime in Salt Lake City is down about 3% and property crime down a little over 9%, police stated.
But Mendenhall said there is still work to be done.
"No amount of crime is acceptable in this city. Our residents and visitors here in the city deserve to feel safe every single day," the mayor said.
×
Most recent Police & Courts stories