Estimated read time: 5-6 minutes
BIG COTTONWOOD CANYON — Another Utah ski resort is set to open earlier than usual following another round of snow that arrived in the state earlier this week.
Solitude Mountain Resort officials announced Friday that they will open on Nov. 11, one week earlier than originally planned. It's the resort's earliest opening day since 2013, and the schedule change means it is now slated to be the first resort to open in northern Utah this season.
And more is on the way. The National Weather Service on Friday issued a winter storm warning for the Wasatch Mountains, where more than another foot of snow is possible in the mountains from Utah County up to the Utah-Idaho border. It takes effect early Saturday morning and remains in effect through Sunday morning.
Resorts benefit from early snowpack
Solitude's decision comes as Utah's mountains received another large dose of snow Wednesday and Thursday to boost an already robust start to the snow season. Utah's statewide snowpack entered Friday morning at 384% of the normal for this point in the season, which began on Oct. 1, according to Natural Resources Conservation Service data. The collection, so far, is nearly one-tenth of the 30-year normal for the entire season.
The most recent storm produced as much as 14 inches of snow at Park City Mountain, as well as 13 inches at Solitude among Wasatch Mountain locations, according to the National Weather Service.
The Natural Resources Conservation Service adds that Brian Head in southern Utah received 13 inches over the past few days; Brian Head Resort opened Friday, marking the fourth-earliest start to the ski season in Utah.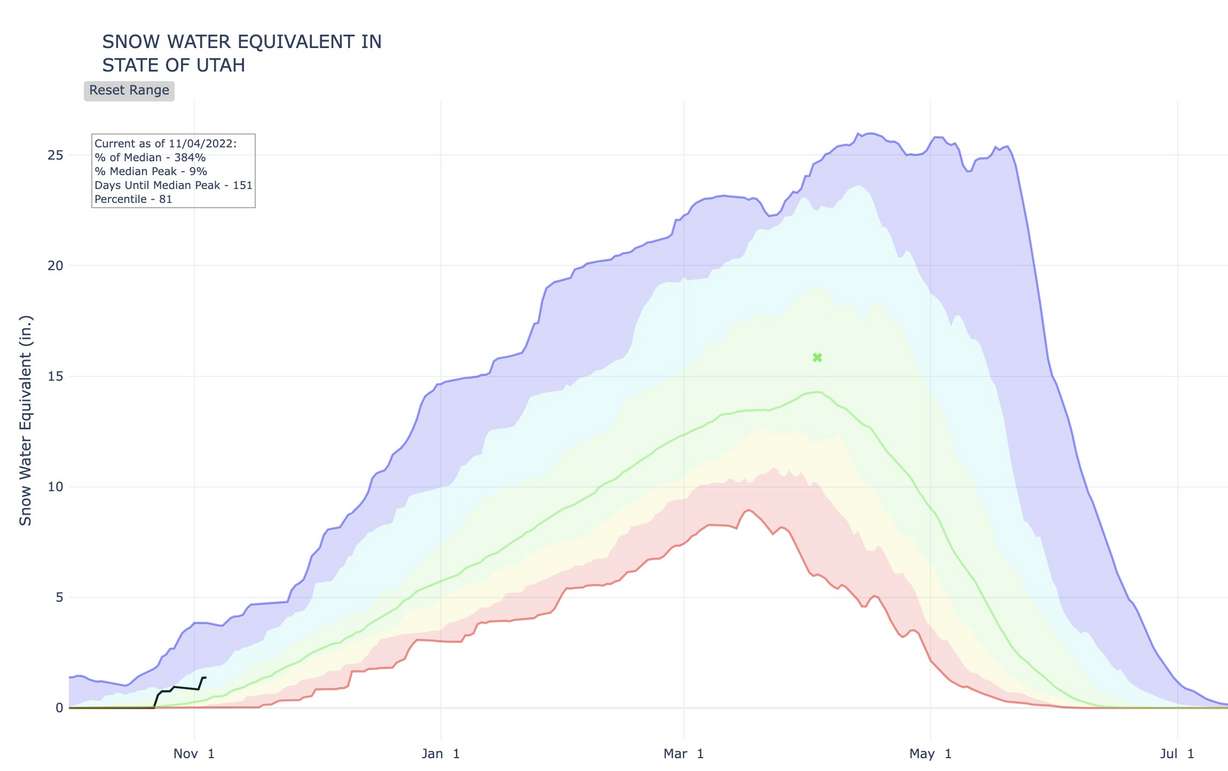 With the new snow in Big Cottonwood Canyon, Solitude reports that it has received 45 inches of snow so far this season. The freshly fallen snow, matched with snowmaking operations, made it possible to bump the opening day up earlier, executives said. They plan to have the resort's Moonbeam Express and Link Lift services up and running from 9 a.m. to 4 p.m. beginning on Friday, Nov. 11.
"It's so exciting being able to kick off the season early with the help of these storms. All this natural snow, supplemented by our snowmaking efforts, is setting up a perfect base for us to enjoy all winter long as we strive for Utah's longest ski season," said Amber Broadaway, the president and chief operating officer for Solitude Mountain Resort, in a statement Friday.
Meanwhile, Utah's snowpack is line to receive another boost this weekend. KSL meteorologist Matt Johnson says there's an atmospheric river "nosing into the Pacific Northwest" that is pushing precipitation into Utah.
This offers more good news for the state's snowpack and also the ski resorts, especially in the northern half of the state.
"Looking at the forecast, this continued snowfall will be vital as we open the mountain," Solitude's Broadaway added.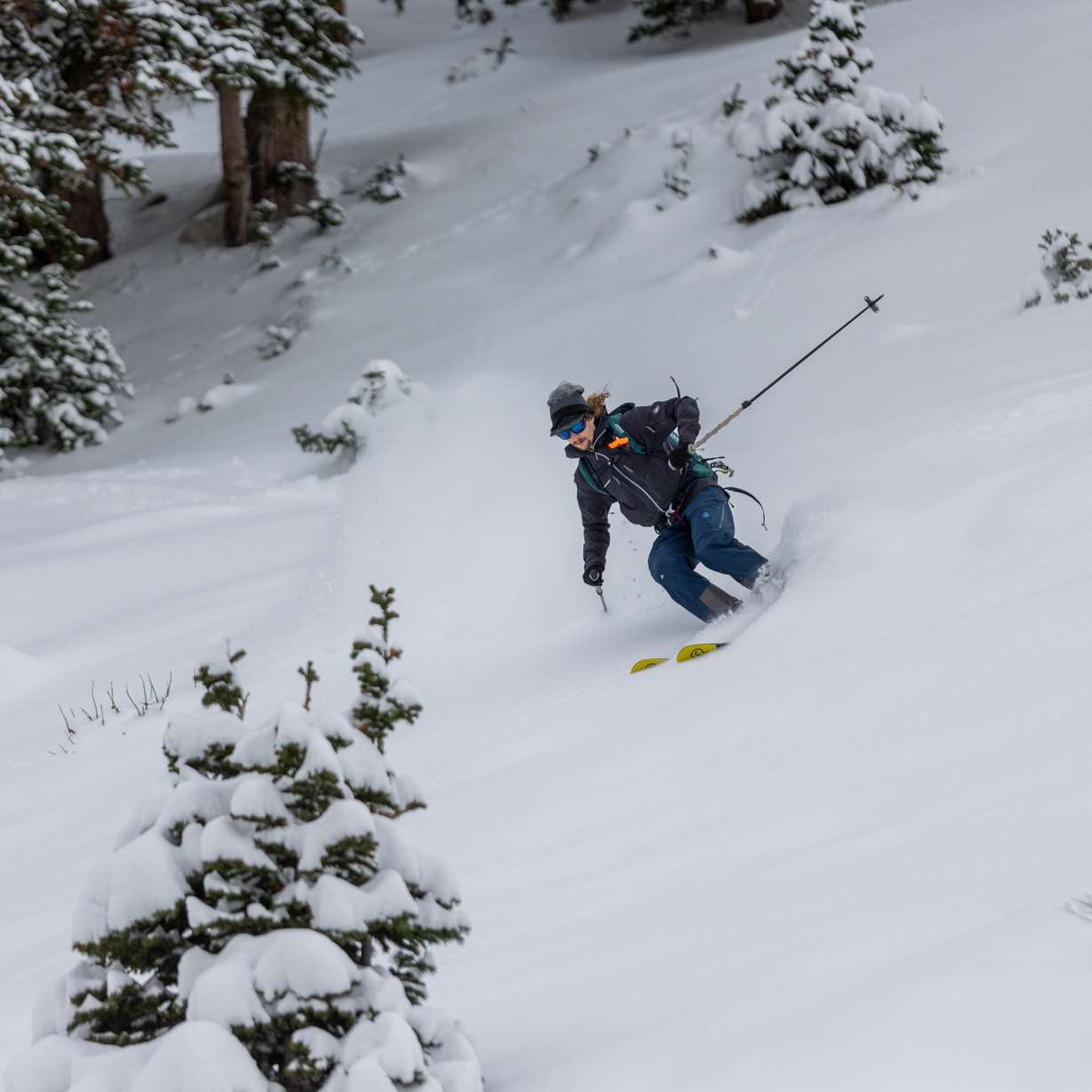 Winter storm warning issued for next storm
The next storm is expected to produce valley rain and "significant, heavy, wet accumulating" mountain snow for the northern half of Utah over the weekend, according to the weather service. The agency initially issued a winter weather advisory for the Wasatch Mountains and Western Uintas but upgraded the Wasatch Mountains portion to a winter storm warning Friday afternoon.
Though snow will begin to fall Friday night, the warning takes effect at 2 a.m. Saturday and remains in place through 9 a.m. Sunday. The weather service projects that another 10 to 18 inches of snow may fall in the Wasatch and Bear River mountain ranges, including places like Alta, Brighton, Logan Summit and Mantua. West-facing slopes could receive higher totals.
The forecast also calls for wind gusts that reach as high as 55 mph in all of the areas listed under the warning.
"Snow may be heavy at times Saturday into Saturday evening, and strong winds will result in area of blowing and drifting snow and poor visibility," the weather service tweeted.
The Western Uintas, including Mirror Lake Highway and Moon Lake, are currently projected to receive 6 to 12 inches of snow. Wind gusts may also reach 50 mph, according to the weather service.
Heavy wet snow and strong winds to impact the northern Utah mountains, particularly the Wasatch and Bear River ranges Saturday -Saturday night. Mountain routes including Monte Cristo, Sardine Summit, Logan Summit, and the Upper Cottonwoods will see winter driving conditions #utwxpic.twitter.com/0AGMXocI9m

— NWS Salt Lake City (@NWSSaltLakeCity) November 4, 2022
Johnson adds that valleys may receive anywhere from a quarter up to a half-inch of rain as a result of the storm, though some areas may only receive one-tenth of an inch. There isn't much precipitation, if any, currently forecast for areas south of Nephi.
"This is mainly going to be a northern Utah event, and the mountains are going to love it," he said.
The Utah Department of Transportation issued a weather alert for the northern Utah mountain passes from late Friday night through noon Sunday as a result of the storm. The alert states the storm will build up overnight and into Saturday and into the first half of Sunday, resulting in slick roadway conditions this weekend.
"Periods of mountain snow will be likely throughout the day on Saturday, with the heaviest likely late morning Saturday through Saturday night," the alert notes. "Mountain snow showers and valley rain showers will continue through midday Sunday before ending. The main road snow concerns will be across upper canyons and mountain routes with this storm."
Yet another storm is forecast to arrive at the start of the next workweek as the atmospheric river persists. The next storm, Johnson said, is expected to impact all parts of the state. Rain and snow are currently in the Wasatch Front forecast for the first half of the week.
Full seven-day forecasts for areas across Utah can be found online, at the KSL Weather Center.
×
Related stories
Most recent Utah weather stories