Estimated read time: 5-6 minutes
SALT LAKE CITY — Salt Lake officials say they plan to combat crime — particularly violent crime — in the coming year by placing more officers in "hot spot" areas of the city to reduce crime by being more visible, while at the same time continuing to fill vacant positions.
On Monday, Salt Lake City Mayor Erin Mendenhall and Police Chief Mike Brown presented the city's updated Crime Control Plan, going over details of their strategy for more than hour. Their original plan was announced in early 2021 and updated in November of 2021.
The third phase of their plan focuses on short-, mid- and long-term solutions based on data-driven strategies. Brown says his department has partnered with the University of Texas at San Antonio to develop strategies for reducing violent crime by heavily focusing on "hot spot policing" while continuing to work with federal, state and community partners to provide resources to help at-risk members of the community.
"This is the most strategic, most focused strategic plan I've ever seen. And it's based on data, and it's based on the science of criminology. It's a great plan," Brown said.
"The goals here are still to reduce violent crime and overall crime in the city," the mayor added. "The needs of this capital city are dynamic, they're ever-changing, and our desire to evolve and serve and meet those needs continues with that momentum."
According to statistics from the Salt Lake City Police Department, from Jan. 1 through Oct. 2, violent crime was down 4.5% in the city from a year ago, property crime was down 10%, and overall crime was down 9%.
"However, when viewing crime statistics over a more extended period, violent street crime increased approximately 20% over the past two years, driven primarily by an upsurge in aggravated assault," according to the city's crime plan. "May 2022, for example, saw 109 violent street crimes reported compared to 93 the previous May."
But there are relatively few places in the city where violent crime happens. According to police, from June 2021 through June 2022, "12 addresses accounted for roughly 11% of the city's reported violence crime."
To resolve the problem in the short term, Salt Lake police have been sending extra officers to "hot spots" in the city where data shows violent crime is happening. The objective is to deter crime simply by being visible.
"Violent crime is unique. It is usually not planned. It's a crime of passion, happens in a moment typically," Mendenhall said. "Violent crime is one that, actually, police presence can prevent."
In order to make the plan work, Salt Lake police are requiring officers to work overtime. Officers typically work four 10-hour shifts per week. Now, they are required to pick up an extra day each week. The city is currently paying for 18 overtime shifts each day.
Currently, the strategy is working, according to the chief and mayor.
"Even though we know we're down about 40 officers right now, the level of service that Salt Lakers are receiving is not 41 or 42 officers down," Mendenhall said.
The police department currently has 43 vacancies to fill, compared to a high of 92 last year.
But the mayor also knows that having officers work that much overtime is not a sustainable strategy. Mendenhall said she is working with the Salt Lake City Council to help develop more recruitment strategies, both for new cadets and to get seasoned officers to transfer to Salt Lake City.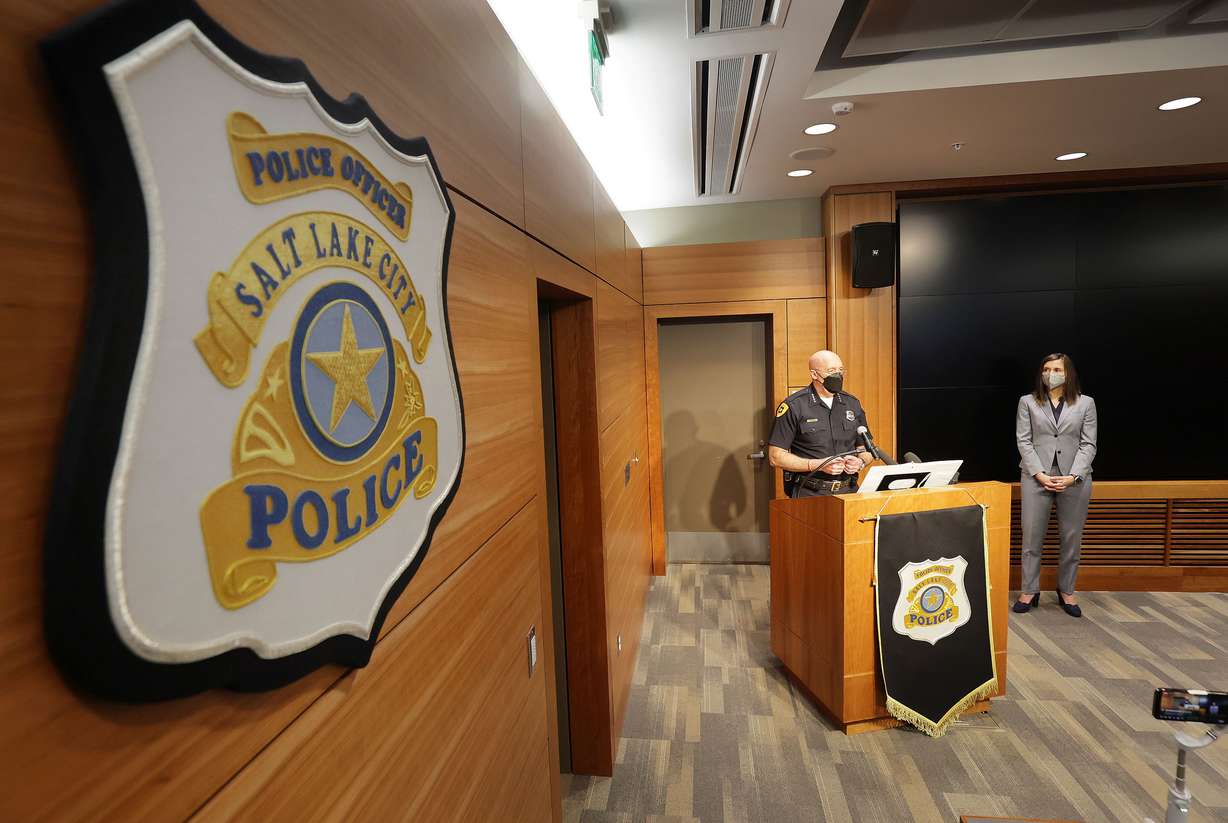 The mid-term strategy for reducing violent crime will be identifying crime-prone areas and figuring out what the underlying conditions are that may be contributing to crime in that area. For example, Salt Lake Deputy Police Chief Scott Mourtgos said in some cities, improved lighting at a business was found to reduce crime. Mendenhall said once the data is collected for Salt Lake City, she will be able to more effectively go to the City council and ask for funding for projects that could reduce crime in that area, such as improved lighting.
The long-term strategy will be to work to change the behavior of high-risk offenders, Mourtgos said, something that will be very resource-intensive and will take time. Accomplishing that goal will require community involvement.
"A key feature of most successful focused deterrence strategies is the clear communication to gang members and other violent offenders of the risks associated with continued criminal activity and the alternatives available to them under a robust suite of counseling/mental health, substance abuse, education and job-related services made available to them within the strategy," the department says in its plan.
While Brown did not have statistics Monday about whether the problem of violent crime in the city is being driven by youth crimes, he again made a plea to the community to stop the issue of gun violence.
"Guns cannot be a form of conflict resolution. Life is not a video game. You don't get to hit reset and play on. Guns kill people," he said.
Since the beginning of the year, Salt Lake police have collected 596 guns, including 103 gathered as part of the city's gun buy-back program.
Mendenhall said her office has been looking at violence-interrupter models used in other cities such as Chicago, and finding ways of building relationships with the city's youth as well as using programs such as My Brother's Keeper aimed at helping boys and young men of color.
"We will never be done working on new strategies to improve lives," the mayor said.
×
Related stories
Most recent Police & Courts stories