Estimated read time: 5-6 minutes
This archived news story is available only for your personal, non-commercial use. Information in the story may be outdated or superseded by additional information. Reading or replaying the story in its archived form does not constitute a republication of the story.
SALT LAKE CITY — If everything goes as planned for Salt Lake City Police Chief Mike Brown and Mayor Erin Mendenhall, the police department will have all vacant positions filled by June 30, 2022.
Additionally, with a new unit being created, Brown hopes to bring the total number of sworn officers in his department up to 581 — an all-time high for Salt Lake City.
But solving the city's crime problems will require more than just saying, "We need more police officers," Mendenhall noted.
That's why on Wednesday, the police chief and mayor sat down with members of the media for over an hour to go over the Salt Lake City Police Department's updated 2021 crime control plan.
With calls for service up by 20% and the Salt Lake City Police Department hitting a new low in staffing in June with 91 officer vacancies, Brown said 2021 has presented challenges that could not have been predicted at the beginning of the year when the department's original crime plan was presented. But with the most recent crime data showing overall crime in the city is down and with the new plan introduced Wednesday, both the mayor and chief said they are encouraged by what they see.
"But we are still unsatisfied. And I am driven as the mayor to increasing the quality of life and that feeling and reality of safety for our residents, our businesses and our visitors in this capital city," Mendenhall said.
4 goals, 7 proposals
The updated city crime plan has four main goals: reduce crime, improve officer response times, fill funded and unfunded sworn officer positions, and continue building community relationships.
In order to reach those goals, Brown and Mendenhall have seven program proposals: create more call diversion and online reporting; create a business community engagement officer position; continue community reestablishment efforts; create a police-civilian response team; more recruiting and retaining of officers; the creation of a violent crimes task force; and creating a volunteer corps.
As of Wednesday, the police department had 55 unfilled sworn officer positions. In an effort to increase recruitment, Brown said the city is looking to add housing incentives so new officers can afford to live in Salt Lake City, and change the rule that only allows officers to take home a patrol car if they live within 35 miles of the department.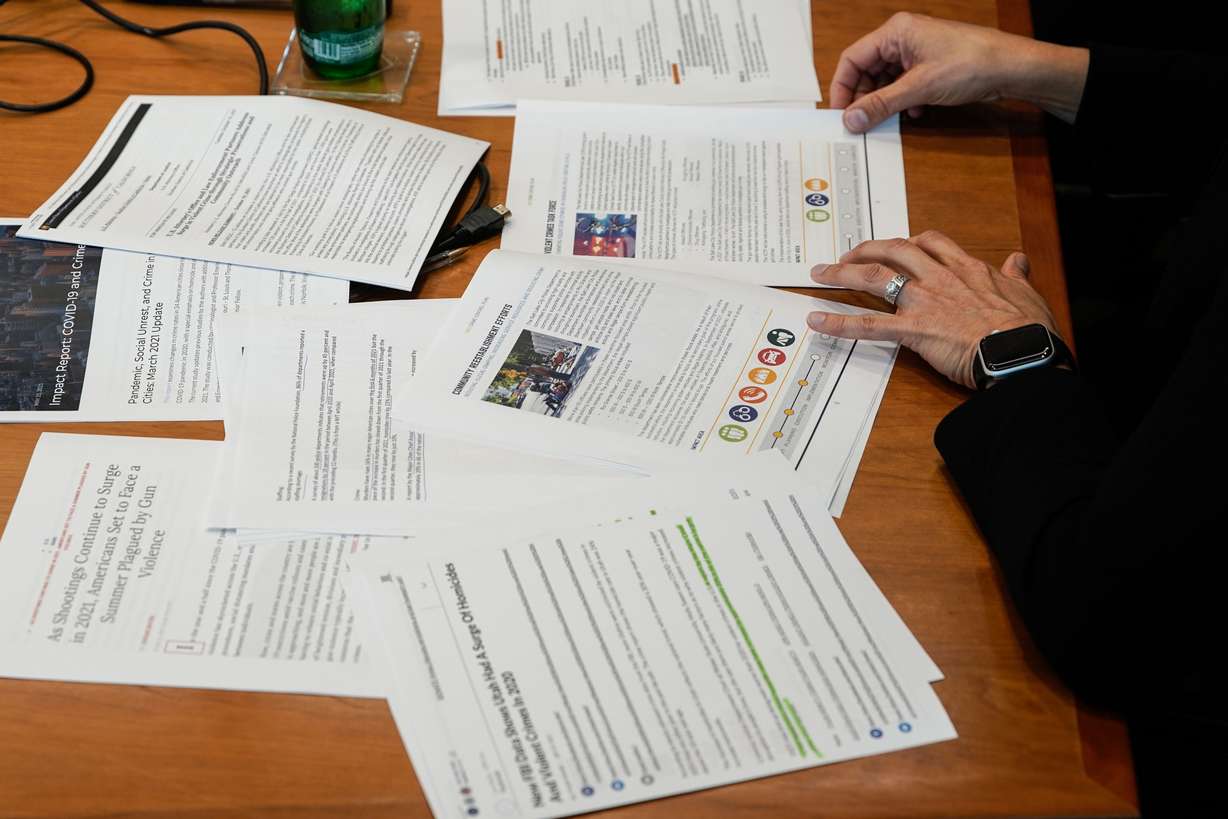 Mendenhall also announced an incentive for current Salt Lake police officers to recruit officers from other departments. Officers can get a $2,500 bonus for successfully recruiting an officer at another department to switch to Salt Lake City for a minimum of three years. The mayor said funds have been approved for 20 such lateral movements.
But once those officers are hired, Brown wants to make sure they are utilized in the best way.
To do that, the updated city crime plans call for the creation of a new 10-member violent crime task force.
"I think this will be huge," Brown said.
The task force, which will be funded by a grant already secured, will work with state and federal partners, including U.S. marshals and the Utah Attorney General's Office, in going after only the most violent criminals, the chief said.
While violent crime overall is slightly down in the city over the past month, statistics from the police department show it rose during that same time period in five of the city's seven districts, including the Fairpark, Ballpark and Liberty Park neighborhoods.
In addition to sworn officers, the city also wants to implement a civilian response team and a volunteer corps. To go along with that, Brown and Mendenhall said they want to change how the department handles nonemergency calls for service.
Currently, Brown said his officers are responding to call after call nonstop from the moment they arrive at work. The civilian response team aims to ease the caseload for officers by hiring people who are not certified law enforcers — possibly retired officers — who can take reports from citizens over the phone or possibly drive to homes or businesses to help pick up items to give to a detective. The volunteer corps could be used for traffic control (such as on parade days), or looking for stolen vehicles, the chief said.
Related:
Furthermore, the city is proposing putting kiosks in the lobby of the city's Public Safety Building as well as its Pioneer Precinct where crimes can be reported online by those who may not have internet access.
The new plan also calls for continued patrols of illegal camps in the city, getting people into treatment centers, and cracking down on those preying on the homeless. Mendenhall said more than 50 officers have worked overtime shifts in 2021 focusing on the areas mainly around Rio Grande Street and North Temple, resulting in numerous guns and stolen vehicles being recovered.
Additionally, the updated crime plan looks to create a position for a business community engagement officer who will serve as a point of contact for business owners in the city and directly take reports and concerns regarding trespassing, vandalism and shoplifting.
"This plan is built on community policing," Brown said.
"Every day I hear from residents and visitors and business owners who are concerned about crime and safety in Salt Lake City. I am concerned every day about crime and safety in Salt Lake City. And I know our police officers are as well," Mendenhall said.
Mendenhall added that even with the updated crime plan, "it is completely untrue" that the city is no longer engaging in police reform, noting that her office has added social workers and money for diversity and equity training. She also continues to have dialogue regularly with the commission on racial equity in policing, which was formed in 2020. The mayor would like the group to become a permanent commission to the city.
The advising body is tasked with making recommendations to city leaders on the city's policy, budget and culture of policing.
×
Photos
Related stories
Most recent Utah stories