Estimated read time: 4-5 minutes
SALT LAKE CITY — Salt Lake County District Attorney Sim Gill says phase 1 of his office's pilot criminal justice diversion program has been a success.
Gill announced the program two years ago as a way to keep low-risk offenders from clogging up the court system, thus saving taxpayers money. People who were arrested for crimes such as theft, home and car burglary, or fraudulent use of credit cards — crimes typically associated with drug use — or minors in possession of drugs or alcohol, have had the option to go through the county's diversion program if they were determined to be eligible.
That meant that formal criminal charges would not be filed by prosecutors, and upon successful completion of the program, the case would be dismissed.
On Wednesday, Gill held a press conference to announce some of the results of the program. Of the approximately 450 people who agreed to enter the diversion program, a little over 300 have successfully graduated while just under 40 people either failed the program or left before completion, he said.
And of those who successfully completed the program, only a little over 8% ended up committing new crimes, according to Gill. There are currently about 100 people still going through the diversion program.
The goal of the program, Gill said, is to have meaningful accountability and meaningful diversion to slow the flow of people entering the criminal justice system. From a prosecution standpoint, he said that's over 300 cases that his office hasn't had to spend hours preparing for or sitting in court for.
From a law enforcement perspective, Draper Police Chief John Eining said the diversion program means people who commit lower-level crimes get the appropriate punishment, which is neither overly harsh nor a "free pass."
"Our best opportunity to change behavior is to put people into a program that has a minimal impact to their everyday lives so they continue to function and support a family, support themselves, carry on a job, whatever the case may be, while they are still getting the treatment they need to overcome the cause of their behavior," Eining said.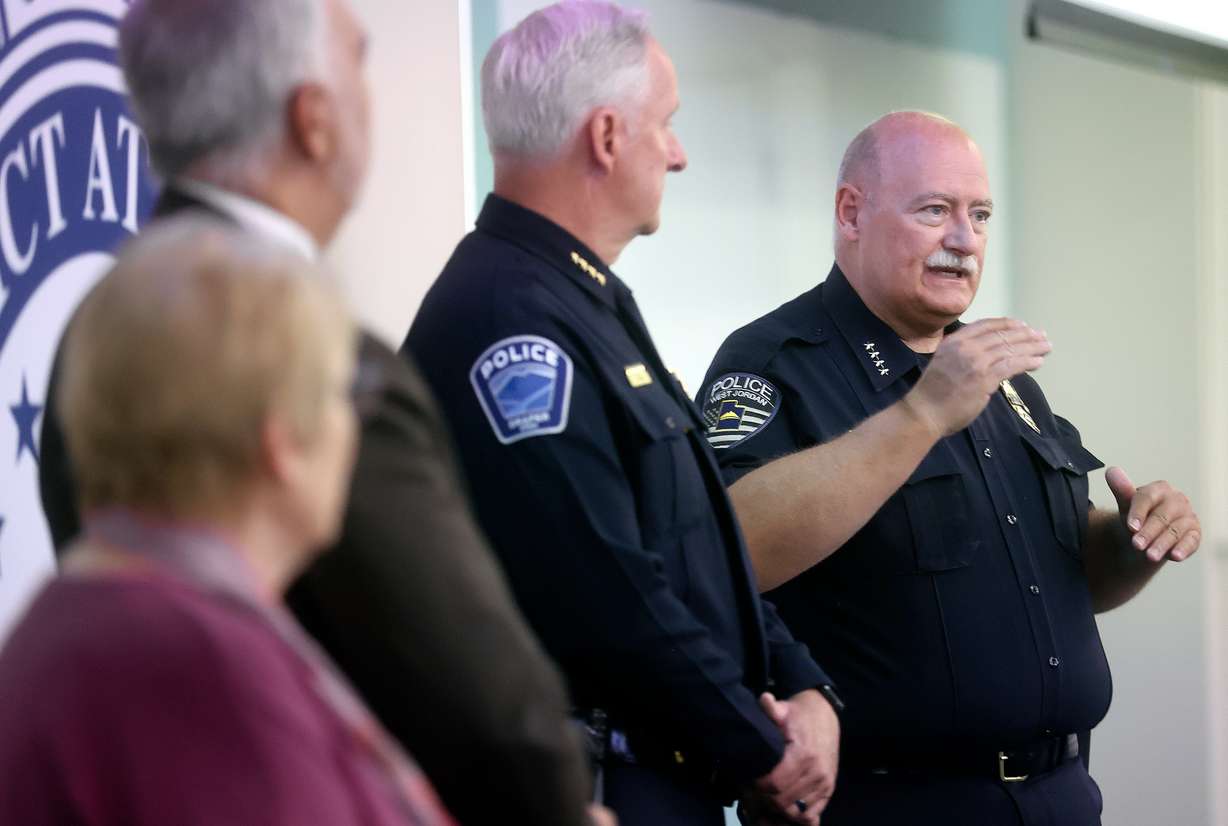 Both Gill and Eining noted that when a person is charged, it often disrupts their personal lives by resulting in a loss of job, or sometimes that person not being able to find a place to live.
West Jordan Police Chief Ken Wallentine is also in favor of using diversion programs to change behavior, as well as being a cost-effective approach to justice.
"Division programs — programs that restore people back to their former well-being — those are programs that put folks into the community to be contributors, not people draining on resources. The 90% that don't reoffend, those don't become repeat customers of my police department. That saves taxpayers' dollars. That keeps my officers free, frankly, to go out and deal with the tsunami of very serious crimes that were are dealing with in our communities today. We are taking the appropriate offenders and putting them into programs that work," Wallentine said.
"We will never arrest, we will never incarcerate ourselves out of the social problems that we're facing today. That just won't work. It is frankly a foolish answer."
Those who are admitted to the diversion program have typically been either younger offenders or adults who have committed a crime for the first time, possibly due to new stresses in their lives, said Salt Lake County Criminal Justice Services case manager Mauna Liddiard.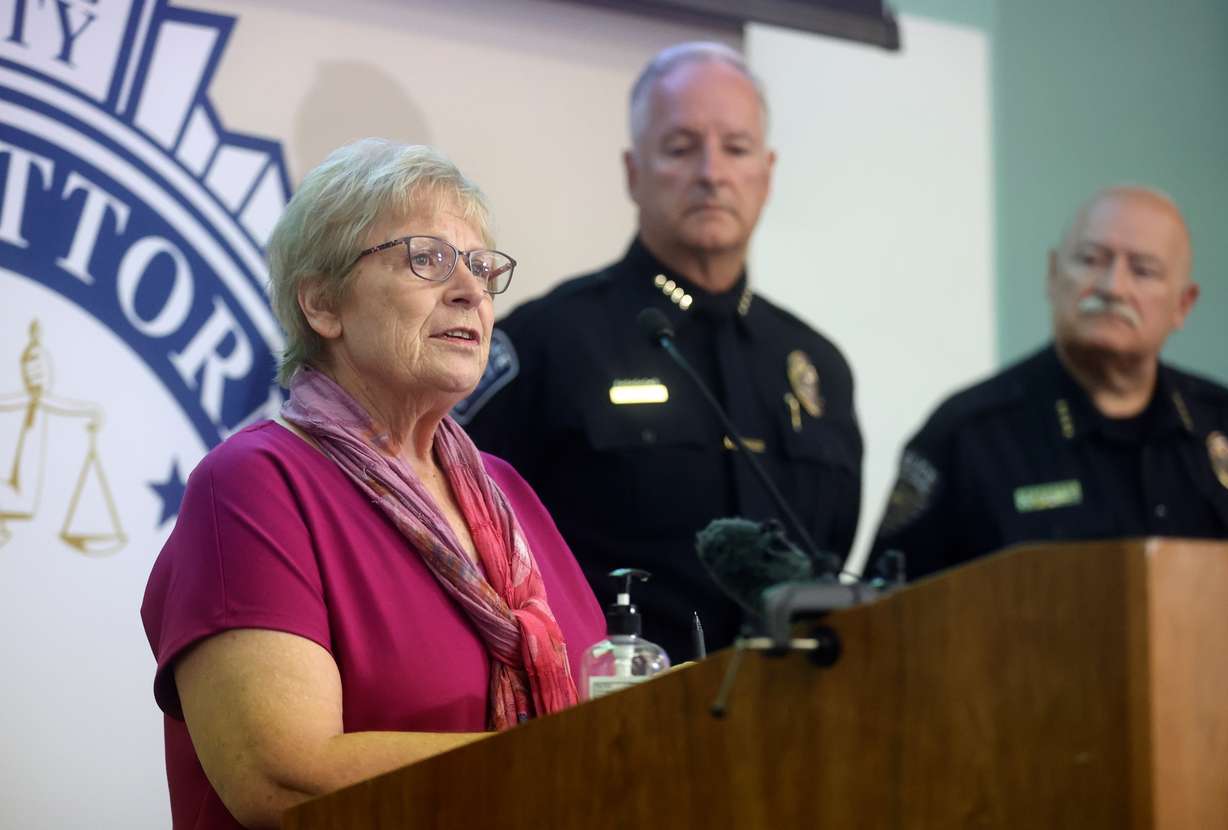 The diversion program is voluntary. Those who are determined to be eligible also have the option of having their day in court instead. Most people who agree to the diversion program will take classes for four to six months before completion, or up to a year for those with addiction issues, she said.
If a person leaves the program earlier or fails it, Gill's office will go ahead and file the criminal charges that were originally withheld.
Gill said of the people who committed new crimes after successfully completing the diversion program, two were arrested for aggravated assault, five for assault, three for child endangerment, and the others for crimes such as fraud, theft and drug possession crimes.
He hopes to now move into phase 2 of the diversion program, which will include expanding it to up to 1,000 people with the hope of eventually raising that to 1,500, which would represent about 10% of all cases currently being screened by the district attorney's office.
Phase 2 will also begin to focus on more moderate-risk offenders. In some cases, such as in cases for people who need support for drug addiction, Gill said a criminal charge might be filed, but then the case will essentially be put on hold while that person goes through the diversion program. Upon completion, the charge would be dismissed.
×
Photos
Most recent Police & Courts stories