Estimated read time: 3-4 minutes
SALT LAKE CITY — The annual Utah Arts Festival will return to Liberty Square in full force with several new additions to its usual festivities.
The largest outdoor multi-disciplinary arts event in Utah will be held Thursday, Friday and Saturday from noon until 11 p.m., and Sunday from noon to 9 p.m. The event will return to its full scale after previously being reduced due to the COVID-19 pandemic in recent years.
This year's festival will feature the highest number of visual artists in its history, according to executive director Aimée Dunsmore.
Each summer, the festival attracts approximately 70,000 attendees — here's how best to navigate the arts festival and what makes this year different.
Buying your ticket and navigating traffic
The Utah Arts Festival has partnered with the Utah Transit Authority to allow free transit with the purchase of a ticket. The partnership will allow attendees to park elsewhere and use the TRAX system to travel to the festival. Attendees can show their ticket for unlimited access to FrontRunner, TRAX, bus and UTA OnDemand.
If attendees opt to bike, a free bike valet lot will be provided on 400 South just north of the Salt Lake City-County building.
Attendees are encouraged to buy their tickets beforehand for easy access. Ticket booths will be present at the entrances of the festival but will accept cash only. Tickets can be purchased on Utah Arts Festival's website.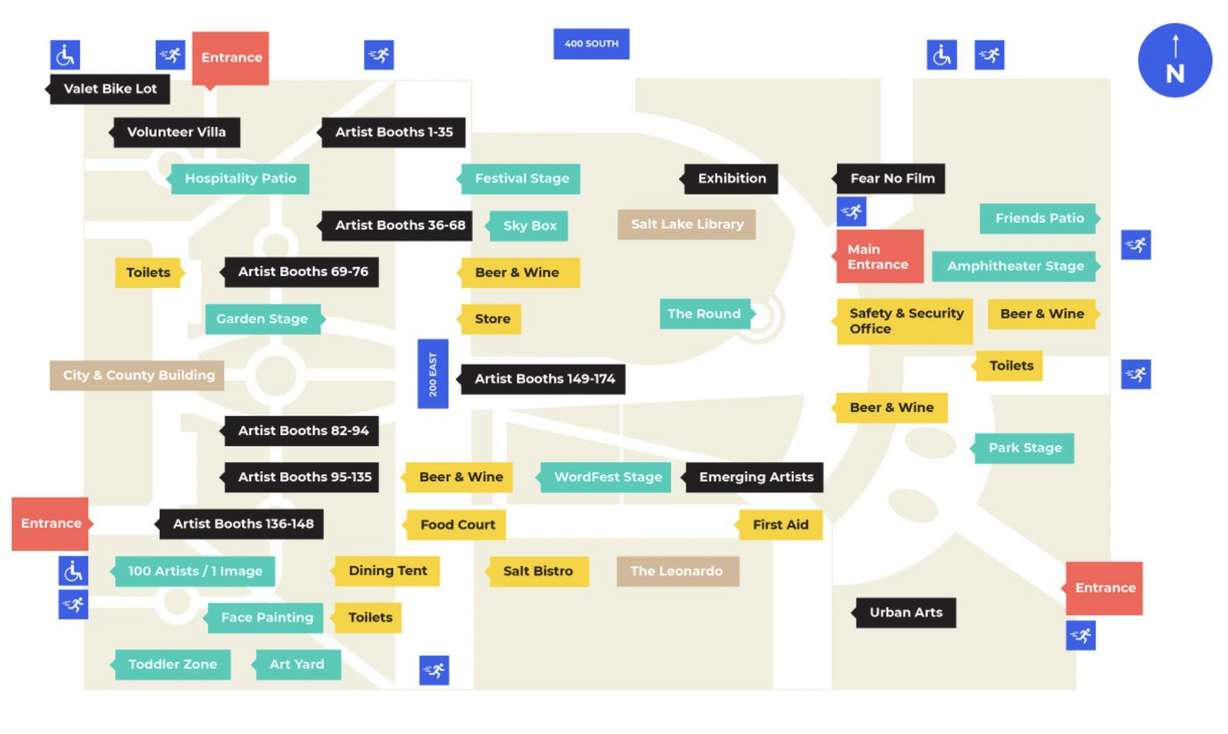 What to expect
The multi-disciplinary event features many performances and engagement opportunities. With a variety of artists, programs and spaces, the festival caters both to individuals and families. Attendees are encouraged to wear comfortable shoes, sunscreen and bring empty water bottles to fill at the provided water stations.
"We've got the highest number of visual artists we've ever had this year and more than 100 live performances taking place on seven different stages. We've got music, dance, literary, the Children's Art Yard; face painting is back," said Dunsmore.
The approximately 1,100 artists between the different programs offer the opportunity to engage with art in all forms. Outside of programming and exhibitions, food vendors will be present throughout the festival along with artist booths.
"I think the really wonderful thing about the Utah Arts Festival is that you can see so many different styles of art in different mediums and genres all in one place," she added.
The Utah Arts Festival's "Fear No Film" is on the schedule, featuring a variety of documentaries, live performances both musical and literary, opportunities to buy pieces and engage with artists, and several workshops hosted by the SLCC Community Writing Center.
"We've got a lot of new performers, a lot of new visual artists and new filmmakers as well. This year ... about 50% of our filmmakers for the federal film program are women and we're representing 20 different countries as well," said Dunsmore.
What's new — besides the artists
Building off of last year's new addition of the BIPOC Literary program, the Utah Arts Festival has introduced an Emerging Artist program. The program highlights emerging local artists "in the hope of providing opportunities and a platform for under-recognized artists to show their work and evolve in a variety of genres and mediums."
Program participants includes artists of different ages, races, ethnicity, gender identity and ability.
"What we're really trying to do is make sure that everybody who attends the festival sees themself and our programming and we want to make sure we're representing diverse voices and perspectives," said Dunsmore.
In addition to the launch of the new program, the Utah Arts Festival will include open mics throughout giving attendees an opportunity to participate in new way.
"It's a lot of things people have come to know and expect out of the festival, but also I think we've sort of evolved and grown as well," Dunsmore said.
×
Related stories
Most recent Arts & Entertainment stories