Estimated read time: 4-5 minutes
WEST VALLEY CITY — The mother of a man shot and killed by West Valley police at point-blank range after he had grabbed an officer's gun — despite being handcuffed and in custody in the basement of the police station — has reached a settlement with the city.
In August, Susan Neese, the mother of Michael Chad Breinholt and the heir of Breinholt's estate, filed a wrongful death lawsuit in federal court against West Valley City in response to the shooting death of her son on Aug. 23, 2019.
According to a letter obtained by KSL.com through a government open records request, Neese and the city reached a $350,000 settlement on Jan. 27. The lawsuit, which named West Valley Police Sgt. Tyler Longman, the West Valley City Police Department, Chief Colleen Jacobs, West Valley City and at least four other officers as defendants, was dismissed on Feb. 11.
Neese, who now lives in Illinois, declined comment Monday, citing the settlement agreement which states if either she or West Valley City is contacted by the media, "they agree to limit their responses to the statement: 'The matter has been settled for a mutually agreeable amount.'"
'You're about to die, my friend'
In August 2019, West Valley police were called to a business near 2900 S. Redwood Road where Breinholt, 31, had gone to visit his girlfriend. The caller stated that Breinholt was suffering from depression and was possibly intoxicated and that he was stumbling and slurring his words.
West Valley police responded and arrested Breinholt for DUI. They took him to the basement of West Valley City Hall where he waited for an Intoxilyzer test to be completed. For more than two hours he was in the 6-foot by 7-foot room with his hands cuffed behind his back.
At one point, Breinholt cried on the concrete floor for 11 minutes. Breinholt eventually was able to take a shoe off and claimed he had a gun in it. As an officer went to collect Breinholt's shoe, Breinholt, who was handcuffed, managed to grab the officer's gun. The gun never came out of the holster as two officers struggled with Breinholt to get his hands off the weapon.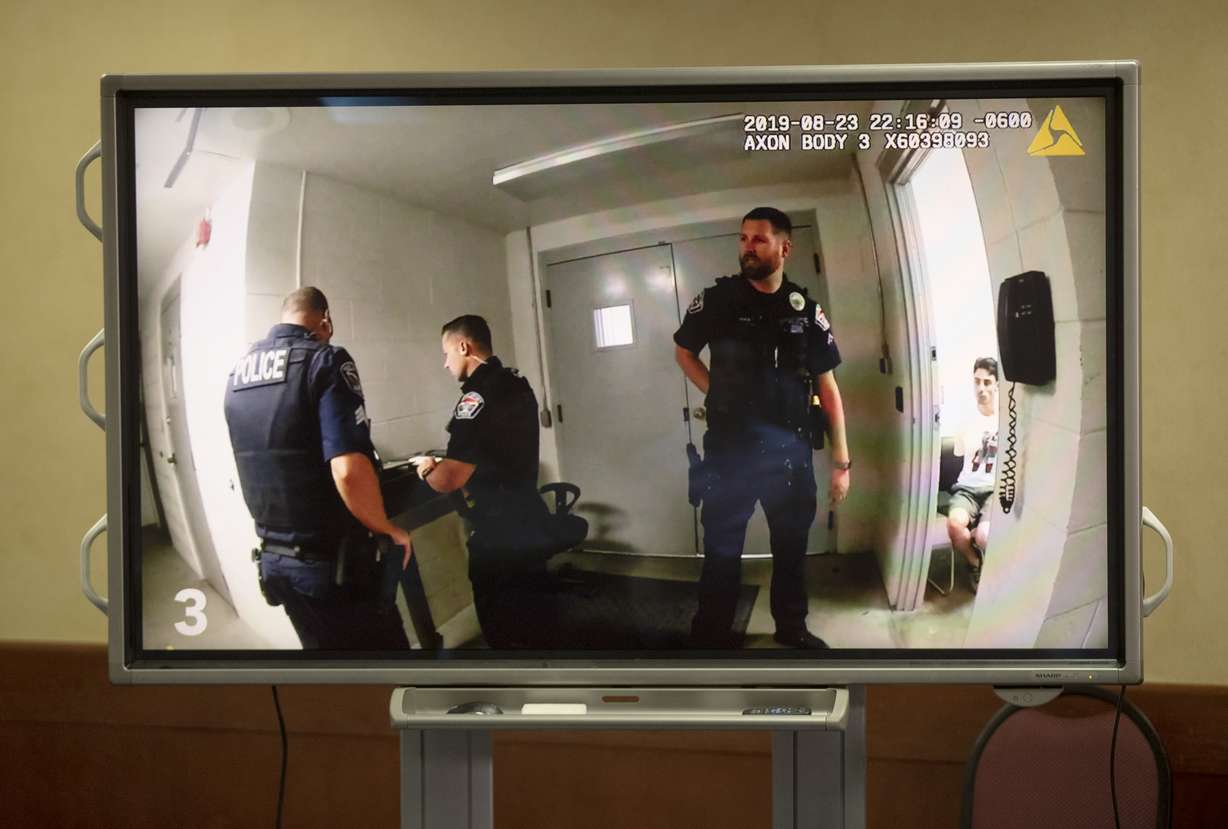 Approximately 7 1/2 seconds after the struggle began, Longman entered the room and punched Breinholt, who still did not let go of the gun. Longman then stated, "You're about to die, my friend," before shooting Breinholt at point-blank range, instantly killing him.
Salt Lake County District Attorney Sim Gill determined that the sergeant was legally justified in using deadly force based on how Utah law is written. But Gill also said he believes the killing could have been avoided.
Policy overhaul
The settlement between Neese and West Valley City also required the city to provide a letter to Neese explaining what changes in policy and training the police department has made since her son's death.
In the letter, also obtained by KSL.com through an open records request, Bradley Jeppsen, the city's public safety attorney, said the way people suspected of DUI are processed once they are taken to the public safety building has been completely overhauled.
The Intoxalyzer room where Breinholt was held has been closed. People arrested for DUI are now taken to a secure area inside the police department's new public safety building, which opened in October of 2019.
"The room itself is equipped with an area where suspects can be restrained to a bench with either hand or foot restraints, or a holding cell if necessary. The area provides room for an officer to maneuver and move around without being in the reach of a suspect, and the room contains a high-tech surveillance system," the letter states.
Officers are now required to lock their guns in a safe prior to entering the Intoxalyzer room. They are also required to monitor the person being detained at all times and safely secure anyone who poses a risk to themself or others.
In addition, "West Valley City now requires that all of our officers go through a 40-hour Basic Crisis Intervention training course and then maintain their certification by receiving anywhere from four to eight hours of yearly crisis intervention training each year," according to the letter.
The instructors for the course include officers and professionals from the local mental health community. Those taking the course will also be required to visit the Utah State Hospital where they can interact with those who have been committed due to mental health issues, the letter states. Furthermore, officers receive "training on deescalation and tactical retreat from suicidal individuals" throughout the year, the city wrote in its letter.
×
Photos
Related stories
Most recent Utah police and courts stories