Estimated read time: 5-6 minutes
This archived news story is available only for your personal, non-commercial use. Information in the story may be outdated or superseded by additional information. Reading or replaying the story in its archived form does not constitute a republication of the story.
SALT LAKE CITY — What's the difference between a wild duck and a domestic duck?
That may sound like a joke with a punchline just waiting to be dropped, but it's no joke and there is no punchline. There is a difference between wild and domestic ducks, and that difference can mean life or death for hundreds if not thousands of ducks across the state this year.
Nobody knows that more than Adison Smith of the animal rescue organization Wasatch Wanderers, who spends much of her spare time trying to educate people about domestic waterfowl — particularly those who dump their pet ducks at local ponds and lakes.
According to Smith, even though it is illegal, hundreds of ducks and other domestic waterfowl are dumped in the many bodies of water across the state each year to fend for themselves without the proper instincts.
"It's just like expecting a dog to become a wolf," Smith said. "Dogs just don't have those same wolf instincts, and domestic ducks are the same way. Domestic ducks don't know how to forage enough food to sustain their body weight because we've genetically altered them so they get so fat they can't fly."
For thousands of years, even dating back to 4000 B.C., ducks have been domesticated by humans, meaning they have been genetically altered for human use, and are therefore unfit for the wild. While most have been bred for meat, eggs and even feathers, many people nowadays buy ducklings as "cute, furry pets," Smith said.
---
It's just like expecting a dog to become a wolf. Dogs just don't have those same wolf instincts, and domestic ducks are the same way. Domestic ducks don't know how to forage enough food to sustain their body weight.
–Adison Smith, Wasatch Wanderers
---
"In the springtime, many families will buy ducklings thinking that they are cute, little and fluffy," she said. "What they often don't realize is that ducks poop nonstop because they don't have sphincter muscles, so they can't control their bowels."
Smith said that many people will abandon or "dump" their ducks at local ponds and lakes, thinking that they will do just fine with the other ducks at the pond.
"Many people will just let them go where there are other ducks that look the exact same as theirs, thinking that they'll have friends. But it's not that," she said. "The ones that do survive breed, and then you have more domestic ducks."
The overpopulation of domesticated ducks is a problem for many ponds and lakes, and Smith says it has been for many years. She said that many city officials know about this and often try to fix the problem through a process known as culling.
Culling means killing
Culling is the process of removing domestic ducks from the water and killing them, and Smith said that not only is this process inhumane but it is costly and it doesn't work.
"Culling doesn't work because people keep dumping their ducks," Smith said. "I recently spoke to a city official who got a quote to have 15 ducks removed and culled from its pond, and the cost was $6,000. Those are taxpayer dollars that are being used to kill domestic ducks."
Smith's nonprofit organization, Wasatch Wanderers, is focused on finding homes for these ducks, and does it entirely free of charge, she said. And while she says that her organization will do all it can to care for the ducks and other animals that are dumped at the lakes, it all really comes down to education.
"I've been rescuing animals for many years, but I didn't know that there was a need to rescue ducks until I moved to Utah from Arizona," Smith said. "My engagement pictures were taken in front of dumped domestic ducks at Jensen Park. I was like, 'They're so cute.' They were all killed after that picture, and I didn't even know. I look back at it, and I was so blind. There's really is a lack of education."
Smith wasn't the only one who found herself admiring the ducks and quickly became educated about the harsh reality.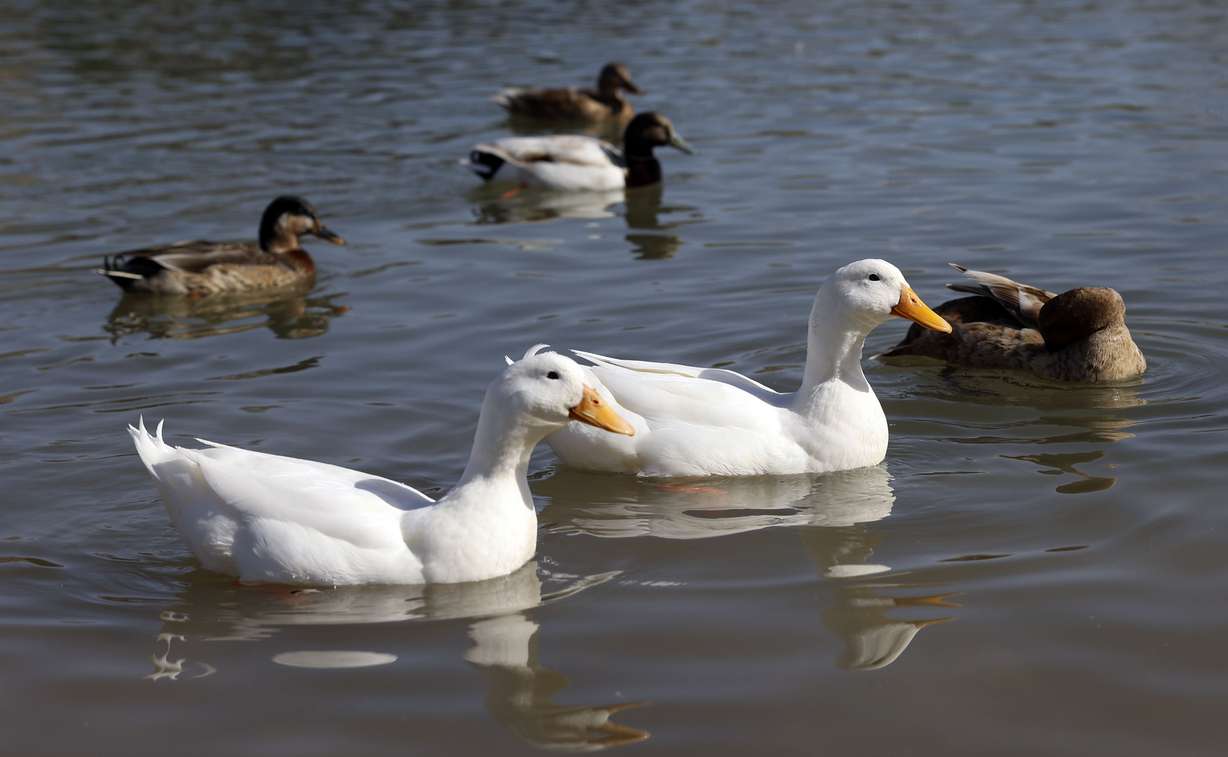 BYU biodiversity and conservation student Abi Hubscher started an Instagram page last year featuring the many different ducks at the university pond until one commenter let her know that those ducks did not belong there. She has since teamed up with Smith and the Wasatch Wanderers to perform many rescue efforts at local ponds.
"A lot of people think that if you let something go in the wild, that, 'Oh, it's back in the wild. It will be happier,'" Hubscher said. "Setting things free isn't really setting them free."
Smith and Hubscher both talked about the dangers of mixing domestic and wild ducks. They explained that domestic ducks can't escape predators or forage for food on their own, leaving it to people to keep them alive. The problem with this, they both explained, is that it can teach the wild birds bad habits.
"Officials and people will say that it's harmful to feed these animals, and I'm like, 'No it's not; it's detrimental if you stop feeding them," Smith said. "It will kill them if you stop feeding them. …There are wild ducks who come and feed with the domestic ducks, and is it dangerous? Sure. It can teach the wild ducks that humans are safe, and come hunting season the wild ducks come right up to a person and get shot. It's a hard reality, but it's one we have to face."
What can people do?
Smith said that there is a simple solution to the problem: People need to stop dumping ducks at the lakes and ponds. She also said that if people are serious about buying a duck, they should look into fostering or rescuing one.
"There are so many ducks who need homes," Smith said. "We have ducklings and older ducks and even abandoned chickens and turkeys. Before you think about buying one at a store, look into local rescues first.
"We did this with the cats when they kept breeding and breeding," she said. "Now people know about community and feral cats and colonies. I know we can do that with the ducks; it's just a matter of education."
×
Photos
Related stories
Most recent Outdoors stories