Estimated read time: 6-7 minutes
This archived news story is available only for your personal, non-commercial use. Information in the story may be outdated or superseded by additional information. Reading or replaying the story in its archived form does not constitute a republication of the story.
SALT LAKE CITY — It's no question pregnancy and giving birth can have long-term repercussions on a woman's health. One Utah mother wishes the help she got was standard practice of care for every postpartum woman.
Karen Hayes has her hands full with three active boys. Her youngest are 6-year-old twins. While she admits it can be crazy at times, she is grateful her boys have built-in friends.
From the beginning, Hayes says her pregnancy with the twins was much more difficult.
"I didn't realize it was twins yet, but I remember saying to a friend, 'I think I'm seven months pregnant already!' I hadn't been to the doctor yet," Hayes said laughing. "There were just a lot more symptoms. It was a lot heavier."
Both pregnancy and the postpartum period took their toll. Hayes was put on bed rest in the hospital for three and a half weeks before they were born at 35 weeks. The twins spent about 20 days in the NICU before they finally went home.
"We were just in survival mode, so there was no thought about what was going on with my body. It was just like, 'Get these babies fed and hopefully they sleep for more than like a 30-minute stretch so we can sleep for longer than that,'" she recalled.
A couple of months in, Hayes realized she didn't feel as strong as she had before pregnancy.
"I started noticing I was so weak and I think a lot of that came from being on bedrest and I was very big with the twins. I was very stretched out," she said. It was affecting her everyday life. "It was hard for me to just even get up off the floor after I'd been playing with the kids," she said. "It affected how I could get out of bed even to go and help them in the middle of the night."
At about six months postpartum, Hayes's OB referred her to physical therapy. She went several times and said it really helped her become stronger.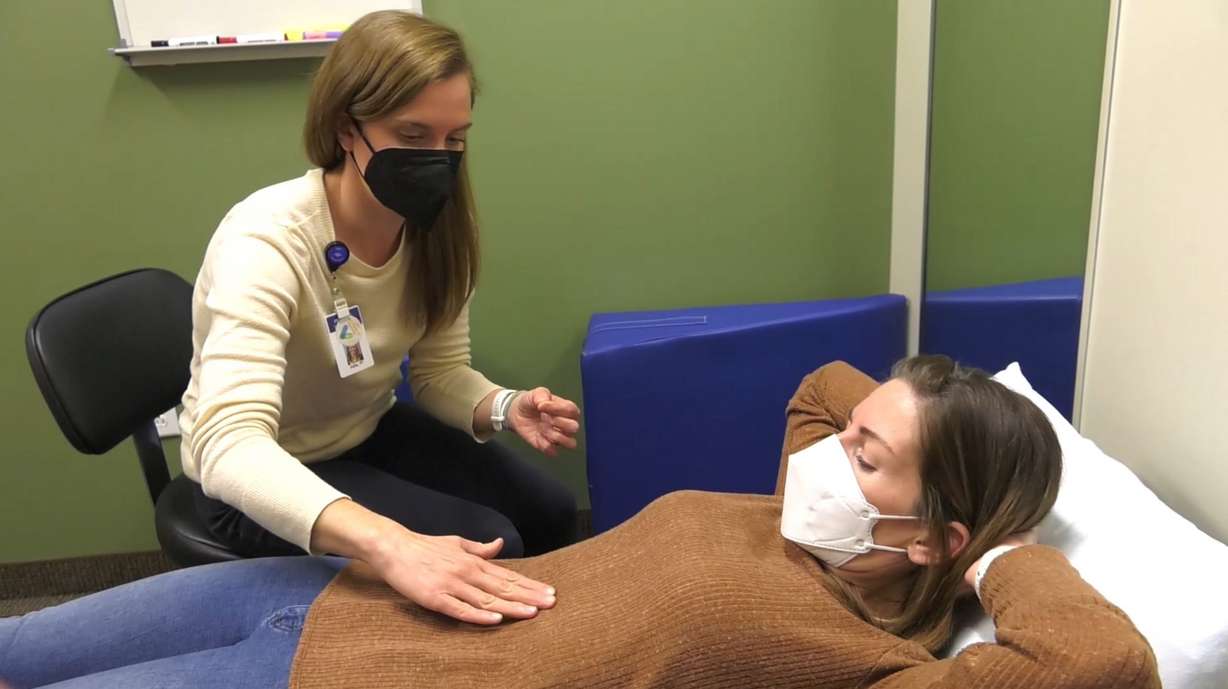 Now that Hayes' kids are a little bit older and in school, she has more time to exercise and focus on herself. She recently decided to start going back to physical therapy.
"Just recently, I thought, 'You know that helped so much. I'm gonna go back and see where we're at,'" she said.
Intermountain Healthcare physical therapist Julia Pierson specializes in prenatal and postpartum care. She says not all postpartum women heal correctly. Six weeks after birth, Pierson says the research shows 60% of women have diastasis recti, or a separation of the abdominal muscles, and at four months postpartum 40% of women still have some sort of diastasis.
After giving birth to the twins, Hayes had a four-and-a-half finger width diastasis between her abdominal muscles. Pierson says a separation bigger than the width of two fingers, or about two centimeters, is considered diastasis recti and should be worked on with the help of a physical therapist.
"During pregnancy, that fascia often separates or stretches to accommodate for the baby," Pierson explained. "But what happens is postpartum, sometimes that fascia density doesn't come back together and so that's when we start talking about diastasis recti."
The separation allows for coning or doming when someone contracts their ab muscles putting additional strain on already weakened tissue, Pierson explained.
"That can influence how we take care of our homes, or take care of our families, or do our fitness or our jobs," Pierson said. "We're constantly lifting and moving and doing that kind of thing and so we really need to have good core integrity."
She teaches women how to strengthen their abdominal and pelvic floor muscles so they can safely engage in everyday functional activities and exercise how they'd like.
"The core is kind of the basis of everything," she said. "We need to have an appropriately functioning core in order to have kind of a strong foundation for anything that we're doing, whether it's lifting our baby, or you know… doing a bunch of deadlifts."
She teaches her patients to breathe correctly as they exercise. "We're not cued well on how to engage our core when we go to fitness classes or when we watch YouTube videos or whatever fitness we do. It's really important to understand that the pelvic floor and the diaphragm are part of our core muscles," Pierson explained. "When we engage our core with fitness, we should also be focused on incorporating the pelvic floor and how we breathe is really important in coordinating all of those muscles — both the abdominal muscles and the pelvic floor muscles."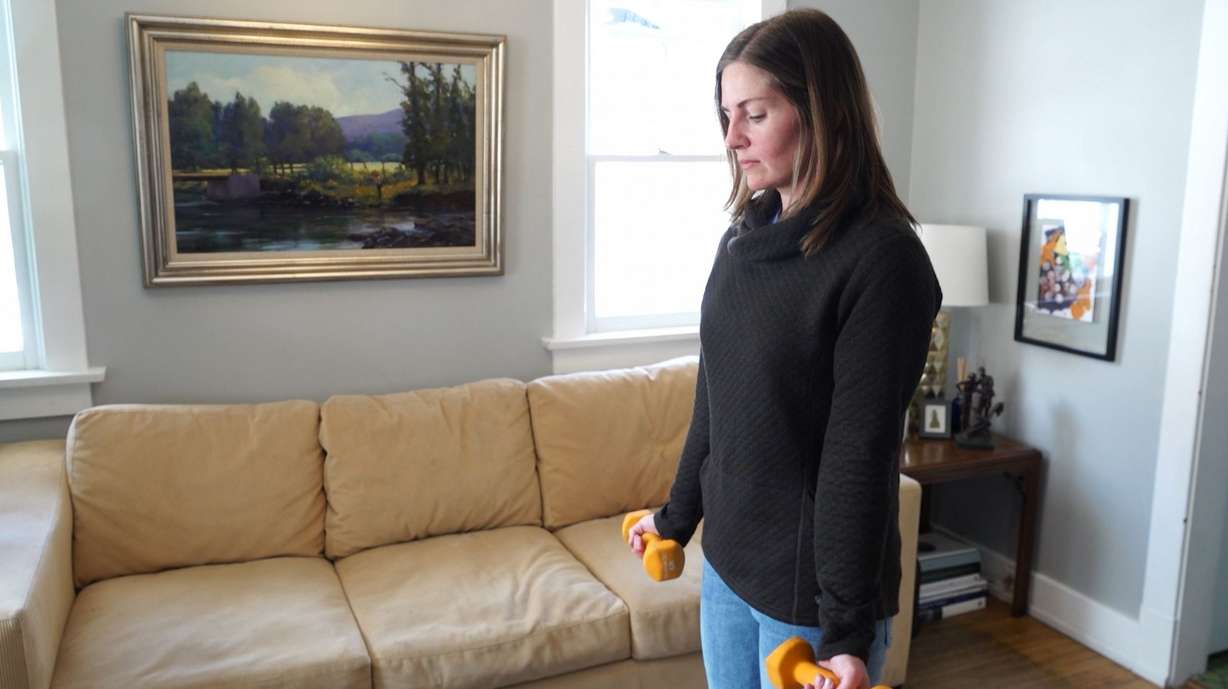 Hayes says the exercises are not hard. "It's really simple exercises and things that are like, 'How can this possibly make a difference? It's just like breathing exercises,' but they do really help," she explained. "(They're) things that you can just do like while you're doing the dishes or as you're brushing your teeth."
The exercises are also tailored to individual needs. "Because everybody really is truly very different," Pierson said. "There is no cookie-cutter program that's going to fix this necessarily."
"They spend so much time with you individually," Hayes said.
"(A) physical therapist can really help say, 'OK, that that's a little too hard for you. I don't see that you're maintaining good tension, but let's make it a little bit easier and we're going to work towards that,'" Pierson added. She said it's never too late to start. "I see women who are six weeks postpartum, but I see women who are 13 years postpartum … it doesn't matter. There's always room for improvement," Pierson said.
For Hayes, it's paying off six years later. "It's surprising how much it's helped and I kind of thought I like missed my opportunity," she said. "I already see a difference in my strength and my ability feels like 'OK, now I can do these planks and ab exercises that I wasn't able to do before.'"
In the end, she says it also makes her a better mom. "I can play with my kids more and I'm more active with them when my body's feeling good," Hayes said.
Hayes wishes physical therapy was the standard practice of care for every postpartum mother. "There's so much more we could do to help postpartum moms tune into their bodies and do more for themselves," she said.
Hayes urges other mothers to make their health a priority. "We don't take care of ourselves very much, right in the throes of having newborn babies," she said. "I wish I could tell every mom, like take care of yourself."
"If you're cautious about what's going on with the abdominals, or if you're having any urinary leakage issues, or any heaviness or pressure in the pelvis, or any pelvic pain, those would all be really good reasons to see a physical therapist," Pierson said.
×
Related links
Related stories
Most recent Your Life - Your Health stories