Estimated read time: 7-8 minutes
This archived news story is available only for your personal, non-commercial use. Information in the story may be outdated or superseded by additional information. Reading or replaying the story in its archived form does not constitute a republication of the story.
PROVO — By most accounts, the 2021 BYU football season was a success — even if the Cougars were crawling across the finish line with duct tape and super glue, a mishmash of injuries and fatigue boosted by the soon-to-be NFL running back Tyler Allgeier.
But a 10-3 record — even with the hard-to-swallow final pill of a loss to UAB in the Independence Bowl — and a 6-1 record against Power Five opponents isn't a reason to jeer at a program that also accepted an invitation to join the Big 12 Conference in 2023.
The Cougars will soon move up and join the ranks of the Power Five, a destination they've wanted both publicly and privately more than any association since launching out on a bid for FBS independence over a decade ago, and they'll soon experience it.
But first, there's a little matter of the 2022 season. So how is BYU coach Kalani Sitake getting ready for the future in greener pastures while also keeping an eye on the Baylor, Oregon, Arkansas, Stanford and the other programs that dot the upcoming fall schedule?
By understanding that everything has a season, and preparing now could lead to future benefits down the road. And "now" starts Monday with the first day of spring practice in Provo.
"Everybody's really excited about '23, and I almost have to remind them that we have a 2022 season first," Sitake told KSL.com on the eve of spring camp. "And that's OK — it's OK to be excited about more than one thing. That's what we're doing.
"It's happening. Things are moving; there's still a lot of work to be done. It's just starting."
So as Cougar Nation prepares for what is to come, Sitake is fully focused on the here and now. And here and now includes an increased emphasis on those same injuries that plagued an otherwise successful fall season.
BYU was beat up last fall, a season when they lost everything from big-name stars like Keenan Ellis and Keenan Pili to rising players like George Udo, Micah Harper and Talan Alfrey. At times resembling a triage unit instead of a college football team, the Cougars soldiered on to a remarkable final record, including a 5-0 mark against Pac-12 opponents.
Prior to the season, the coaching staff thought they had finally developed a little bit of depth to survive a Power Five schedule, which 2022's schedule, for all intents and purposes was when considering additional names like Mountain West champion Utah State and Boise State, plus a run-up of 10-straight games before BYU's bye week.
All things considered, it's almost a minor miracle that the Cougars didn't suffer more injuries. Now close to three months removed from that sense and looking toward the future, the intent is to get better — and stay healthier.
With that in mind, Sitake bolstered his staff on the eve of spring ball, officially hiring offensive analysts Matt Mitchell and Tyson McDaniel, defensive analyst Gavin Fowler, and assistant strength and conditioning coaches Spencer Reid and Dalton Elliott.
None of them will be on-field coaches, but all of them are new positions. McDaniel and Fowler were graduate assistants a year ago, and with both having finished their master's programs, Sitake needed to find a new position to keep them around the program — something he wanted to do.
Mitchell is "new" to the group, though he spent time at BYU in 2020 prior to following Jeff Grimes and Eric Mateos to Baylor. A year later, when former BYU analyst Blair Peterson was named offensive coordinator at Southern Utah, BYU's Aaron Roderick had only one familiar name he wanted to hire to fill the position.
Each of the analysts could've found a job at another school, and likely a bigger role at a smaller program. But Sitake saw what each one could do, the success his team had with them, and he didn't want to replace various pieces of his support staff and assistant coaches for a third-straight year, either.
"It's about retaining everyone," said Sitake of the group, which includes McDaniel, a former Arizona State GA who played football at Snow College. "The commitment to retain my staff is important to me, and I like that. I'm excited to add more people, too; that was the whole premise. We want to do this the right way, and to me, the right way is to bring more people and retain the people who helped us get it done."
In Reid and Elliott, the Cougars have five full-time strength and condition coaches under director of football strength and condition Nu'u Tafisi — putting them on equal footing with their future Big 12 peers.
"We need those extra two strength coaches that we didn't have before," Sitake said.
And there are still more hires to come: graduate assistants, recruiting assistants, additional staff for sports medicine or high school relations or other roles.
"This is the early stages, and the wheels are in motion to bring in extra resources," Sitake said. "I'm excited about it. There is more that's about to be added, too."
Sitake is building a Big 12 program. And while the Cougars aren't jumping to the P5 from a previous Group of Five status like several other schools have done in recent years, there is more than enough work to do in the 18 months before joining their new conference home.
That includes spring football, where the Cougars will spread out the NCAA-regulated 15 practice sessions over five weeks. That's a slight change from the past, when BYU coaches generally squeezed those sessions into a shorter time frame.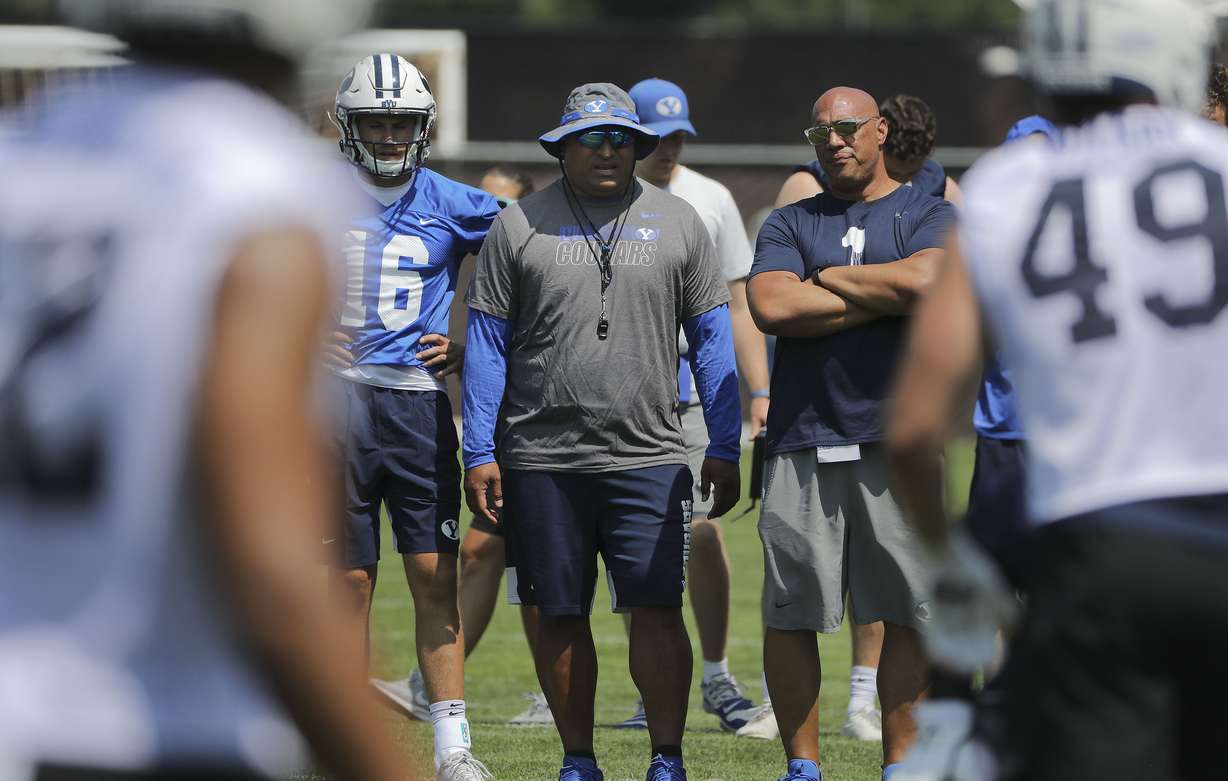 But Sitake has been open to relieving the spring to help avoid injuries — he canceled the spring game last year out of injury concerns along the line of scrimmage, and the team hasn't finalized a spring game this year, either.
The Cougars will host a high school coaches clinic on March 24, and recent alums like Allgeier will return to campus March 25 for Pro Day. BYU will also end March with an alumni day.
In between (or possibly sometime over the summer), the coaching staff wants to accomplish several things, like identify the primary backup to starting quarterback Jaren Hall after Baylor Romney's retirement from the game to accept a position with local software company Adobe. Former four-star recruit Jacob Conover, Boise State transfer Cade Fennegan and Sol-Jay Maiava-Peters are among the front-runners for that job.
There's also an increased need for depth, particularly at defensive line and linebacker. Look no further than the site of a large portion of BYU's injuries — plus several key departures to the draft, like defensive tackle Uriah "Lopa" Leiataua.
And then there's the return of players like Pili, Max Tooley, Payton Wilgar and Ben Bywater — who all took on major roles a year ago due in large part to injuries. Unlike this time last year, the Cougars are returning 97% of their defensive production from last year — the most in college football.
"It's a huge step forward for us," defensive coordinator Ilaisa Tuiaki told BYUtv, "at least with the linebackers. And the other positions were young for us, and this next year will be huge for us."
The Cougars were tested in 2021; and while they passed the test of injuries, there's certainly room to improve the grading.
"It was a positive for us, too. Now we have depth with game experience," Sitake said. "We can build on that. We're deeper now, more experienced. But what can we do to keep everyone more healthy, too? That's where we're at now."
But a lot of the particulars of spring ball are subject to change, too — especially in the name of health and injury prevention.
"The goal is to get better in spring, but also stay healthy," Sitake said. "It's the same with fall camp, but with a different level of intensity. Then we have to get ready for games."
BYU 2022 spring football
Key dates
Feb. 28 — First day of practice
March 24 — High school coaches clinic
March 25 — Pro day
March 31 — Alumni day
×
Related stories
Most recent BYU Cougars stories