Estimated read time: 11-12 minutes
This archived news story is available only for your personal, non-commercial use. Information in the story may be outdated or superseded by additional information. Reading or replaying the story in its archived form does not constitute a republication of the story.
PROVO — Tyler Allgeier donned a new uniform Tuesday night, one that most who have grown to know, love and embrace the 5-foot-11 tailback from Fontana, California, probably wouldn't recognize.
With his hair poking out from under the brim of an oversized hat that read "Backdoor BRGR" after the burger establishment located above an axe-throwing company in Provo, Allgeier made the trip from the kitchen to the upstairs dining room dozens, maybe hundreds, possibly over a thousand times as he brought out his newest creation to family, friends and supporters who made the trip to the burger joint to try "the Hammer."
It's a hamburger stuffed to the rim with everything — and then some, including a fried egg, honey BBQ sauce, fried onion strings, bacon and mushrooms — that was designed by Allgeier. The fourth-year sophomore was serving them as part of a name, image and likeness deal with the burger joint, but one that also touched Allgeier's heart. Portions of each sale were going toward the Huntsman Foundation to find a cure for cancer — the disease that recently took the life of his grandfather.
After the event, which ran until around 9 p.m. Tuesday night, the fourth-team All-American running back by Phil Steele Magazine and Doak Walker Award semifinalist got in his car and drove away, ready to make the drive back to his native California to spend the Christmas holiday with his family. From there, he would make a decision with his loved ones — one that could change the course of his life — as he debated between returning to BYU for another season or collecting on an almost guaranteed paycheck in next April's NFL draft.
If Tuesday night was the last time Allgeier was seen in Provo, at least until the Cougars' upcoming Pro Day or a handful of other pre-draft events, it was fitting that his final public act involved service and the mostly anonymous work of delivering food in a restaurant on University Avenue.
I appreciate you all Cougar Nation! Thank you so much for showing out tonight and especially for your patience! It means a lot, Happy Holidays and GO COUGS!!! 💙💙💙 https://t.co/fyVvIjjCRK

— Ty (@tylerallgeier17) December 22, 2021
If the Independence Bowl was the final game at BYU for Allgeier, the former walk-on would end his collegiate career on a staggering high, a 21-4 record over his final two seasons with him as the featured back, including a 2021 mark that ranks fourth nationally in rushing yards, fifth in rush yards per game, and tied for first in rushing touchdowns.
But the 2,899-yard rusher with 36 touchdowns in four years also has NFL scouts eagerly awaiting Allgeier's decision about whether he will come back for another season in Provo.
After back-to-back 1,000-yard seasons, including a program-record 1,601 yards and 23 scores in 2021, no one would blame the fourth-year sophomore from San Bernardino County for opting for the life-changing opportunity of the NFL draft. To most, Allgeier's rise has been as fast-rising as his former quarterback Zach Wilson, the No. 2 overall pick in last April's draft by the New York Jets.
Behind closed doors, the tailback's tale is a different story.
"I've never seen a running back that has just one thing that makes him great. But to me, it starts with his work ethic," BYU running backs coach Harvey Unga told KSL.com. "The kid works his butt off and does everything you ask of him — and he'll exceed whatever you expect of him."
So was BYU's 31-28 loss to UAB in the Independence Bowl the final college game in Allgeier's storied career?
"We'll see what happens," Allgeier said after rushing for 192 yards and three touchdowns. "I'm going to keep you guys guessing, but we'll see what happens."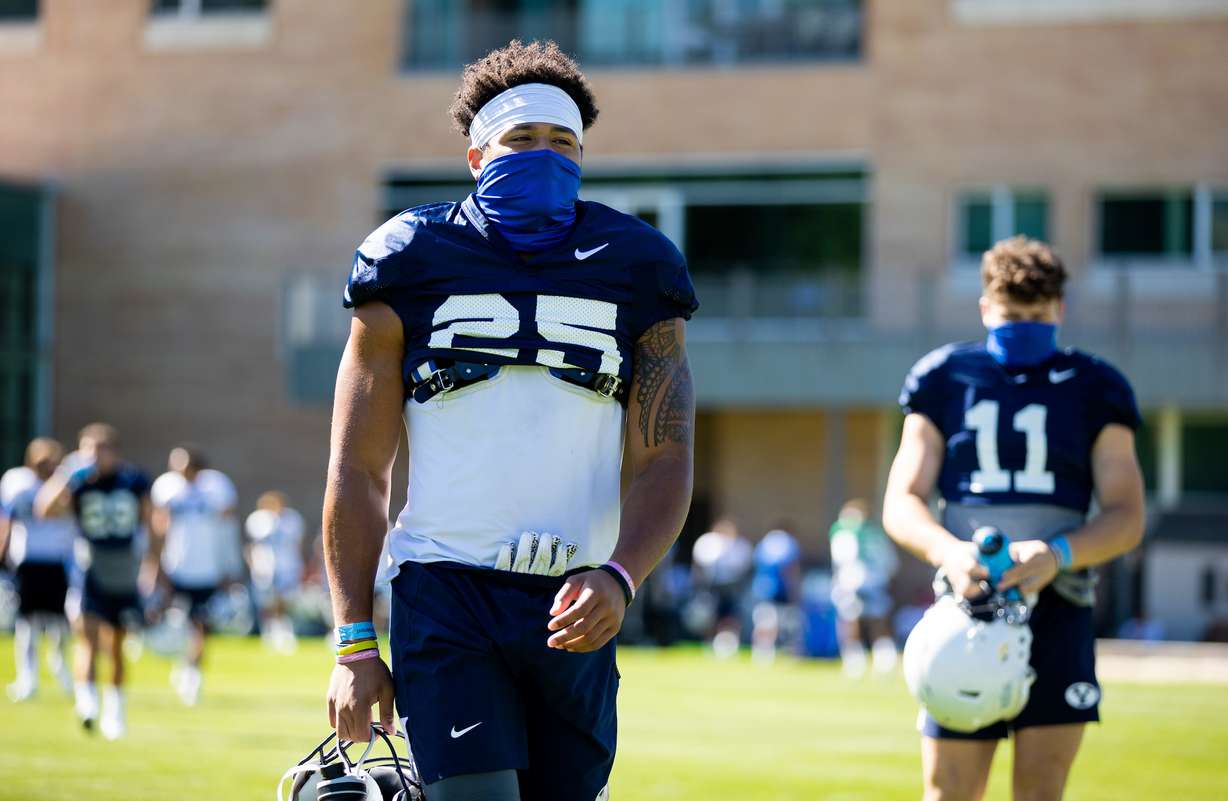 Anonymous man on campus
Allgeier arrived at BYU almost anonymously, a two-star prospect out of Fontana, California in the Cougars' Class of 2018 overshadowed by Wilson, wide receiver Gunner Romney and former Lehi star tight end Dallin Holker (to name a few prominent names in the class). As a walk-on, Allgeier wasn't even allowed to be announced as one of the Cougars' signees.
His signing day ceremony that preceded a summer pushing carts at a Provo-area Walmart for tuition money was attended by only a handful of people, including the single mother who raised him and his grandmother.
The all-time leading rusher in Kaiser High School history was mostly anonymous when he enrolled at BYU after piling up 2,470 yards and 29 touchdowns on 231 carries as a senior. He was little more than a footnote in the No. 78-rated recruiting class in the country, the 232nd-ranked running back nationally in the class of 2018 and No. 379 overall recruit in California.
Nothing special, right?
Allgeier played in just four games as a freshman in 2018, rushing for 49 yards on nine attempts on the season and totaling 103 all-purpose yards with over half of them coming on kickoffs. He went on to redshirt that season, the one where the Cougars finished 7-6 under first-year offensive coordinator Jeff Grimes, highlighted by the emergence of a rookie quarterback who completed all 18 of his pass attempts for 317 yards and four touchdowns in a 49-18 win over Western Michigan in the Famous Idaho Potato Bowl.
All the while, Allgeier kept note of his standing — and when he needed, he made sure to show the coaches what he could do.
"Every rep counts, and I feel like as long as I do it all correctly, then every rep I do the coaches will look at it and give me more trust," Allgeier said after that redshirt season. "That'll help me look good when the games start coming."
Then Allgeier saw a chance for more playing time. The only issue? It came on defense.
The running backer
Every rep counts, every chance to impress an option for a big impression.
That is what Allgeier kept telling himself while he worked his way through college, from backup to scout team to being overshadowed by the rest of the Cougars' running back room.
Unga remembers when head coach Kalani Sitake, defensive coordinator Ilaisa Tuiaki and linebackers coach Ed Lamb approached Allgeier about making the position shift.
"I'm not gonna lie: I didn't want to see him over there," admitted Unga, who was formerly the program's all-time leading rusher until Jamaal Williams broke his record in 2016. "But he balled out, he played great, and he put the game above anything else. I'm grateful he did that, because it's a testament to his humility and his work ethic."
Unga then smiled and cracked a joke when asked how much he had to pay Tuiaki and Lamb to let Allgeier rejoin the running backs: "I'm always indebted to those guys. I'm grateful that they let him back in my room."
Allgeier finished the 2019 season at linebacker with 26 tackles, a tackle for loss, a forced fumble and a pass breakup, playing all 13 games including a career-high nine stops in a 28-25 win over then-No. 14 Boise State.
But when injuries necessitated a move back to running back, Allgeier made the move immediately, filling in on offense in the final three games of the season including a 38-34 loss to Hawaii in the Hawaii Bowl.
For as powerful as he was on defense, Allgeier was a running back — and a priority back for the Cougars. He'd go back to his linebacker days at least one time, though, in his fourth season.
On one play during the Cougars' 27-17 win over Arizona State, the Sun Devils threatened to overturn when Merlin Robertson picked off Jaren Hall and began running for the end zone.
Rather than sulk at the turnover, though, Allgeier got on his figurative horse and caught up to the defensive back. Then, rather than simply tackle him, he leapt on the defender's back near the ASU sideline, swung one of his massive hands around, and punched the ball out of Robertson's grasp — just in time for Hall to recover the fumble.
Hall called the play "the play of the year in all of college football." Allgeier's position coach was astounded. It was a play that has been compared to few others in BYU history, perhaps the greatest feat of athleticism since Kyle Morrell flipped over the Hawaii offensive line for a goal-line tackle in 1984.
"That was one of the most amazing plays I've seen in football in a long, long time," Unga said. "His football instincts kicked in. It was pretty sweet."
Should I stay, or should I go?
Back to offense
The return to offense came at just the right time for Allgeier.
Entering his redshirt sophomore season, the COVID-19 pandemic was throwing college football into chaos. The Cougars watched as the NCAA's spring season was cancelled, recruiting was shut down over the summer, and all on-campus activities ceased as nations tried to halt the spread of the virus.
That included football, where school after school — and conference after conference — began shutting its doors. From the SEC's plan to play a conference-only schedule to the Big Ten and Pac-12 initially cancelling the season outright, BYU would go on to become the only college football team west of Texas playing by the first weekend in September.
Athletic director Tom Holmoe rebuilt the Cougars' schedule nearly from scratch. All Allgeier, quarterback Zach Wilson and their teammates had to do was prove that they deserved to be playing when it seemed like no one else wanted to.
Boy, did they.
Wilson's meteoric rise through the 11-1 campaign of 2020 that finished with a No. 11 national ranking is well documented, ending in the Corner Canyon product's record-setting No. 2 selection in the 2021 NFL Draft.
But by his side each game was Allgeier, whose coming out party included 1,130 yards and 13 touchdowns — BYU's first 1,000-yard rusher since Williams' record-setting senior campaign of 2016.
"That dude is a good player, a really good player," Wilson told Jets media later. "He's definitely going to get his opportunity."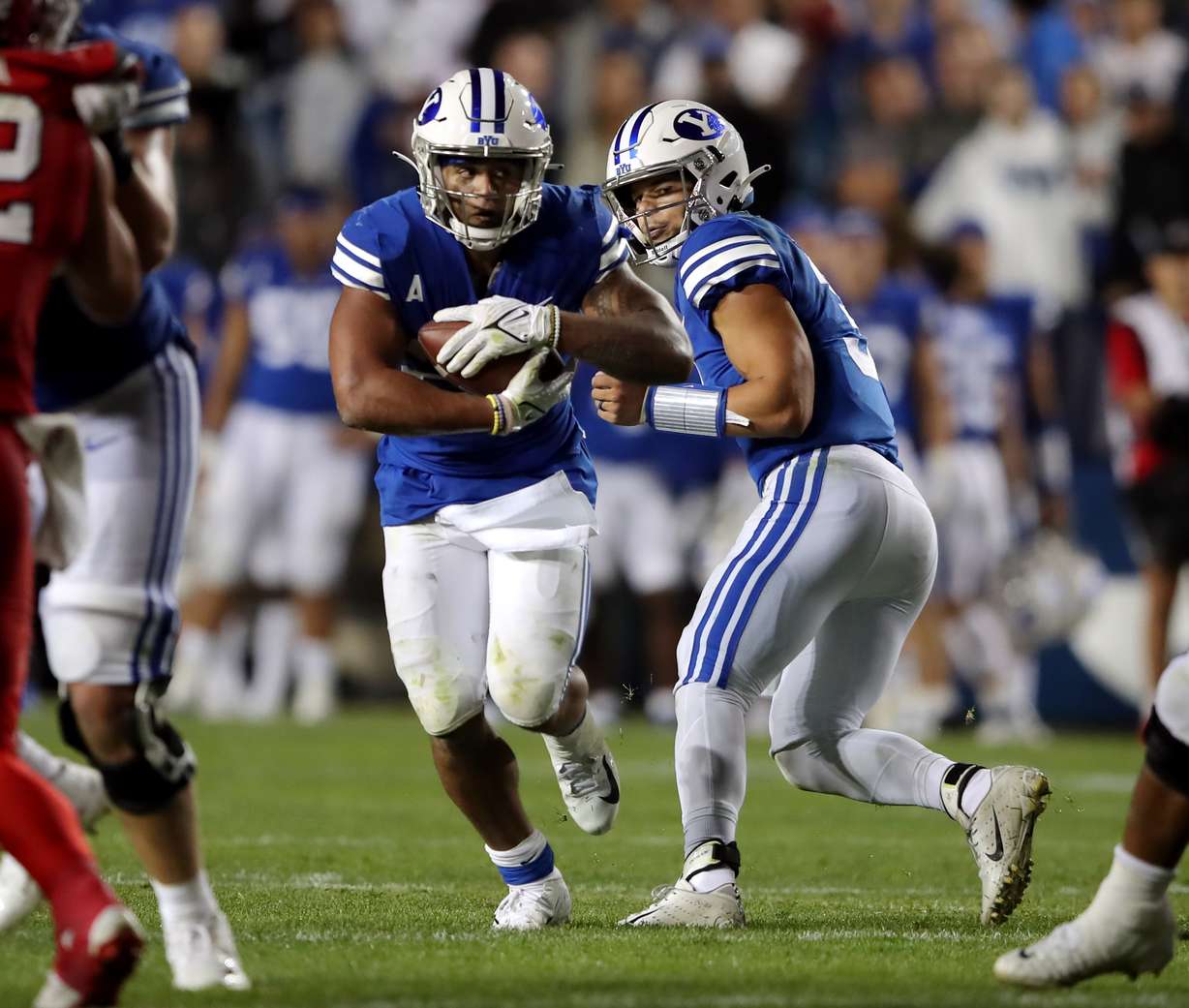 Into the record books
After his breakout 1,000-yard season, Allgeier was left with perhaps an even greater challenge: do the same thing, only without Wilson in the backfield or left tackle Brady Christensen in front of him after being selected in the third round of the draft.
The Cougars returned the least amount of experience from 2020 to 2021 in the entire Football Bowl Subdivision, a product of COVID-19 providing an extra season of eligibility to everyone who wanted it and BYU players taking after the program's best season in over a decade to get a jump on a pro career.
So Allgeier stood alone, breaking in a new quarterback in Jaren Hall and a cast of mostly new skill-position players, including transfer receivers Puka and Samson Nacua. And then Allgeier did the unbelievable.
He didn't just live up to his 1,000-yard season. He exceeded it.
The tailback piled up 61% of his career carries in 2021, averaging 5.80 yards per carry for 1,601 yards and 23 touchdowns — snapping Luke Staley's 20-year-old record of most rushing yards in a single season in BYU history that had stood since his Doak Walker Award-winning season of 2001.
Even when defenses knew Allgeier was getting the ball, and with schemes and plans specifically in place to stop him, few could. He ran for at least 69 yards in every game but two, posted over 100 yards on the ground seven times, and had two 200-yard rushing games — including a season-high 266 yards and five touchdowns in a 66-49 shootout victory over Virginia.
But the most amazing part? He didn't do it alone.
"I wouldn't say just the, I would say the whole offense," Allgeier said when asked if he felt like he backed up his 2020 campaign. "Whatever they do, they bring success to me.
"All my success is devoted to them. Obviously, yeah, we had that year last year and we backed it up this year. We had a lot of guys hurt on the O-line and a lot of guys that ended up stepping up. It's trusting the guys next to you and below you."
Next stop, the NFL?
If last Saturday was the final game of Allgeier's BYU career, the redshirt sophomore won't be remembered among his teammates for the nearly 3,000 career yards, the 36 touchdowns, or the two unreal seasons after switching to defense.
Rather, Allgeier will be remembered for something much less noticeable on the outside of the Cougars' practice facility: as a great teammate.
"Before every single series, he'll go up and give high fives to all of his linemen," Unga said. "He thanks them for everything, and he knows that's where he gets rolling. It's small, but you can tell his linemen block their butts off for him.
"He's that kind of kid, who doesn't say much — but everything he does, he always looks to praise and to uplift other people."
×
Related stories
Most recent BYU Cougars stories