Estimated read time: 5-6 minutes
PROVO — BYU defensive back Keenan Ellis never imagined where his football career would end, that late summer night in Las Vegas in the Cougars' 2021 season opener against Arizona.
But after the 6-foot, 180-pound cornerback went down with a scary neck injury and a concussion against the Wildcats that ultimately cost him the remainder of the season, there wasn't a whole lot of thought given toward football, either. Ellis struggled in his recovery, never returning to BYU's squad in a playing capacity, though he did spend time around the team that he'd grown to love through the rest of the 10-3 season.
By Friday morning, Ellis had received a medical redshirt from the NCAA, promising that the few snaps he took in Sin City wouldn't count against his eligibility due to the medical hardship. But the San Diego native opted for a different path, after consulting with a handful of doctors and BYU's medical team in what he thought was a routine check-up to monitor any post-concussion symptoms.
Ellis will medically retire from football, effective immediately. He's already set to graduate in April with a degree in sociology and plans to pursue a law degree after taking the LSAT in June.
But the end of his football career — a sport he's played since he was 5 years old — was a gut punch.
"Hearing that news was a nightmare. There was no way; I was speechless," Ellis said. "But I've come to terms with it; you can only control what you can control. There's no use trying to fight the uncontrollable.
"As a corner, I learned to control what I can control. So I knew God has a new path for me, and I've just got to trust it."
Despite the harsh news, Ellis is grateful for his time at BYU. While studying for the LSAT, he's already been accepted back to the program as a student assistant until he earns his degree — and possibly thereafter, if he is accepted to law school at BYU.
"It's unfortunate, because he was way more than a football player. He's such a hard worker," BYU coach Kalani Sitake told KSL.com. "The path that he took when he got here as a freshman to get comfortable with the position, but also learn the game, the technique, the fundamentals and master it. He was set to have an unbelievable year. I firmly believe that if he had played out the 2021 season, he might have entered the draft early.
"To have someone that is forced to retire for medical reasons with so much potential in football is one thing. But the growth and progress that I've seen him from him as a person is amazing. The football part is unfortunate, but it just takes one option away from him."
After redshirting as a true freshman out of Bonita Vista High School in 2017, Ellis earned immediate playing time the next year, playing in all 12 games with one start in 2018. He started six of eight games during the COVID-19 impacted season in 2020 and was set to be a full-time starter a year later before the injury took its toll.
He finishes his BYU career with 22 tackles and five pass breakups while earning the nickname "Ellis Island" by his teammates for his lockdown corner skills. And while Oregon State transfer Kaleb Hayes did an admirable job filling in — he made 12 pass breakups to lead the team and rank 14th nationally en route to Independent Defensive Back of the Year honors by the Pro Football Network — in relief of Ellis, arguably the biggest loss to the BYU defense in 2021, along with leading tackler Keenan Pili.
"It was amazing to see that. I knew that dude was spectacular, and seeing him ball out was great," Ellis said of Hayes, who is listed as returning to BYU for his senior season two days before opening spring practices in Provo. "He was always so positive, always smiling, and I loved his energy and his play, everything about him."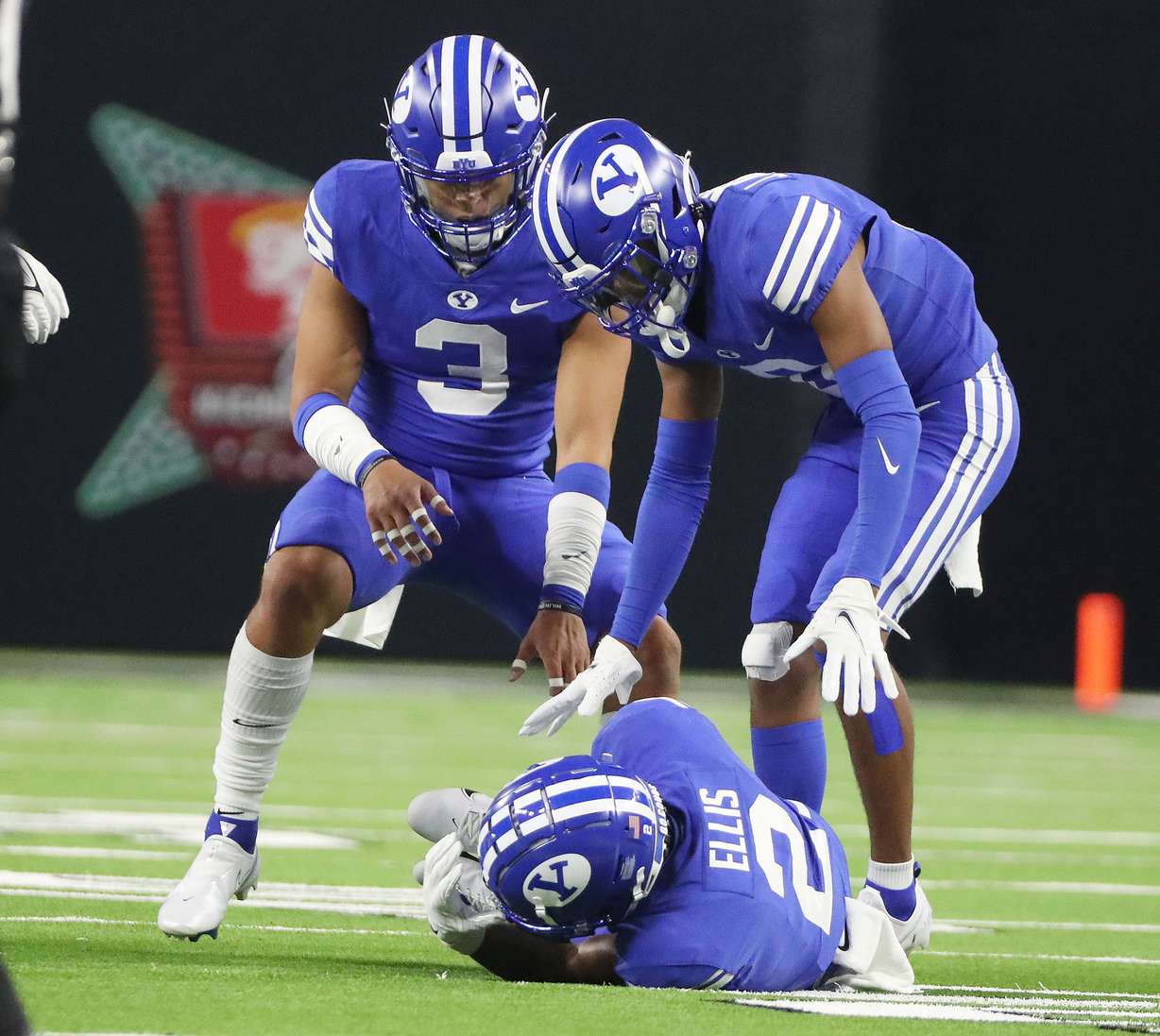 Ellis' teammates got to showcase the newfound depth at cornerback — one of which Ellis himself spoke extensively prior to the season — and that, to some degree, made stepping away from the game a little bit easier. He now wants to coach them up, for however long he can, a new group that includes family friend and fellow San Diego native Nathaniel Gillis, who signed with BYU as part of the 2022 recruiting class.
"Being around the guys is the best part of football," Ellis said. "You make so many great bonds, and I know there are younger guys coming up; Nate Gillis and I were close friends, and I definitely want to help bring him on and show him what I went through."
And yet, it's only part of the fifth-year player's journey, which will continue through the spring practices as something of a players' consultant and mentor, Sitake said.
"He can conquer so many things in life right now that I don't know what he's going to do, but he's going to be great at it," his coach added. "Football won't be one of them, but he can still coach football, he can go to law school, he can get into business; there are so many things that he can do. And we're going to still need him around the team as a mentor.
"He's done a lot for our program already, and I want him around our team as much as he wants to be. He'll be heavily involved with coach Gilford and coach Lamb; those are his guys. And I'm really proud of him."
×
Photos
Related stories
Most recent BYU Cougars stories