Estimated read time: 5-6 minutes
This archived news story is available only for your personal, non-commercial use. Information in the story may be outdated or superseded by additional information. Reading or replaying the story in its archived form does not constitute a republication of the story.
LOS ANGELES — All BYU could do was run after a pair of interceptions had turned a 21-10 lead into a 31-28 deficit. And when the Cougars needed to run the most, Tyler Allgeier's biggest contribution was that he sat.
The BYU tailback whose 1,409 rushing yards moved him into second in a single season in program history was only on the field for two plays of what turned out to be the Cougars' game-winning drive — a six-play, 62-yard spurt over 2:22 that gave BYU its final lead of the game 35-31 with 4:02 remaining against Southern California at the Los Angeles Memorial Coliseum.
On the second play of that same drive, Allgeier did something uncharacteristic and, had it not happened a handful of times in his otherwise stellar career, would've seemed impossible: He fumbled the ball.
Fortunately for him, Dallin Holker scooped up the loose ball and rushed for a first down. But that's when Allgeier knew it: The biggest help he could be for the team in perhaps the most critical moment of the season was on the sideline.
So he gave the ball to Jaren Hall, who handed it off to Jackson McChesney, the Lone Peak product who missed most of last season with a foot injury. McChesney took the handoff — literally, at times — and completed the Cougars' drive of six-straight runs with three rushes of his own, which was capped off by a 7-yard touchdown that put the Cougars in front for good.
"Tyler was spent," BYU coach Kalani Sitake said. "I could see that he was tired and he's been banged up all year long. He's running on fumes at that time.
"I mean, credit to USC; they bring a lot of physicality to the game and tackle well. They're striking really hard and I think he knew at that moment that he wasn't ready to go and trusted Jackson to get in there and make plays, and obviously broke tackles to score a touchdown for us."
That physicality eventually takes a toll for any program, let alone one that navigated a 12-game schedule with a 10-2 record, including going 6-1 against the Power Five, plus regional rivals Boise State and Utah State scattered in as well. Allgeier saw that firsthand as a BYU team missing six defensive starters also lost tight end Isaac Rex, who was carted off the field with what appeared to be a severe ankle injury.
Getting to the finish line was a struggle, which is why Sitake and Allgeier had to do something different.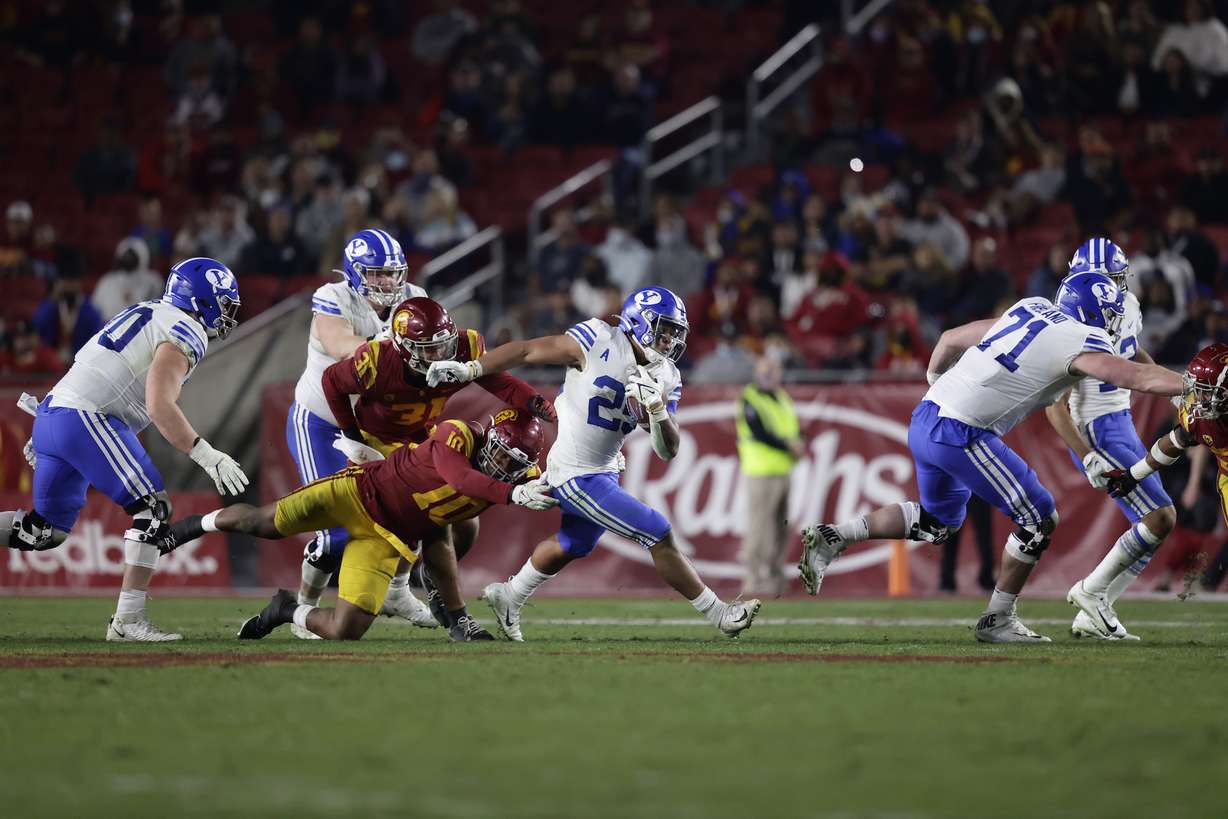 "I wouldn't say I had nothing left," Allgeier said. "It was a tough game; shout out to USC. They're a really physical defense.
"Jackson was just ready from the get-go. I was grateful for him and what he does, and glad he was successful."
But Allgeier did something else in taking a step back: He showed a side of himself that may not be as apparent as the top-five running back nationally, one destined for the NFL despite not being named among the three finalists for the Doak Walker Award given to college football's top tailback.
"Tyler, that's a true leader. When he knows that he could possibly hurt the team and that you need the rest, to give the opportunity to Jackson is a true sign of a leader."
Allgeier finished the final game of what is likely his final regular season with the Cougars with 21 carries for 111 yards and two touchdowns, and also caught a team-high five passes for 35 yards. Like he's done through the season — really, throughout the career of the fourth-year sophomore — he carried the team on his back.
Allgeier's production hasn't been seen in years in Provo — decades, in some cases. With his sixth 100-yard game of the season and 12th of his career, there's hardly been a tailback in BYU history that has been the focal point of an offense like Allgeier has been for two seasons.
Opposing defenses often sell out to try to stop him. Few can barely slow him down.
Allgeier vaulted to No. 2 in single-season rushing yards Saturday night with 1,409 yards and seventh in career rushing yards with 2,707. He's fifth all-time in career rushing touchdowns with 32.
The sophomore from Fontana, California, had done enough. So when he gave the ball away 50 miles from his hometown, Sitake knew it was time to trust someone else.
Allgeier certainly did.
"He just literally made the most of his opportunity," Allgeier said. "That's what this team is: just making the most out of every opportunity, whether you're third-string or even below. We always know that our guys are going to be ready."
BYU didn't need to do anything fancy on that final drive. After all, Corner Canyon product Jaxson Dart had left the Cougars plenty of time to respond when he found Gary Bryant Jr. with a 10-yard strike and subsequent 2-point conversion to go up 31-28 with 11:03 on the clock.
Dart, a freshman who was starting just his second game for the Trojans (4-7), didn't make many mistakes on a night when he completed 23-of-35 passes for 248 yards and a touchdown and ran for another score.
But there was definitely plenty of time.
So BYU didn't have to do anything spectacular to take the lead back.
"Stick to our basics," quarterback Jaren Hall recalled. "Just take it one play at a time.
"Get behind that big O-line and find that energy. I think that was it really, just getting the energy back. That's when we play our best, when we're high energy. Get the ball to Tyler and then throw it off of that."
But the biggest step? That belonged to the next guy down the line. The Cougars have had a history of "next man up" mentality in a season marked by injuries as much as consecutive 10-win seasons for the first time in over a decade, a 5-0 mark against the Pac-12 or 6-1 against Power Five opponents.
Allgeier knew McChesney would be fine. So did his coach.
"If you looked at the guys that actually participated and contributed on the field, we played with a lot of down the line guys," Sitake said. "We had to use some guys that we probably haven't seen a lot early in the season. I credit them for getting better and developing even through the season. We felt really good about the progress that we saw from a lot of different people."
×
Related stories
Most recent BYU Cougars stories