Estimated read time: 5-6 minutes
This archived news story is available only for your personal, non-commercial use. Information in the story may be outdated or superseded by additional information. Reading or replaying the story in its archived form does not constitute a republication of the story.
SALT LAKE CITY — From self-serve saliva testing sites to enhanced protocols that ban consuming food or drinks in classrooms, Utah colleges and universities are taking additional steps to launch spring semester amid the surge of the omicron variant.
Utah institutions of higher education are pushing ahead with plans for primarily offering in-person learning while colleges elsewhere in the country are electing to push back the start date of spring term or start the semester with online instruction.
Many of Utah's state-supported colleges and universities required students to be vaccinated against the coronavirus — or claim exemptions — as a condition of enrollment in spring classes.
At the University of Utah, 84% of students are fully vaccinated, 7% are partially vaccinated, and 7% have claimed exemption, according to spokeswoman Morgan Aguilar.
In a letter to colleagues, the U.'s Senior Vice President for Academic Affairs Martell Teasley noted that "frequent and comprehensive testing will be our most helpful tool in tracking and containing the spread of this new variant on campus."
Starting Jan. 10, the U. will offer self-serve saliva tests to students, faculty and staff at multiple locations, including campus housing, libraries, several colleges and the Union Building. Tests will be collected twice a day and no appointments will be required.
Salt Lake's Westminster College, which had stringent prevention strategies in place this fall, will start the term with even stricter measures in place.
Residential students will be required to provide a negative test before moving into campus housing at the private liberal arts college.
Masks will be required indoors and no food or drink may be consumed in classrooms.
The college is recommending that students upgrade their mask to KN95 or ensure that cloth masks are multilayer with an insert.
"Please get a booster shot to prevent severe illness and get tested before you return to campus spring semester," the college website states.
On Tuesday, the Utah Department of Health reported 4,661 new cases as well as seven additional deaths.
---
Please get a booster shot to prevent severe illness and get tested before you return to campus spring semester.
–Westminster College
---
At Utah State University, about 85% of all students say they have been or will be vaccinated by the start of the spring semester, which is next week.
"With the emergence of the omicron variant, we are asking that members of our campus community continue to be vigilant and sustain our efforts to minimize the risk of illness. This will prevent disruptions to academic and student activities," said spokesman Emilie Wheeler.
Vaccinations and booster shots will be available at the campus clinic or local providers. People who are sick are asked to stay home and get tested for COVID-19. The university is asking students, faculty and staff to wear masks indoors and upgrade their masks for better protection.
The university's testing clinic remains open — and free — to all students and employees, "and we'll push our testing to capacity as much as possible," Wheeler said.
USU also continues to monitor results from wastewater testing on its campuses.
Weber State University is closely monitoring COVID-19 case numbers as well as federal and state guidelines, said WSU spokeswoman Allison Hess.
Classes are scheduled to begin Monday, Jan. 10, she said. "We are encouraging students to get fully vaccinated, including a booster, to wear face coverings on campus, and to follow all the other COVID precautions," Hess said.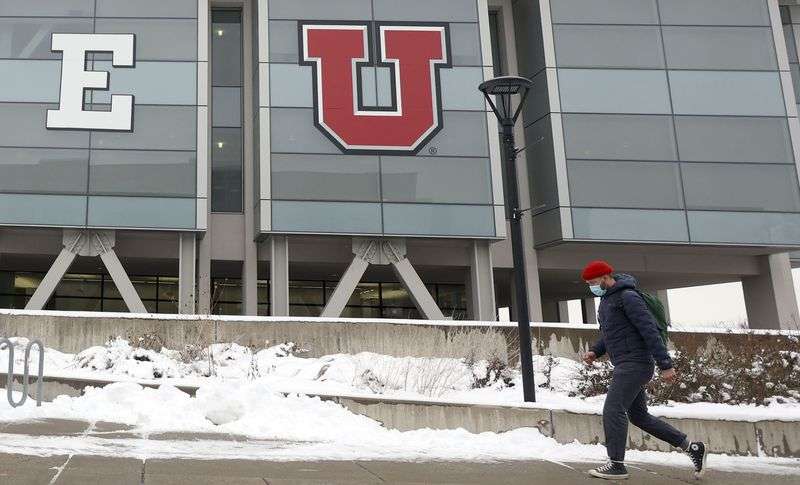 Eighty-one percent of WSU students are vaccinated and another 3% plan to get vaccinated before spring semester, she said. "We do offer convenient testing and vaccination options on campus to begin the semester," Hess said.
At Utah Valley University, free vaccination and booster shots will continue to be offered, along with free testing in the Sorensen Student Center and drive-thru testing located in the L-10 parking lot for campus members who have symptoms. On-campus appointments are available only to students, faculty and staff.
According to spokesman Scott Trotter, UVU will continue to monitor classes, programs and buildings for exposure and illness to help mitigate the spread of the virus. Instructors and students may be contacted if case counts hit a "trigger point," at which time classes may be moved online.
"Masks are strongly encouraged at UVU and will be available, as a courtesy, at locations throughout campus on the first day of the semester. By Utah state law, masks are not required," a letter to students states.
Peta Owens-Liston, Salt Lake Community College spokeswoman, said the college is following new Centers for Disease Control and Prevention guidelines but otherwise, class start dates are unchanged and the college will primarily offer in-person classes.
"As we enter spring semester, nearly 80% of our students are vaccinated," Owens-Liston said.
According to the new federal guidelines, the CDC has shortened the recommended time for isolation. People with COVID-19 should isolate for five days and if they are asymptomatic or their symptoms are resolving (without fever for 24 hours), follow that by five days of wearing a mask when around others to minimize the risk of infecting people they encounter.
Research shows the majority of SARS-CoV-2 transmission occurs early in the course of illness, according to the latest CDC guidelines.
Teasley's letter to the University of Utah campus notes that spring semester is the seventh semester that the U. has been impacted by the COVID-19 pandemic.
"I thank you for your steadfastness and dedication to our mission. I thank you for your courage and compassion for our students, faculty and staff," he wrote. "And I thank you for your creativity, patience and resilience. We all will have to draw on these same values as we begin our spring 2022 semester."
×
Related stories
Most recent Utah stories