Estimated read time: 3-4 minutes
SALT LAKE CITY — Volunteers of all ages gathered at the Riverview Boat Ramp in the Rose Park neighborhood on Friday for an atypical way to spend Black Friday — by planting trees along the Jordan River corridor.
"I hate shopping," said Mark Shah, a volunteer from Cottonwood Heights, while planting a tree with his family.
The community tree planting event was organized by TreeUtah, a nonprofit that seeks to improve Utah's quality of life for present and future generations by enhancing the environment through tree planting, stewardship and education, in partnership with the Jordan River Commission.
"For us, it's kind of a green Friday. We're happy to be partnering (with the Jordan River Commission) to make a difference here on the Jordan River corridor," said Amy May, executive director of TreeUtah.
The commission was created to facilitate regional implementation of the Blueprint Jordan River — and effort to develop a publicly supported vision of the entire Jordan River corridor — and to serve as a technical resource to local communities and provide a forum for coordination of planning, restoration and development along the Jordan River corridor.
TreeUtah and the Jordan River Commission brought a mix of 45 Fremont cottonwoods and peach leaf willow trees for planting Friday, both species that are native to the Jordan River corridor.
"If we can get (all) those in the ground, that's great. But really the point is for people to come out and plant a tree with their family and spend some time outside enjoying our environment," Aimee Horman, education and outreach coordinator for the Jordan River Commission, said.
The area for the event was selected in part due to the recent removal of the invasive tamarisk and Russian olive plants, which create issues for the area's wildlife, as well as the river itself.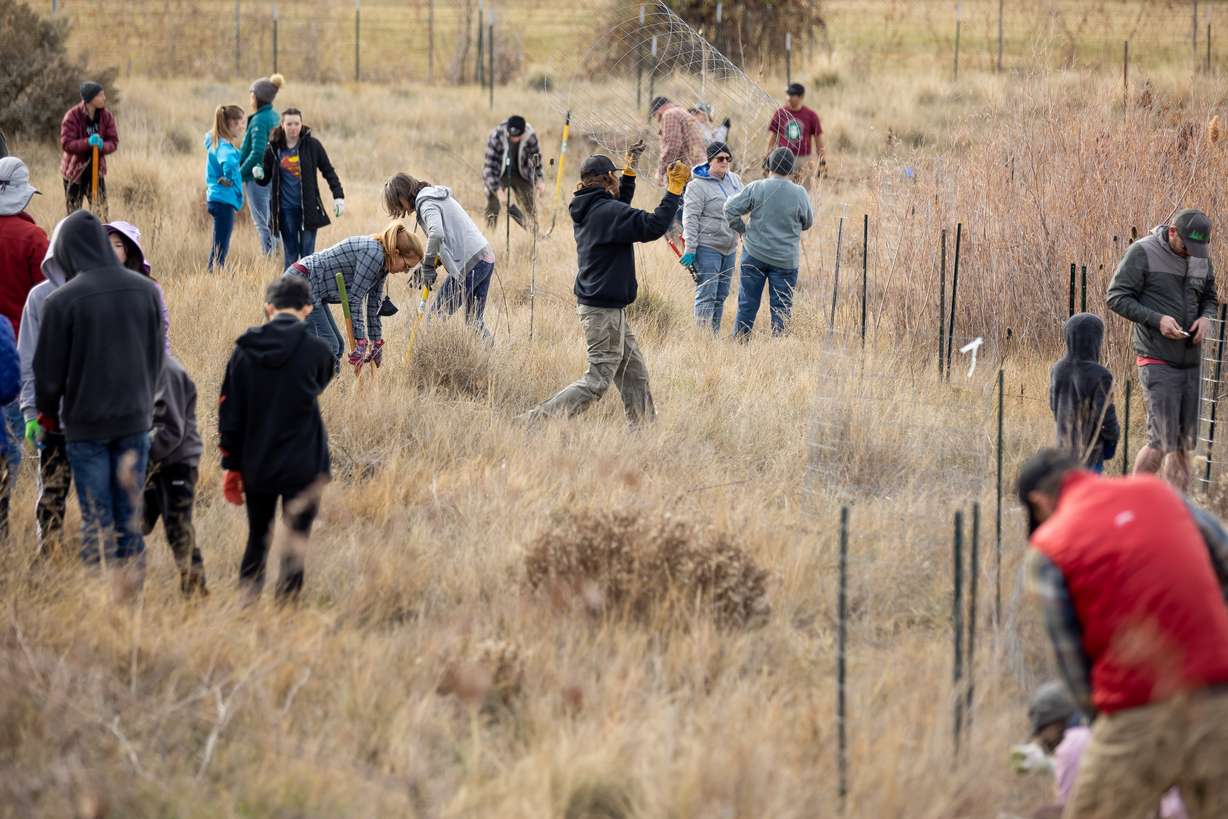 "They (invasive species) create a lot of issues around water corridors especially. Tree roots really help filter water and capture water and hold it in the soil," May said. "These roots are specifically made for getting through this ground, helping to loosen everything up and just create a better environment all around."
"We want to keep the support for the wildlife and get in there before other invasives take over," Horman said. "As those (invasive) species are removed, we get in there with natives as fast as we can."
May said that they had over 50 people volunteer for the event.
"I think the Jordan River corridor gets neglected sometimes, and it's a really great natural resource that we share," May said. "It's really wonderful to see whole families coming out - when you plant a tree together, you kind of plant yourself in the ground in a way."
"We were looking for a service activity and what a great way to contribute — planting a tree that's going to be here for a lifetime," added volunteer Jennifer Shah. "TreeUtah is a great organization to support."
Correction: In an earlier version, Mark and Jennifer Shah's last name was incorrectly spelled Shaw.
×
Photos