Estimated read time: 6-7 minutes
PROVO — On the surface, BYU basketball's 97-61 win over NAIA team Central Methodist wasn't a big deal. Sure, the Eagles were 7-0 in their first opening slate, but a lower-division, non-NCAA team shouldn't compete with a top team in Division I.
But coming on the heels of the Cougars' equally blowout-worthy 81-49 win over then-No. 12 Oregon in Portland, it meant everything.
The Cougars are 4-0 for the first time under head coach Mark Pope, the first time since the 2016-17 season, with wins over three teams that qualified for the NCAA Tournament a year ago, including Horizon League favorites Cleveland State and Mountain West power San Diego State at home.
And on Monday, BYU found itself in the Associated Press Top 25 for the first time this season, checking in at No. 18 a week after receiving only a handful of votes.
West Coast Conference rival Gonzaga (4-0) remains No. 1 with all but six first-place votes, followed by UCLA (4-0) and Purdue (5-0). Kansas (3-0) and Duke (5-0) round out the top five.
Also Monday, senior guard Alex Barcello was named WCC Player of the Week after averaging 20.5 points in two games, including a season-high 25 points on 9-of-11 shooting and 4-of-6 from 3-point range in dropping the Ducks out of the Top 25. For the week, Barcello shot 71.5% from the field, 61.5% from 3-point range, and connected on 100% of his free-throw attempts — extending his streak of 38-straight to the third-longest in BYU history, trailing only Jimmer Fredette's 39 and Tyler Haws' 50 in a row.
It's still early in college basketball, and the Cougars have a long way to go. But the first slate of minor victories built by a schedule that includes four of the first five games of the season against NCAA Tournament qualifiers followed by a trip to rival Utah are going about as well as can be expected — even by the most blue-goggled fan.
"It just shows how hard we've been working and as a team, how we've been playing together. It is cool to see," said Caleb Lohner, who had a season-high 19 points to lead BYU against Central Methodist. "We've done some really cool things that some teams haven't done. To see that steady climb, I think is important to the guys. That reward of being 4-0 to start the season does do something to us.
"I think it's just a kind of reminder like, hey, if we keep doing what we're doing, we keep playing like a team, we keep doing the things that we're supposed to do, we're going to be a really good team."
The Cougars will enjoy this moment — for about an hour or so — until they report to practice Monday afternoon in the Marriott Center Annex. They have game preparations to make for Wednesday against Texas Southern (7 p.m. MT, BYUtv) — another tourney qualifier from a year ago. The last four games only mean as much as the next four — or in BYU's case, the next two around the Thanksgiving holiday, after which they'll set out on an in-state trek that includes road games at Utah Valley and Weber State, as well as a home game against Utah State.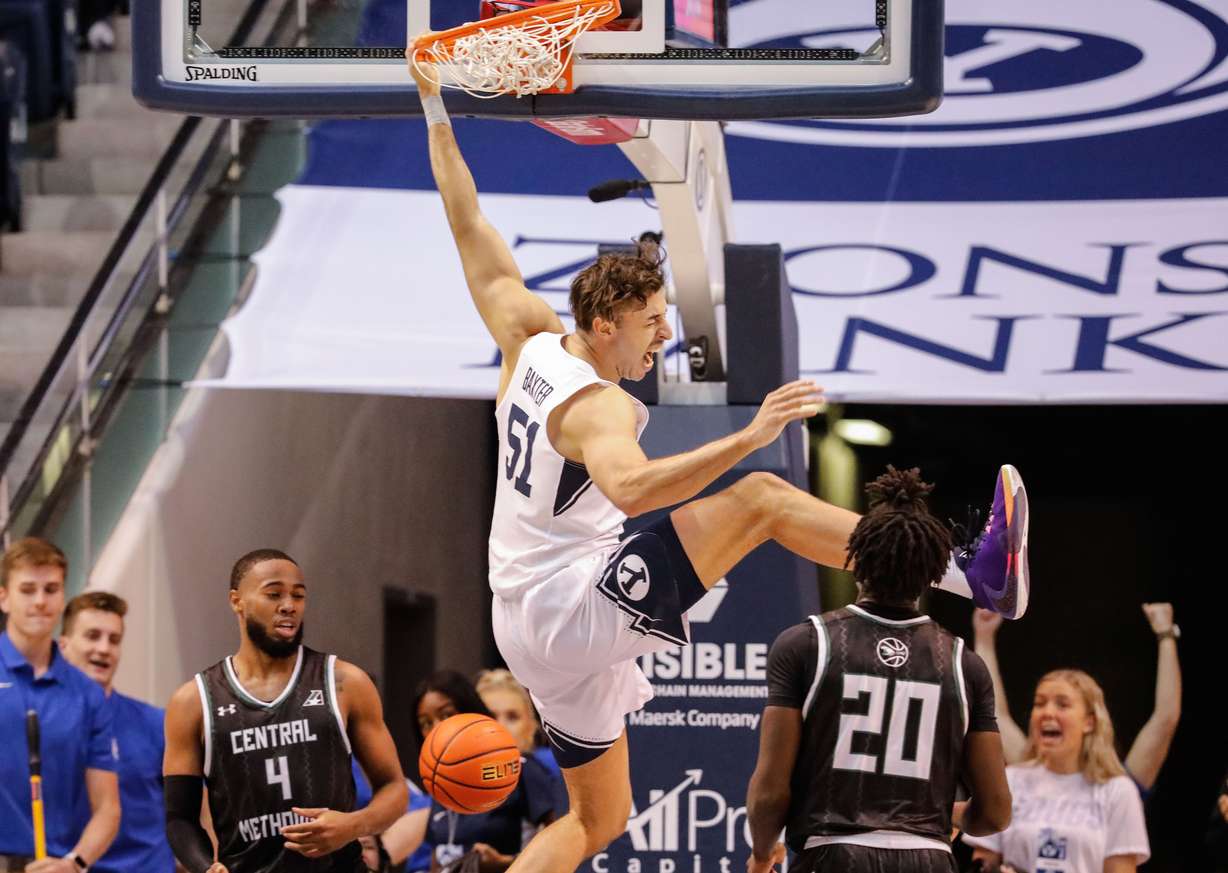 Basketball is strong in the Beehive State, with Utah and Weber State both emerging at 5-0 to start their seasons — it's the Wildcats' best start to a year since 1985-86 — and Utah State coming in at 4-1 following a win over Oklahoma to clinch the Myrtle Beach Invitational. Even Utah Valley is 3-1 ahead of a game Monday night against Idaho in the SoCal Challenge.
"Four of our first five games are against NCAA Tournament teams with basically their roster back. It's awesome," Pope said. "We're getting challenged every way, and obviously going to Utah is always an adventure. These rivalry games are the best thing going in non-conference. We play everybody in the state this year, and basketball in this state is on fire.
"Two of our next four should be quad one games. The schedule's tough, but it's what we want. We like to test ourselves, and we want to find out where we're falling short and where we need to get better, and that's what a schedule like this does."
But that 4-0 start? It's not everything, and it certainly means nothing if BYU doesn't keep building on it. You want to be playing your best basketball in March, not November, and Pope has been drilling that into his side that includes Barcello, who has scored in double figures for seven consecutive games; Te'Jon Lucas, the Milwaukee transfer who posted a season-high seven assists on Saturday; and Gavin Baxter, the Timpview product who continues his return to full fitness after missing most of the past two seasons with shoulder and knee injuries.
It's not everything. But 4-0 still matters.
"It's a testament to how hard we work in the gym and just how much the team is a team," said Baxter, who scored 13 points on 6-of-8 shooting with five rebounds and two blocks in 14 minutes Saturday night, his best game since Feb. 2, 2019 against LMU. "How much other guys are willing to make plays for each other, it's really special and for now we just need to keep the momentum."
It will also help prepare the Cougars for a West Coast Conference slate that has opened the season on fire. Five of the league's teams are undefeated, led by 5-0 San Francisco and No. 1-ranked Gonzaga, while the 10-team league is a combined 36-11 to start the year.
"The league is good," Pope said. "San Francisco is 5-0 right now and they're in the top 40. Saint Mary's is undefeated and right at the top 40 in KenPom, and Santa Clara has some really good wins."
If you can't see the complete rankings below, click here.
No. 4 BYU soccer to host the other USC in Elite Eight
The fourth-seeded BYU women's soccer team also finalized the pairing for its fourth Elite Eight appearance in program history Monday.
The Cougars will host South Carolina in a national quarterfinal and regional final at 5 p.m. MT Saturday at South Field. The winner will advance to the NCAA College Cup — a place BYU has never been.
The Cougars edged top-seeded Virginia 1-0 on an early second-half goal by Cameron Tucker in Charlottesville, Virginia on Saturday, and Cassidy Smith made four saves to make it stand up. The regional also featured Mikayla Colohan's hat trick in a 4-1 win over Alabama.
Tickets go on sale starting Tuesday at 10 a.m. MT, with season ticket holders and Cougar Club members given priority access until 1 p.m. All student pass holders get in free.
The game will air live on BYU Radio. TV details are yet to be determined.
×
Related stories
Most recent BYU Cougars stories