Estimated read time: 5-6 minutes
This archived news story is available only for your personal, non-commercial use. Information in the story may be outdated or superseded by additional information. Reading or replaying the story in its archived form does not constitute a republication of the story.
SALT LAKE CITY — Utah Lake is both criticized and praised. The twin personality of one of the largest freshwater lakes west of the Mississippi sets the stage for political conflict, controversy over the environment and how best to manage it for not only decades to come but over hundreds of years.
Here are some of the key reasons Utah Lake has been a hot topic over the years and what is important to know, especially about a development proposal on the table.
1. The 3 man-made islands proposed for Utah Lake
A development proposal under review includes grand plans for multiple islands to serve recreational and wildlife needs, as well as a new residential and retail community.
These islands could offer sophisticated transit systems and a new way of living with smart homes and buried utilities. The development, the company says, emphasizes environmental restoration of the lake and would be paid for by economic development, without a taxpayer burden. That, proponents say, would turn Utah Lake into a world-class destination for tourists and residents.
Its proponents envision a future for Utah County and the lake that includes a vibrant residential community to help with the county's growing pains and boost economic development.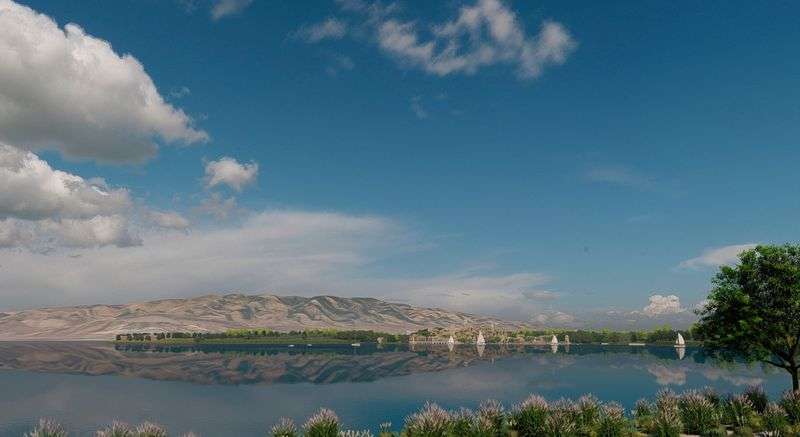 2. Utah Lake may be shallow, but its depth of controversy is deep
The lake is seated at the head of the table for many Utah lawmakers, local government leaders, developers, conservationists, wastewater treatment plant operators, scientists and even the office of Utah Gov. Spencer Cox. The wide-ranging and diverse interests of people who want to be caretakers of its future collide in what many would say is a symphony performed off-key because few can agree on a fiscally sound solution that meets everyone's interests.
For the proposal of man-made islands and a residential community to become a reality, there would be a catch. The state, under a 2018 law, would have to give up ownership of certain lands in and around the lake as long as certain conditions are met and federal approval is given to an ambitious dredging proposal to expand its depth for development.
Look for more discussion on this in the months to come, on top of what law has already set the groundwork.
3. Toxic concerns over Utah Lake
Forget seagulls. Harmful algal blooms have been the literal albatross around the neck of Utah Lake's reputation and its barometer of health.
While some in the ecological scientific community say they are on the decline and part of the lake's dicey and false reputation, the public, political and news media attention — as well as other scientists — paints a different story.
The blooms, accentuated by this drought, occur in stagnant water fueled by hot weather and excess nutrients of phosphorus and nitrogen. They have blossomed in many bodies of water in Utah over the years, but Utah Lake's problem has drawn particular attention due to the shore-to-shore public health advisories warning people to steer clear of the lake.
One study indicates the severity of the blooms, with extremely high concentrations of toxins, are renewing the focus to address the problem, including new controls for wastewater treatment plants that discharge into the lake.
4. Go fish? The one that nearly got away
Successful restoration efforts are part of Utah Lake's story, including the recent federal government's categorization of just how imperiled the June sucker fish remains.
The June sucker is endemic to Utah Lake. While once considered "endangered," it has now been downgraded to threatened.
The species was considered abundant in the early 1800s. The U.S. Fish and Wildlife Service said the first dramatic decline in the population happened in the late 1960s when 2 miles of the Provo River was dewatered killing 1,500 metric tons of fish.
In addition, hundreds of June suckers were lost in 1932 when Utah Lake was drained dry during a four-year drought. There were only 300 documented fish in 1999.
Since then, its wild population has increased significantly, with more than 3,500 hundred fish recorded spawning annually in recent years.
5. Utah Lake is huge, and its impacts many
Utah Lake is very large. It has 96,000 surface acres but only has an average depth of 9 feet.
It has an expansive watershed of nearly 3,000 square miles. It is fed by multiple rivers that include the Provo, American Fork and Spanish Fork rivers. In turn, it feeds the Jordan River, which dumps into a canal system supporting the Great Salt Lake.
The "lake effect" plays an important role in how Utah Lake precipitation behaves. It supports multiple marinas and is a destination for anglers and sailing. Its wide-open expanse contributes to warnings from the National Weather Service in Salt Lake City for high wind events that can imperil boaters, and there have been several tragic deaths over the years.
6. Your waste does not disappear with a flush
Is Utah Lake wasting away? Multiple publicly owned wastewater treatment plants discharge the treated wastewater into the lake, but many are 50 to 60 years old and are not equipped to filter out the nutrients of phosphorus and nitrogen, which have been detrimental to the lake's health.
The excessive concentration of these nutrients contribute to the formation of the harmful algal blooms. While the state environmental regulators have imposed a limit on phosphorus discharges, the rules won't be enough to keep up with the population surges in Utah County — the fastest-growing area in the state.
There has to be money, political muscle and ecological willpower to solve the problem — but will it be timely enough to right an environmental wrong and will residents be willing to foot the tab?
Correction: An earlier version incorrectly stated Utah Lake is 96,000 surface miles in size. It is 96,000 surface acres.
×
Related stories
Most recent Utah stories