Estimated read time: 3-4 minutes
This archived news story is available only for your personal, non-commercial use. Information in the story may be outdated or superseded by additional information. Reading or replaying the story in its archived form does not constitute a republication of the story.
PROVO — State wildlife biologists are reminding anglers at Utah Lake, Provo River and Hobble Creek to report and release any tagged northern pike they catch in those waterways — otherwise, they're instructed to kill the fish.
The fish species was illegally introduced into Utah Lake sometime around 2010. It quickly ballooned in population afterward and is cited — along with carp and white bass — as a predator for the threatened June sucker, a fish species endemic to Utah Lake.
The invasive species is also a predator for other fish species in the lake such as bass, walleye, catfish and panfish. The Division of Wildlife Resources has previously said that the fish is a problem because it produces quickly and sits atop the food chain in Utah Lake.
"Northern pike can do great harm both to the (threatened) June sucker and to some of the sportfish species in Utah Lake," said Keith Lawrence, a central region native aquatics biologist for the DWR, in a Friday statement.
"For that reason, we are asking anglers to assist us when they catch these fish by notifying us when they catch a tagged one and, if possible, providing untagged fish to us for diet analysis," he added. "That information will be extremely helpful in our efforts to document the impact of the pike and control their spread."
State wildlife biologists began a long-term study of the species last year so they could determine its seasonal locations and movements at Utah Lake and its two tributaries as they tried to figure out how to solve the problem. They tagged some northern pike and plan to continue collecting research on the fish species for at least a few more years, according to the wildlife agency. That means they will continue the report and release policy for as long as the study continues.
The fish, which have visible red tags on them, are tracked by transmitters that allow researchers to view GPS data. The division is asking anyone who catches northern pike with a tag to call biologist Dale Fonken at 503-730-9424 and provide the exact location where the fish was caught and the tag number. Any northern pike with a tag should be released.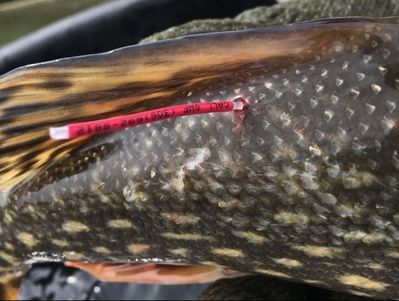 Any angler who otherwise catches a northern pike that isn't tagged is required to kill it because it is an invasive species. That's a policy that was instituted not very long after the species was first discovered at the lake.
But biologists say anglers can still help researchers by reporting any fish caught — tag or no tag. Lawrence said anglers who catch untagged northern pike are still encouraged to bring the fish to the agency's office in Springville, 1115 N. Main, or freeze it and contact the agency so a wildlife biologist can pick up the fish and review it for diet studies.
It also gives a chance for researchers to collect any tags that may have otherwise not been seen by an angler.
"If a tagged pike inadvertently dies, we would still like to recover the fish in case the transmitter can be reused," he added.
×
Related stories
Most recent Outdoors & Rec stories