Estimated read time: 8-9 minutes
This archived news story is available only for your personal, non-commercial use. Information in the story may be outdated or superseded by additional information. Reading or replaying the story in its archived form does not constitute a republication of the story.
SALT LAKE CITY — Standing in front of a classroom filled with crayons and artwork at the Horizonte Instruction and Training Center, Salt Lake City Mayor Erin Mendenhall explained that education at an early age is vital toward future success.
But the COVID-19 pandemic not only disrupted education, it also made it difficult for low-income families to balance work and child care. So when Salt Lake City was awarded close to $85 million in federal funds from the American Rescue Plan earlier this year, Mendenhall said finding ways to help students and families rose to the top of the ways to spend the money.
"High-quality early education has lasting benefits to the children that can change their trajectory for success — from social and emotional to academic well-being," she said. "Access to programs like this are just an investment in each child but also in our families and our citywide and even statewide economic strength."
Mendenhall on Monday revealed exactly how she proposes that federal funds be spent in Utah's capital city. While most of the money would go toward keeping the city fully staffed and its workers compensated, the mayor said Salt Lake City has a "once in a generation opportunity" for major changes — like helping students and families.
"This financial boost to Salt Lake City represents not just an opportunity for citywide recovery as we still bear through the pandemic but also a chance to make an investment that can create lasting, equitable and generational change for Salt Lakers," she added.
Not all of the money has arrived yet. The $85 million will arrive in two installments over the course of the next year, according to city officials.
Here is how Mendenhall proposes most of the money be spent:
About $55 million toward "revenue replacement" and Salt Lake City employee compensation
$10 million toward child care and early education at workforce training centers
$4 million toward a community grant pool for community-based organizations and local businesses
$4 million toward the creation of a Westside Community Land Initiative
$3.9 million toward the creation of a Salt Lake City Public Lands Park Ranger program
$2.9 million toward a community commitment rapid response program addressing homelessness
$1 million toward emergency winter homeless shelter operations anywhere in Salt Lake County
City officials reviewed the American Rescue Act over the past few months, figuring out how the money could be spent. The details of Mendenhall's proposal were given to the Salt Lake City Council last week and it will begin the process of potentially approving items of the proposal as early as Tuesday.
Finding help for students and families
The proposal unveiled Monday follows four "main themes," Mendenhall said. Those are "building community resilience," "community grants," addressing "homeless and public safety," and "taking care of our city."
She explained that some of the selected projects are the result of research conducted by the Salt Lake City Economic Development and the University of Utah's Sorenson Impact Center regarding ways the city could improve "economic strength" through investments. After about a year of research, they found — at least through its first phase of research — that investing in early childhood education and workforce training prioritizing single mothers had the greatest impact.
A child raised in poverty even for a short time, Mendenhall said, had an increased likelihood of living in poverty as an adult. The mayor added Salt Lake City is home to many people considered "at-risk" in census tracts; they are people who face the largest barriers to economic opportunity and are more likely to continue a cycle of intergenerational poverty.
At the same time, parenting is expensive. City officials found that parents in most Utah counties who earn "average income" may end up spending 10-20% of their household income per child. Other statistics show that more than half of two-parent households have both parents working and 83% of single parents work full time.
---
We can change lives and lifetimes with this funding.
–Salt Lake City Mayor Erin Mendenhall
---
All of the statistics combined indicate a need for "affordable high-quality" child care and also a program that could help parents land careers that pay more money.
"Our solutions have to be as dynamic as the hardships we're facing. And any successful intervention of this cycle needs to be targetted at multigenerational outcomes. ... It is hard work out there for working parents, I get it," Mendenhall said. "There's not a day that goes by when I'm not having to balance the needs of my family with my job. And compared to a lot of people in this city, I have it pretty easy."
It's why she proposed a large sum of the federal spending to go toward early childhood education and workforce training that can increase the wages for parents. The Horizonte Instruction and Training Center is an example of the type of place with programs helping children and adults that would receive federal funds via the city.
Additional ideas would come after the city receives a second round of funding to complete the $85 million in funds next year. Mendenhall said the city would also look to leverage funds from private investors in addition to the $10 million from federal funds.
"We can change lives and lifetimes with this funding," she said.
Salt Lake City park rangers?
A new Salt Lake City Public Lands Park Rangers program is among the new ideas that would be funded through the American Rescue Plan. Mendenhall said the pandemic led to increased visitation in the city's parks, resulting in a need for more staff members in that field.
One of the proposals includes $3.9 million toward the program, including hiring 16 park rangers. The rangers will initially serve at Fairmont, Jordan, Liberty and Pioneer parks, as the Jordan River Parkway.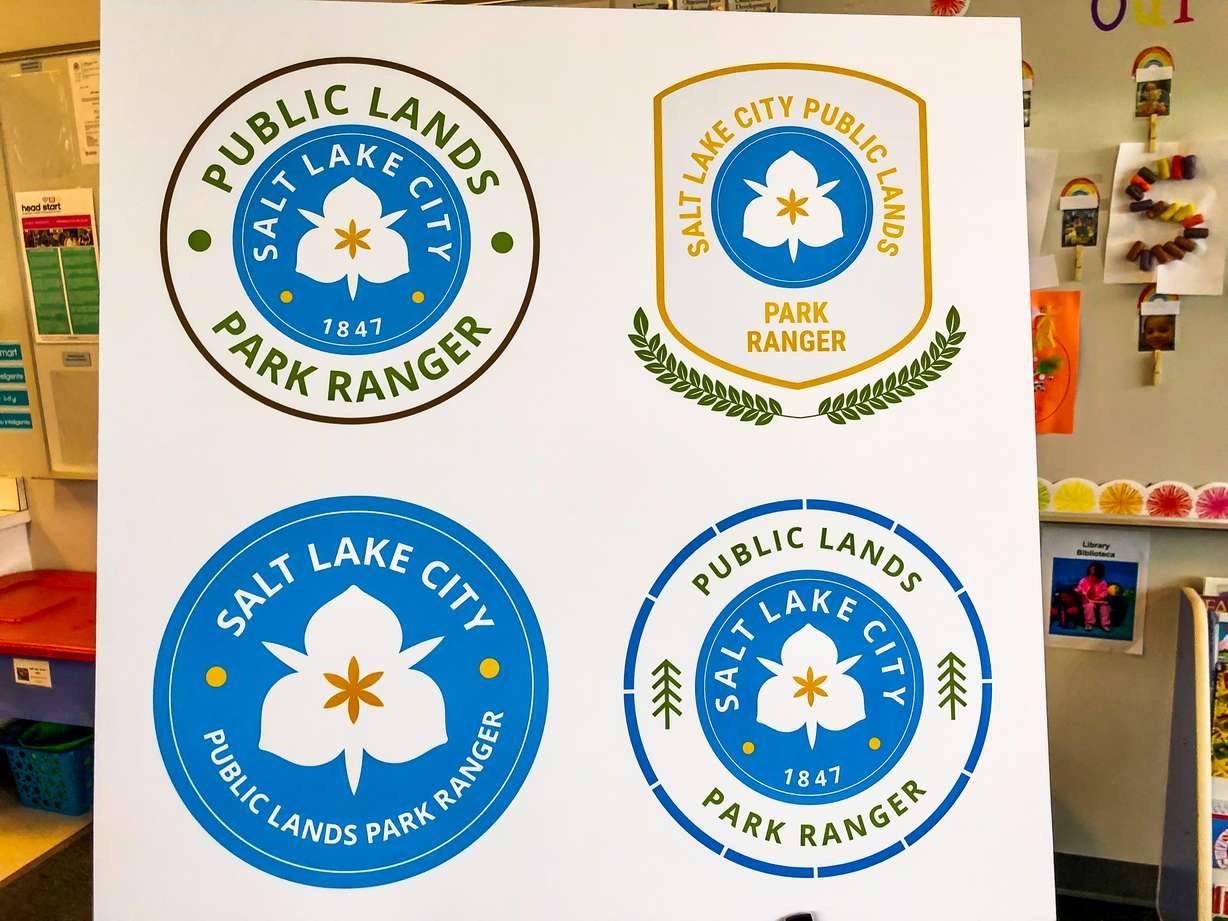 The rangers would hold a mostly informational role, serving in the same way Denver, Los Angeles and New York City have park rangers. They will also be taught how to render first aid and have a "direct line" to police and fire departments when needed, according to Mendenhall.
"Our rangers will be resources to park visitors. They'll have information on park history, area wildlife and natural resources," she said. "They can help with directions, park rules and public events and, perhaps most importantly, rangers will play an important role in addressing a very real concern I know our city residents have had for a long time, which is safety in these parks."
Other proposed spending
If Mendenhall's proposal is approved, most of the money would go toward Salt Lake City employment and employees. The plan would keep the city "fully staffed" and "paid a living wage" for their work. The bulk of the $55 million would go toward addressing "rising costs and falling revenues" since the pandemic began.
"When we were entering the pandemic, we went into a hiring freeze that lasted for about a year," Mendenhall said. "The demand for services and needs of city staff grew across the course of that year."
It's estimated that calls for service in Salt Lake City rose about 27% over the previous year across all departments. The mayor said the city lifted its hiring freeze early in 2021 and there isn't an exact number regarding how many jobs they are behind; however, it's estimated to be in at least the dozens. The Salt Lake City Police Department, for example, is down 55 paid positions alone.
The city would also spend about $4 million toward a community grant pool, which would be split up between the city's economic development and its community and neighborhoods departments. The mayor likened it to the "Tip Your Server" campaign that emerged last year to help bar and restaurant employees affected by COVID-19's economic impacts.
The program would allow community-based organizations to apply for funds that would help residents impacted by the pandemic — from helping residents pay for legal service assistance related to evictions to improve access to health care. Small local businesses showing proof they were impacted by COVID-19 will also have the opportunity to receive funds.
Another $4 million would go toward the "Westside Community Land Initiative," an urban land fund aimed at helping residents access affordable housing and homeownership on the city's west side. The plan calls for the Salt Lake City Redevelopment Agency to purchase and hold land "in perpetuity" so that housing remains affordable over time.
Per Mendenhall's plan, revenue generated from the ownership would then be reinvested in the fund to go directly back into the community.
"The initiative will include a shared equity homeownership program, giving residents an affordable way to get into home ownership and allow them to retain their portion of the home's appreciation should they sell, creating a stepping stone to financial independence," she added.
Another $3.9 million would go toward a pair of items tied to homelessness. About $2.9 million would go toward the creation of a "Community Commitment Program Rapid Intervention Team," which would respond to issues related to "smaller encampments."
City officials believe they will receive close to 6,000 reports of small homeless encampments this winter, triple the amount the city normally receives. The team would respond to the calls and offer resources to homeless individuals in need.
The city would also use $1 million in funds toward an emergency winter shelter anywhere within Salt Lake County. The money would be used to assist in operational costs and fund additional public safety and "neighborhood mitigation" near that shelter.
"Utah's homelessness is at a critical point," Mendenhall said. "Our city has and will continue to do our part but in order to make real progress, we need the willing formation of partnerships. We need both countywide and statewide partners to work collectively on its solutions."
Ultimately, it'll be up to the city council to approve the proposed ideas.
×
Related stories
Most recent Utah stories