Estimated read time: 7-8 minutes
SANDY — Real Salt Lake general manager Elliot Fall didn't correct the notion, but he didn't really confirm it, either.
The third-year GM has been asked over the past few weeks if hiring for the club's new full-time head coach was imminent, and he admitted it could be.
After all, if there were a time to hire a manager during the 2021 Major League Soccer season, now was it. RSL was in the midst of a two-week break between the 2-1 loss at Austin FC on Oct. 2 and Saturday's Rocky Mountain Cup finale against rival Colorado (7:30 p.m. MT, KMYU), so a coaching announcement made a lot of sense for that break.
In the end, it wasn't the right time, though.
Fall walked back some of his comments made in earlier interviews during a town hall with RSL supporters Thursday night at Rio Tinto Stadium, adding that a new hire could potentially be made by the end of the year — but the club is more fully focused on its current playoff push under interim manager Pablo Mastroeni. He did not confine the club's decision to a timeline.
"We still have part of the process to go through," Fall said. "We still haven't identified who it is we want to move forward with, and we're nearing the end of the season in a playoff push. We have to focus on this year as well. We have an opportunity to do something special now, and Pablo and his staff are doing a fantastic job. Pablo is a part of every conversation, as well.
"It's a balance in some ways, but it's also about keeping our focus on the field this year and then we will continue to work on what the best long-term is."
Mastroeni, for his part, is making quite the impression to have the interim title stripped from his position, too. Fall admitted that RSL essentially has to at least give him a look, while also adding that the interim coach has been kept in the loop with the hiring process throughout the organization.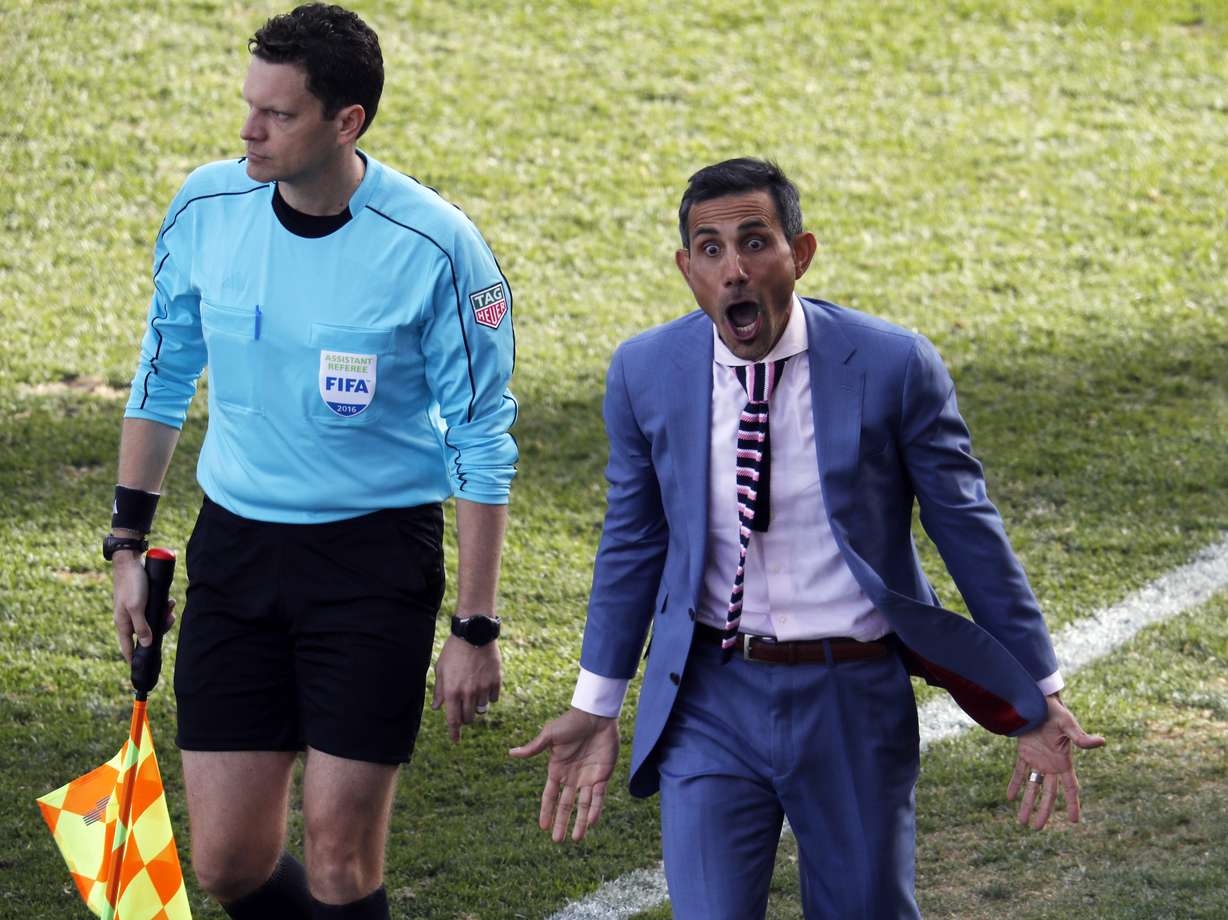 It's only fair as he runs the tactical side of the organization, whether he gets the full-time job or not.
But the former Colorado Rapids head coach has put together a 4-4-0 record in eight matches since taking over the club, and has RSL trending up at fifth place in the Western Conference standings, with an overall record of 11-11-6 and 39 points.
As Seattle, Kansas City, Colorado and Portland begin to pull away and slowly solidify a top-four finish, it's up to Real Salt Lake, LA Galaxy, Minnesota United, Vancouver, LAFC and San Jose to battle for three remaining playoff spots — with just six points separating the six of them.
So is RSL management carefully eyeing the job Mastroeni is doing with the current team? Of course they are. Real Salt Lake is focused on earning one of those postseason slots, after all.
But it's also not as simple as saying "win, and you're in," either. The club has reportedly reached out to a number of candidates, including former U.S. international star Landon Donovan, former RSL striker and manager Jason Kreis, one-time Houston Dynamo and San Jose Earthquakes manager Dominic Kinnear, and FC Dallas' Luchi Gonzalez, to name a few dropped by ESPN's Jeff Carlisle.
Some of the reports are accurate, others not so much, according to a source close to the organization that is keeping its cards held tight against the vest. So it's fair to say that Mastroeni is a candidate for a job that has many candidates, and one Fall expects to have concluded by the end of the calendar year — but not necessarily the end of the season.
Spoke w/#RSL GM Elliott Fall. Said RSL will try to make a decision on manager in "next 10 days to 2 weeks." Added there are 5-6 finalists. He wouldn't ID them specifically, but said they had spoken to: Mastroeni, Donovan, Kreis, Kinnear, Noonan as well as Luchi Gonzalez. (1/x)

— Jeff Carlisle (@JeffreyCarlisle) October 5, 2021
"I also don't think it's fair to say that what Pablo does on the field right now is the only thing that plays into it, either," the general manager said. "What Pablo does off the field and the conversations we have with him on a regular basis are as much a part of that conversation as anything."
RSL interim president John Kimball offered a candid assessment of the head coach field.
"I wish we could hire all of them," said Kimball, declining to speculate on specific candidates. "They're just amazing, talented people that we're talking to. And it speaks again to what these guys have done and what the club is, to have that caliber of coach really want to come here. I think it speaks volumes to what's going on."
Kimball, of course, has been busy in his own right. As the liaison between Real Salt Lake and Major League Soccer, which assumed ownership control of the club in January following Dell Loy Hansen's intent to sell, he's been in charge of conducting meetings and pitches with multiple investors — both local and national.
Kimball reports regularly to the league headquarters in New York City, but MLS commissioner Don Garber's office has also been fairly hand's off with the club's business affairs as they play in a season without an owner, and — since Freddy Juarez's abrupt departure to take an assistant coaching job in Seattle on Aug. 27 — without a full-time manager.
But it's been business as usual for Kimball, who worked at Real Salt Lake for a decade before leaving in 2013 to work in local media and, eventually, with the Utah Jazz and Vivint Arena since 2015.
"This group and our club have done such a good job at what they're capable of doing that the league doesn't have to step in," Kimball said. "I can't think of an instance where they (the league) have put us in check and said, 'don't do that.' They've supported what we've done, and we've been very proactive about strategy and plans.
"I think they've been impressed and have stepped back and let these guys do what they do. My role has been to just enable these people to do their jobs, and they're doing a great job."
MLS oversees the club, setting budgets and the likes in a similar way the league office oversees finances across the single-entity league. But they've hardly been a hand's-on temporary owner, either.
That includes in the ownership search, where Kimball has key responsibilities as investors eye the RSL first team, its second-division affiliate Real Monarchs, and the roughly $80 million academy and attached charter school in Herriman. Talks of reviving Utah Royals FC, the former National Women's Soccer League franchise whose players relocated to Kansas City in the Hansen fallout, are also part of the discussion, the long-time sports and media executive on the Wasatch Front said. Kimball is confident that the team he currently manages will have a new owner by the end of the calendar year — and it won't be one that wants to move the team.
MLS doesn't want Real Las Vegas or Real Phoenix; they want Real Salt Lake, even if it takes a little longer to find the right owner. Garber has extended his personal blessing to the club's local facilities, including Rio Tinto Stadium, Zions Bank Stadium and the academy complex — one of the first of its kind in North American professional soccer, and the league has promoted Salt Lake City as a successful smaller market that has grown to become a "soccer city" in America.
"The league is working very hard, and there have been a number of solid groups that are looking at the club," Kimball said. "Timing is a big factor as to when and how, but by the end of the year, that timing makes a lot of sense."
×
Related Stories