SANDY — Freddy Juarez's time with Real Salt Lake has come to a close.
With the club in transition and under temporary ownership by Major League Soccer, Real Salt Lake has parted ways with Juarez, the club announced Friday morning.
RSL assistant coach Pablo Mastroeni will coach the team on an interim basis. Real Salt Lake travels to British Columbia to face the Vancouver Whitecaps at 8 p.m. MDT Sunday.
"I've had the incredible opportunity to grow with Freddy in this organization over the last 11 years. It has been an honor and a pleasure to share this experience with him. We are a better club for the contributions Freddy has made, he leaves Real Salt Lake with a legacy that we will appreciate for years to come. He is an extremely talented coach who will bring passion and expertise to his next opportunity," RSL general manager Elliot Fall said in a statement from the team.
"Today we immediately begin an exhaustive search for the right person to lead our Club to our desired and expected levels of success. With our combination of talent, infrastructure, commitment to development, and the local relevance thanks to our incredible fan base, we are uniquely positioned to usher in a new era of growth and success for Real Salt Lake and the Utah sports community."
Later on a conference call with local media, Fall called Juarez's departure a "bittersweet day," and one that club officials and Juarez have only discussed over the past 48 hours. Even as RSL yo-yo'd through an up-and-down season that has them currently one point above the playoff line, the group collectively decided to postpone any talks of Juarez's long-term future with the club into the end of the 2021 season, the general manager said.
Fall seemed genuinely surprised that he was having the conversation Friday announcing the tenured employee's departure, and unequivocally stated that the club did not fire Juarez.
"Freddy and I have worked together for a long, long time," he added. "He's been here for over 10 years in many different capacities; he's grown up through the organization and with the organization.
"I think Freddy's body of work speaks for itself. His impact on this club is immense, and it will be felt for a long, long time. It was tough, it was emotional — but I'm happy for Freddy. He's a great guy, and a very talented coach."
The Athletic's Sam Stejskal first reported Juarez was leaving RSL to join the Seattle Sounders as an assistant coach. Juarez was in the final year of his coaching contract with RSL, and the Sounders had two positions open on Brian Schmetzer's staff.
In Seattle, Juarez reunites with former RSL general manager Garth Lagerwey, who is in his sixth season as general manager and president of soccer in the Pacific Northwest; and former RSL technical director and general manager Craig Waibel, who is now the Sounders' vice president of soccer and sporting director.
Presumably, Juarez saw some writing on the wall in regards to his option with RSL.

Also worth noting that he previously worked with Seattle execs Garth Lagerwey and Craig Waibel in Salt Lake.

— Sam Stejskal (@samstejskal) August 27, 2021
Without confirming Juarez's future, Fall said the matter came to the forefront and a conclusion swiftly after "we all sat down and realized this is where things were headed."
"Freddy expressed the desire to take an opportunity and to move on," he added, "so we worked diligently on our end to cross all the T's and dot the I's so that things work out ahead of the weekend."
The club has already begun its search for the franchise's next head coach, but Fall admitted that process is "only a few hours old." He declined to say if Mastroeni would maintain the interim head coach tag for longer than this weekend, noting that no timeline has been set finding a new manager. As the club is under the direction of Major League Soccer, interim president John Kimball and RSL's team of executives will work directly with commissioner Don Garber's office in the coaching search.
"Everybody in this building believes in the direction that we are headed," Fall said. "Everybody understands the position we're in, but also the project ahead of us and how exciting it is. We have a lot of opportunity; we've had the ability over the last year to really put some pieces in place.
"Yes, we're in a position of flux, in terms of ownership. But in terms of leadership, we're not in a position of flux. There are a lot of good people at this club, a lot of good people at the league office, and there is a really firm foundation for us to move forward. We're excited to bring the next coach of Real Salt Lake into that group."
One of the longest-tenured overall members of the club's leadership team, Juarez was the RSL Academy director when it was based in Arizona.
When the academy moved to the club's new state-of-the-art practice facility in Herriman prior to the 2018 season, Juarez had already begun the move to Utah in myriad coaching roles.
The 41-year-old native of Las Cruces, New Mexico, was the inaugural head coach of the second-division Real Monarchs in 2014, where he led the USL side to an 18-14-28 record in 60 matches at the helm. Juarez was promoted to an assistant coach with RSL in 2016 on Mike Petke's staff; and when the fiery former New York Red Bulls manager was fired in August 2019, Juarez stepped in as interim head coach.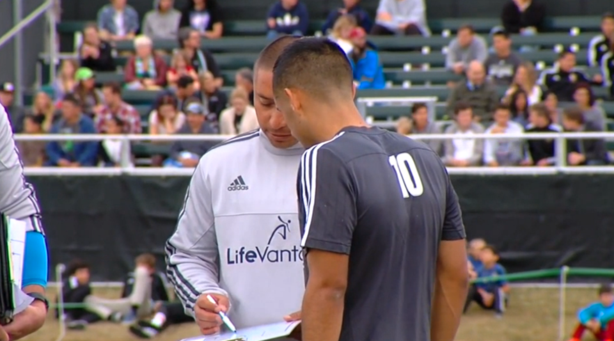 Among his developed prospects as academy director are RSL starting center back Justen Glad and previous standouts Brooks Lennon and Sebastian Saucedo, who have since moved on to Atlanta United and Liga MX, respectively.
In December 2019, RSL lifted the interim tag and officially named Juarez as the fifth head coach in franchise history.
"I've been with this club for nine years now," Juarez said at the time. "This has been my profession; my heart has been given to this club at every year."
Mastroeni, 44, joined Juarez's staff prior to the 2021 season after one season with Houston Dynamo FC under former U.S. youth coach Tab Ramos. The five-time MLS All-Star was previously the head coach of the Colorado Rapids in 2014, where he led RSL's Rocky Mountain rival to a franchise-record 58 points in 2016.
Fall wouldn't confirm if Mastroeni was a strong candidate for the full-time position, again pointing back to the recency of the decision. But he did elaborate on a few qualifications the team wants in its sixth head coach in franchise history.
"We're looking for a leader," he said. "We're looking for somebody who was going to come in and maximize the talent on this roster. We all believe that this is a club that has seen great heights in the past, and should be there again soon. We're looking for the candidate who can combine all of the resources here, from the facilities to the development to the investment in development and talent on this roster, and build what we believe should be a great organization for this wonderful fanbase."
In 55 matches in charge of the first team, RSL went 18-14-23 under Juarez, including a third-place finish in the Western Conference in Juarez's interim season.
The club struggled at times in 2020 — perhaps no more so than off the pitch, where former owner Dell Loy Hansen was forced out following an investigation into racist and misogynistic comments both privately and publicly and a toxic work environment — but was in playoff contention until Nov. 1 loss to the LA Galaxy in the club's penultimate match of the year.
Through 20 matches in 2021, Real Salt Lake was 7-7-6 for sixth place in the Western Conference, a one-point lead on the penultimate playoff spot, and a 1.35 points-per-game average that ranks eighth in the West.
×
Related Stories