Estimated read time: 6-7 minutes
SANDY — It's no secret that Real Salt Lake is in a time of significant transition.
But that transition is being guided by local club executives and personnel, and not the direct auspices of Major League Soccer that has assumed management of the club from former owner Dell Loy Hansen — or the ousted owner himself, general manager Elliot Fall said in an interview that ran Saturday afternoon.
Fall joined color analyst Brian Dunseth during the halftime show on KMYUof the club's match at Austin FC to discuss Salt Lake's concurrent ownership and coaching searches, as well as MLS's involvement in the club.
And when it comes down to any role Hansen may or may not have in RSL's day-to-day operations, Fall was particularly blunt.
"None. None that I am aware of," said Fall, a Salt Lake City native and one-time RSL communications intern who was promoted to full-time GM in 2019. "I have not spoken to him, he's not in the building. Every conversation we have as a soccer staff and on the business side is in-house, and then up through the league."
Several potential owners have been linked with the sale of the club, and some have even hinted at their interest on social media, at one point numbering a dozen, according to sports business publication Sportico, with Philadelphia 76ers co-owner David Blitzer among the more notable names. Ryan Smith, the co-founder of Provo-based Qualtrics and majority owner of the Utah Jazz, was thought to once be the lead candidate, but his interest has waned in recent months.
Same with JJ Watt, the NFL star whose wife Kaelia Ohai Watt attended nearby Alta High School before a standout career in the National Women's Soccer League. But Watt's interest was steeped primarily in Utah Royals FC, which the NWSL moved to Kansas City under new ownership.
Former Jazz owner Gail Miller and the Miller Group were thought to be among another interested party, but company CEO Steve Starks told the Deseret News in an exclusive interview that the Larry H. Miller Group of Companies is "not actively pursuing Real Salt Lake as an acquisition."
"We have offered our help to Major League Soccer and in any other way we can be of assist to them and want to make sure the next owner of Real Salt Lake comes in with the same sense of stewardship and community," Starks added. "We're here to help wherever we can, but we're not actively pursuing that position."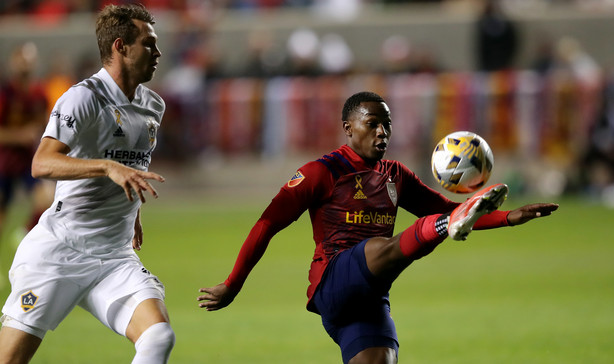 MLS commissioner Don Garber was confident at the start of 2021 that a new owner would emerge for the club by the end of the season. But as MLS approaches the final weeks of the regular season and around two months before MLS Cup, there's obviously some trepidation with the sale.
Nevertheless, the commissioner has regularly expressed optimism that RSL won't leave for another market — that keeping the "Salt Lake" in "Real Salt Lake" is a priority.
"Great market, great brand, two terrific facilities in the training ground and Rio Tinto," Garber told reporters in April during a preseason conference call. "I'm very optimistic at what will come to fruition, hopefully by the end of the year, in Salt Lake."
Even as the league runs operations of the 2005 expansion club, Garber's office has been mostly hand's off with the group. Yes, MLS will ultimately approve or deny every transaction of its franchise based in Sandy. But the day-to-day management is handled by a group including Fall, interim club president John Kimball, executive vice president of soccer operations Rob Zarkos and assistant general manager Tony Beltran, among others.
That includes transactions and player signings for this season and upcoming years, Fall added. RSL has made a number of signings since Hansen announced last year that he intended to sell the franchise he purchased outright in 2013. The club also hasn't received any "discretionary funds," or allocation money, but has received a certain level of autonomy in club matters, Fall added.
"We've been authorized to make the decisions that are in the best interest of this club in the long term," he said. "That is to perform an exhaustive search, and make sure we get the right person for this club in the short term, as well as for the long term.
"We consult with them on a regular basis, but they really have given us the autonomy and authority to do what we need to do."
In some ways, it's a similar situation Mastroeni faces as interim head coach. The 45-year-old former coach of the Colorado Rapids has expressed interest in the full-time job — though that's not his primary objective, he's been quick to add — but he's also been given "full support" to do what he needs with the current team, which sits fifth in the Western Conference with six matches remaining.
"It's a constantly evolving situation," Fall said. "We have open lines of communication with Pablo on a regular basis, and are supporting every decision that he makes. It is about, again, making the best decision for the long-term future of this club and this community."
Fall added that Mastroeni is "absolutely" on the list of full-time head coaching candidates, a list that approached "well over a dozen" before being whittled down to a core group of finalists, the general manager said in an interview with ESPN 700 Monday.
"We've spent an insane number of hours on it over the last month, month and a half. It's been a really exhaustive process," Fall told Spence Checketts during his drivetime radio show. "We've tried to be really diligent about being deliberate. Going through, asking the right questions, getting the right people, having conversations with all the right people — we had an initial round of interviews with well over a dozen people. We've narrowed that list down to finalists are in the process of doing those final round of interviews, and also scheduling some of the final round of interviews.
"We're trying to make the right decision, and the best decision for this club in the long-term. I guess the update is, we are well along the process. We've had a lot of great conversations, and I expect we'll have some more great conversations. Then we're going to have make a decision, what's best both short-term and long-term for the club."
Past candidates for the job include Mastroeni, former RSL coach Jason Kreis, retired U.S. star and current San Diego Loyal head coach Landon Donovan, former San Jose (et al.) coach Dominic Kinnear, Philadelphia assistant Pat Noonan and former FC Dallas head coach Luchi Gonzalez, Fall told ESPN's Jeff Carlisle. A final decision is expected in the next 10-14 days, he added.
RSL has two weeks off before re-engaging with the final stretch of the regular season Saturday, Oct. 16 against regional rival Colorado.
"I feel confident in saying that every candidate we have is a good coach," Fall said. "But it's about finding the right coach, as well."
Both for now and the future of the club. Even if that future feels undetermined in the current day.
×
Related Stories