Estimated read time: 5-6 minutes
SANDY — The fight was real, both on the field and on the sideline.
Real Salt Lake trailed far more often during its two-match road swing at LAFC and San Jose for interim coach Pablo Mastroeni's liking. But the end result — at least, the one at the end of the swing, standing on the pitch in front of a nearly speechless announced crowd of 9,636 at PayPal Park following his side's 4-3 win over the Earthquakes — was exactly what he'd hoped to expect.
So when Mastroeni grabbed team captain Albert Rusnak and embraced him for several moments — even to leave camera crews awkwardly waiting for an interview — the message of the emotion on his face was more communicable than the occasionally audible words picked up by the microphone that he told Rusnak, ones that aren't safe for print.
Mastroeni is a players' coach. And his players — the ones that were shocked and stunned just a few weeks ago when longtime RSL employee and head coach Freddy Juarez stepped down to take a job as an assistant coach in Seattle — are loving playing for him.
"I don't know about Pablo as a coach because I'm not in his locker room," RSL color analyst Brian Dunseth told KSL.com. "But I know Pablo Mastroeni is a leader of men. He always has been."
And to be sure, he's loving just coaching right now.
After the club's most recent win, before they flew out of San Jose and back to the Wasatch Front to face Seattle on Saturday, Mastroeni revealed that he had already met with team executives about the full-time job.
No decision has been made and Mastroeni didn't specifically say that he turned down the position. But what he did say is, perhaps, more interesting.
"What I said is that at this moment it's not about me," Mastroeni recalled. "It's about taking the group and making sure that we're moving in the direction that the club wants to move in, from a play perspective and a results perspective. If all of those things manifest in making it something that is long term, I am grateful for that.
"But the most important thing for me is not to focus on myself; it's not about me keeping the job, it's about giving these guys something that they enjoy, something that we can flourish in, and, more importantly, giving the guys the leadership to take this team and run it."
Real Salt Lake inched up the Western Conference standings with Wednesday's much-needed three points to a tie for sixth place with LAFC with 30 points — just one behind fifth-place Portland, but also only six points ahead of 11th-place San Jose with 10 matches remaining in the regular season.
The club is 2-2-0 since Mastroeni took on the interim head coach tag — hardly a perfect start, but enough that he's showing he can stabilize a ship that was as unsteady as they come in Major League Soccer.
Not only is RSL looking for an owner — the club is currently under MLS control while trying to find a buyer to purchase the team from Dell Loy Hansen — but now it needs a manager. Add to it the interim title of current team president John Kimball, and the unsteady nature of the franchise makes sense.
It was so unsteady that RSL couldn't offer Juarez his own job beyond this year, a main influence on him stepping down and taking a role on Brian Schmetzer's staff in Seattle.
Juarez needed stability. RSL needed stability.
Would it be ironic, then, if the club found some form of stability in the most unlikely of places — the interim coach?
But that's not the No. 1 concern for Mastroeni. He's just enjoying being a coach.
"I think in the last couple of games, the guys have been fantastic," Mastroeni said. "They are owning every aspect of the game, and as a coach, I think that's the most powerful thing."
Real Salt Lake (9-9-6) picked up a much-needed three points on the same day word leaked to The Athletic that former U.S. men's national team star Landon Donovan has already interview for the club's head coaching position. Donovan flirted with joining RSL near the end of his playing career as a Designated Player, but league rules eventually led to the scuttling of that plan.
Donovan, who is currently head coach and executive VP of soccer at the San Diego Loyal club he co-founded in the second-division USL Championship, is hardly the only candidate to have spoken to RSL, per the report. Legendary club figure Jason Kreis, who coached RSL from 2007-13 and led the side to the 2009 MLS Cup title, has spoken with team executives, as has Atlanta United assistant Rob Valentino, who was recently replaced as interim head coach earlier this year.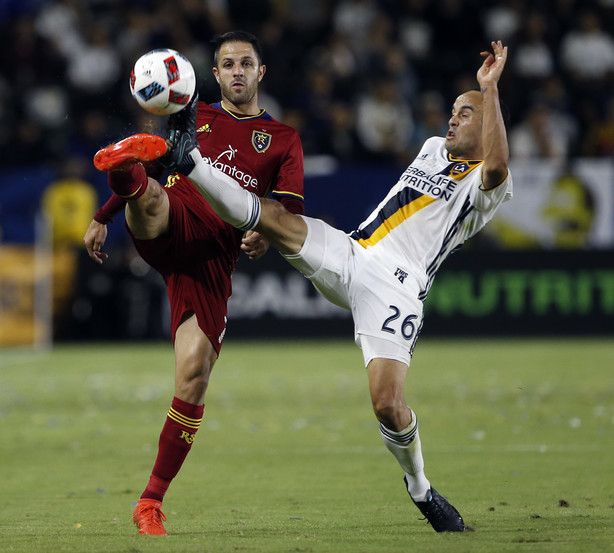 But RSL has a history of promoting from within, going back to when Jeff Cassar replaced Kreis following the latter's departure to New York City FC. Mike Petke was on the job for one match with Real Monarchs before replacing Cassar full-time at RSL, and Juarez was an assistant coach to both and interim head coach before being elevated prior to the 2019 season.
The results of each of those hires were a mixed bag, a cornucopia of playoff appearances and off-field issues that led to the franchise turning over five managers since 2017 after spending nearly a decade with just two.
That may be the reason that RSL decides not to promote from within, whether that's through Donovan or Valentino or Kreis or some unheard name as of yet.
But if it is Mastroeni — the third consecutive in-house hire at Real Salt Lake — he's making a significant case, at least from the players' perspective.
He is, after all, a players' coach.
"I think overall, Pablo has done a fantastic job making us take ownership and putting other teams on their heels, completely going forward and taking the game to them," said striker Rubio Rubin, who scored two goals Wednesday. "We showed it against LAFC and obviously the result didn't go our way, but then tonight we got the three points, which is the most important thing.
"I am just happy that we were able to get on the front foot and be on the attack and be able to create chances."
×
Photos
Related Stories