Estimated read time: 5-6 minutes
This archived news story is available only for your personal, non-commercial use. Information in the story may be outdated or superseded by additional information. Reading or replaying the story in its archived form does not constitute a republication of the story.
SALT LAKE CITY — Recent advancements in screening and treatment are making it possible for people to be treated for breast cancer more easily and successfully. One Utah woman is grateful she didn't delay care.
Peggy Huffaker turns 70 years old next year and is also celebrating her 50th wedding anniversary with her husband, Tim Huffaker — both are milestones she's not taking for granted after realizing how fragile life can be.
"I had had a mammogram the June before, and it was totally clear," Huffaker recalls. But on Feb. 28, 2020, she realized something wasn't right.
"Something said to me find the lump," she said. "My hand went right to it. I found the lump and had to gain my composure."
Huffaker had already endured both colon cancer in 2008 and kidney cancer in 2011. The thought of battling cancer once again was overwhelming.
"I couldn't believe it, I couldn't believe it," she said.
She went in for additional screening just days later and was grateful to also do a same-day biopsy at that initial appointment.
"We've all had tests that we've had to wait weeks and two weeks to get the results for, and that's horrible. It's like your life stops," Huffaker described.
Dr. Brett Parkinson, medical director of breast imaging for Intermountain Healthcare, said same-day biopsy was pioneered at Intermountain Medical Center a couple of years ago and has since been widely implemented across all Intermountain systems.
"We realized that our patients would come with a problem. They would have a palpable lump or something that we had discovered on mammography, only to be told they needed a biopsy, but we would have to reschedule them," he explained. "And that was very anxiety-provoking because sometimes depending upon the woman's schedule, if she had to take off work again, she would have to schedule for a week or two later."
"The psychological costs were enormous of those patients having to wait," he added.
Now patients get results back within two days. Parkinson said his clinic builds in time to allow for same-day biopsies.
"We want it to be the standard of care, because no woman should have to wait for a biopsy after she's been told she might have cancer, especially when one-third of those patients whom we biopsy will ultimately have cancer," he said.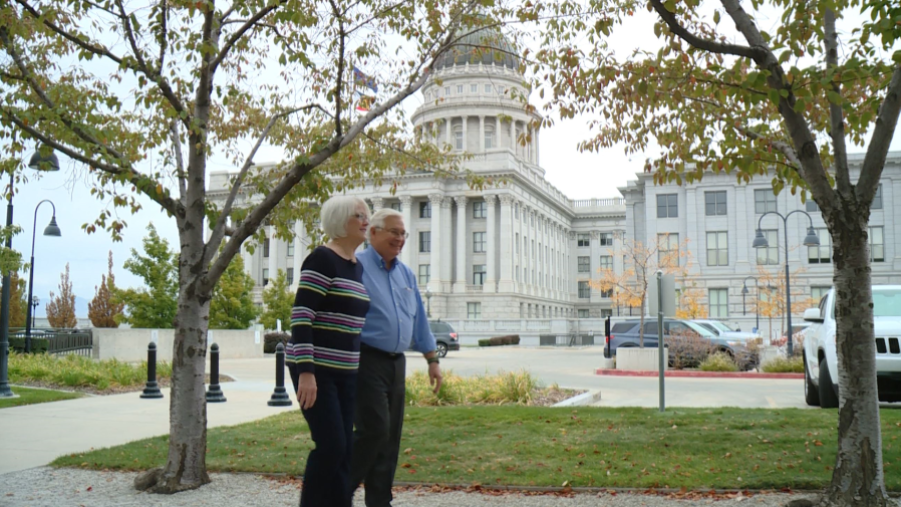 Huffaker also had a special localization marker called a SAVI scout placed in the tumor at the time of biopsy, eliminating yet another visit and reducing contact with caregivers during the COVID-19 pandemic. The marker uses radar-reflecting technology to guide the surgeon during a lumpectomy and replaces the old model of care which required the surgeon to use a metallic marker as a guide to place a wire in the breast to find the tumor.
"We place at the time of biopsy, while the patient is still anesthetized, a very small little clip that is activated in the operating room when the surgeon puts a probe on the breast," Parkinson said. "It makes for a more accurate surgery, because it gives the surgeon a reading of how far to go."
Huffaker was diagnosed with aggressive breast cancer.
She had surgery just 10 days after her first visit, followed by four months of chemotherapy, and a month of radiation. She is now on an estrogen hormone-blocking medication to keep her condition under control.
"You'd feel horrible one day and OK the next," Huffaker said.
She and her husband found peace walking around the state Capitol near their home, baking and sharing time with their four children and six grandchildren.
Though Huffaker was nervous to have her grandchildren see her bald, on one occasion she pulled aside her oldest grandson, Jackson, and showed him her head.
"I said, 'I'm doing this for you and your three sisters and your two cousins because I want to see you grow up,'" she said. "He got teary and just hugged and hugged … and it was very tender."
"It's fun to watch them grow and to see their personalities blossom. They're just wonderful grandkids," she said.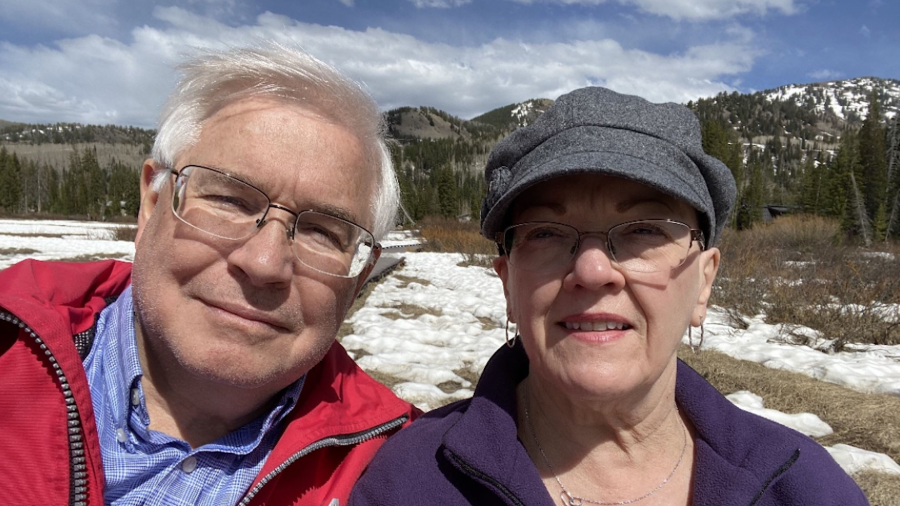 She and her husband also look forward to many more years traveling together. "I look forward to doing everything with her," Tim Huffaker said. "The best part of Peggy is that she loves everyone unconditionally and her life is not about her, it's about everyone else."
Today Huffaker's condition is stable and will be monitored. She urges women to not delay their screening. "Make your appointment and go!"
Parkinson said women 40 years old and older of average risk should go in for an annual screening mammogram and come in earlier if they find a lump or experience any other concerning symptom.
Huffaker was grateful she didn't wait until her next scheduled mammogram in June before seeking help.
"I didn't wait until my yearly mammogram — who knows what would have happened," Huffaker said.
"Modern medicine is fantastic but one of the keys to modern medicine is getting the examinations and being checked out," Tim Huffaker said.
Parkinson said screening is the best way to catch cancer in its earliest and most treatable stage.
"If you delay a screening, your tumor will grow, because breast cancers do grow. So we want to catch them very early on," he explained. "If a woman's cancer is found in stage zero when it's still confined within the duct… the survival rate approaches 100%."
×
Photos
Related links
Related stories
Most recent Your Life - Your Health stories