Estimated read time: 3-4 minutes
WEST VALLEY CITY — Deyanira Cerrito-Hernandez recently started selling her embroidery work in Utah. She says interest in her work is so successful it is helping fuel the desire to keep her culture alive.
"There is no greater joy than (to see) our culture, what represents us is there (in Utah) showcased in a different world," said Cerrito-Hernandez.
Hispanic Heritage Month is observed from Sept. 15 to Oct. 15. It's a time to celebrate the diversity and contributions of Hispanics, including Utah's Hispanic communities.
Fifteen percent of Utah's population now identifies as Hispanic according to the 2020 Census report, which estimates nearly 500,000 Hispanics live in the state.
Utah's Hispanic communities represent people from Spain, the Caribbean, Central and South America and Mexico — where we find the indigenous people known as the Hñähñu or Otomi. The Hñähñu live in the central Mexican region known as Valle Del Mezquital in the state of Hidalgo. That's where Cerrito-Hernandez, of West Valley City, originally comes from.
From the color of the thread to the placement of the needle, every stitch is carefully considered by Cerrito-Hernandez.
"You have to preserve the essence," she said. "Everything is perfectly drawn, including the iconography and geometric shapes. It takes mathematics."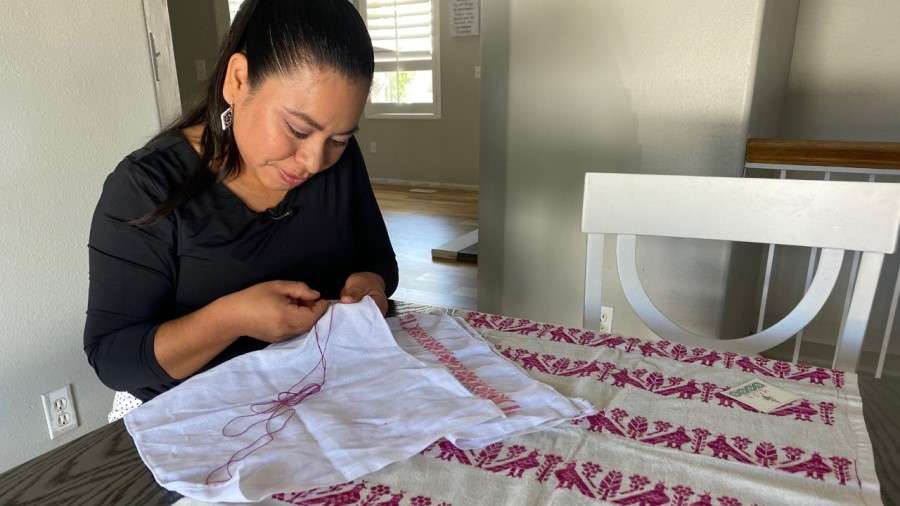 As part of her Hñähñu heritage, which incorporates motifs of doves, poinsettias and the agave plant in traditional needlework. She said she finds inspiration in birds and plants she grew up with in Central Mexico.
"It represents the plants and wildlife in the region," she said. "We learn the tradition growing up, then it's up to us as adults to decide whether we want to carry it on."
That's not the only tradition she's trying to keep alive. She still speaks Hñähñu her native language.
"For example, saying 'good morning' in Hñähñu is not the same as saying 'good morning' in English or Spanish. We say, 'God woke up with you.'"
In fact, she said it was teaching her daughter how to speak Hñähñu that inspired her to sell her embroidery work.
"It's the spark that set everything off," she said, explaining that it wasn't until people started asking about her clothing that she realized there was an interest in her needlework.
With support from the Artes de Mexico en Utah, an organization dedicated to showcasing the work of Hispanic artists, Cerrito-Hernandez said she started selling her needlework at various events earlier this year.
Cerrito-Hernandez has had so much success, she's helping other native artisans in Mexico sell their pieces in Utah. It's why she feels Utahns are helping to preserve her culture from nearly 2000 miles away and hopes that by creating an interest in authentic needlework, parents will prioritize passing down their culture to rising generations.
"There is no greater joy than seeing someone buy a shirt or a dress and showing them what the figures represent," she said. "I know when they ask about them that they value the needlework. You can't put a price on something that was uniquely handcrafted."
Every piece that Cerrito-Hernandez sells includes a label with the craftsman's name and how long it took to make the item. For example, the embroidery on a shawl took more than 24 hours.
×