Estimated read time: 6-7 minutes
SALT LAKE CITY — The water year at Utah's capital city fell at least 4½ inches below the 30-year normal for the second-straight year and third time in the last four years as a sign of the drought that still lingers over the state and West region.
But unlike the end of the 2020 water year, there is renewed optimism in Utah heading into the new water year. That's because monsoonal patterns returned to the Beehive State this past summer, closing the 2021 water year off at the end of the summer — with the hope that a good fall and winter to start the 2022 water year can help replenish drying reservoirs across Utah.
"We have been the beneficiaries of some incredible monsoonal moisture over the past two months ... while that doesn't impact our reservoirs right now, it will impact our reservoirs next spring," said Gov. Spencer Cox, during his monthly briefing with media Thursday.
Recapping the 2021 water year
Friday began Utah's new water year.
Jordan Clayton, the supervisor of the Utah Snow Survey for the Natural Resources Conservation Service, told KSL-TV that it appears the 2021 water year ended at about 77% of average precipitation, pushing it to the bottom 10th percentile of all time.
While calculations are still underway regarding the collective statewide 2021 water year, the preliminary numbers are in for Salt Lake City. Per National Weather Service data, 10.98 inches of rain was recorded at the Salt Lake City International Airport, making 2021 the 17th driest water year in the 147 years the agency has tracked the city's data.
The 2021 water year fell 4.54 inches below the normal of 15.52 inches set between 1991 and 2020. Interestingly enough, it almost mirrored the total of the 2020 water year, ending 0.02 inches ahead of it.
Late summer rains ultimately saved the water year from ending near the bottom of the city's record book. About one-fifth of Salt Lake City's entire 2021 water year came from August alone, which is normally the city's second-driest month of the year.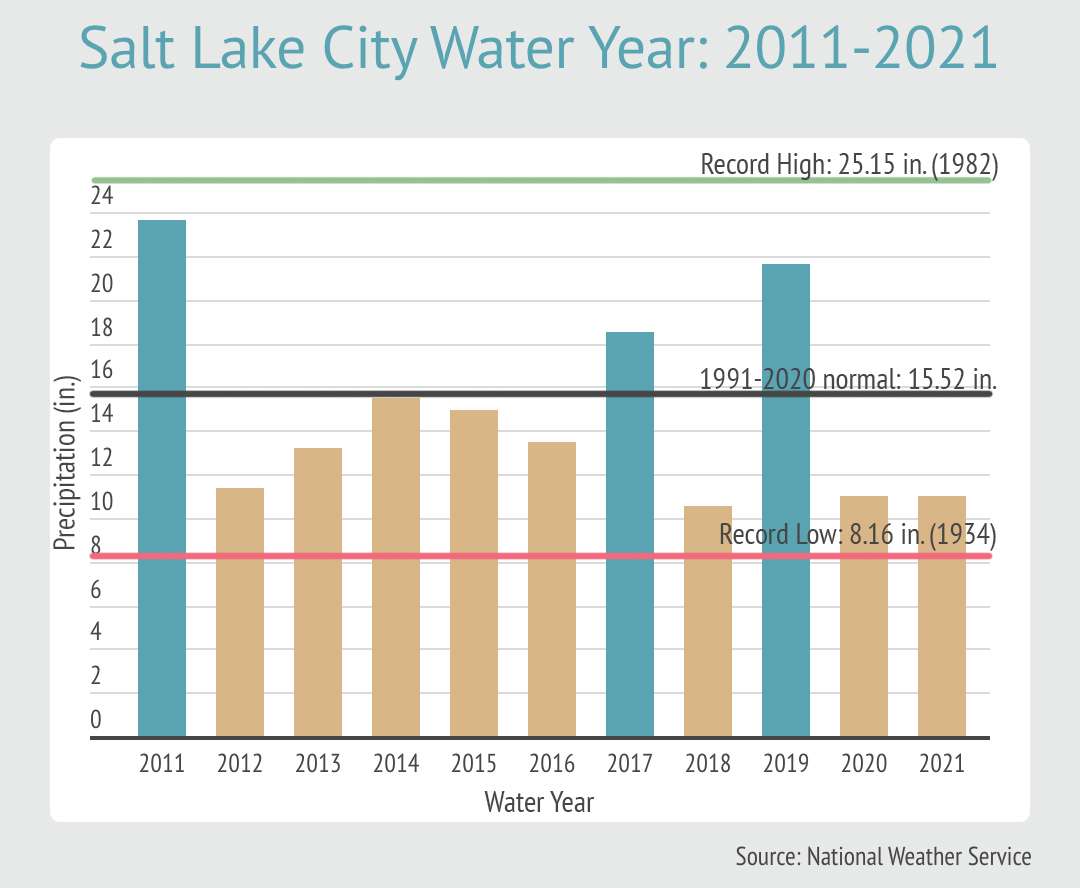 The weather service's station in Cedar City received 7.39 inches, which, despite flash flooding in the area this summer, is still more than 3 1/2 inches below normal.
Because the water year begins on Oct. 1, which is generally when the snow starts to accumulate in the mountains, the 2021 water year got off to a rough start statewide. For instance, there was just 0.62 inches of rain over the first three months of the 2021 water year in Cedar City; in Salt Lake City, it was 1.31 inches — more than 2.6 inches below the city's October, November and December collective normal.
That was bad because Utah's soil moisture levels had already fallen to a then-record-low 24.9% on Sept. 30, 2020, due to an abnormally dry spring and summer across the state. This meant that any rain or snow collected during the winter and spring this past water year ultimately went toward nature trying to recharge groundwater and didn't end up in the reservoirs as it should have.
"Because we had drought conditions in the fall, we had very little snow and what little snow we had — because of the moisture content was so low — went straight into the ground," Cox said.
After a below-average winter and spring, soil moisture levels fell to the lowest on record in June, he added.
It's a key reason why statewide reservoir levels are at 47% capacity heading into the 2022 water year compared to 67% heading in the 2021 year, according to Utah Department of Natural Resources data. They list 17 of Utah's 42 largest reservoirs at 20% capacity or lower, while another 13 are between 21% and 40% full, including Lake Powell at 30% — an all-time low.
"That's pretty low for this time of year ... but that's not the worst that they've ever been," Clayton said. "So again, it sounds bad, but not the worst."
Why the 2022 water year starts in a better position
The monsoons that arrived in Utah — primarily in July and August — didn't solve the problem related to the reservoirs nor did it overturn the drought. About 88% of Utah remains in an "extreme" drought and all parts of the state are still listed as being at least in a "severe" drought at the start of the 2022 water year, according to the U.S. Drought Monitor.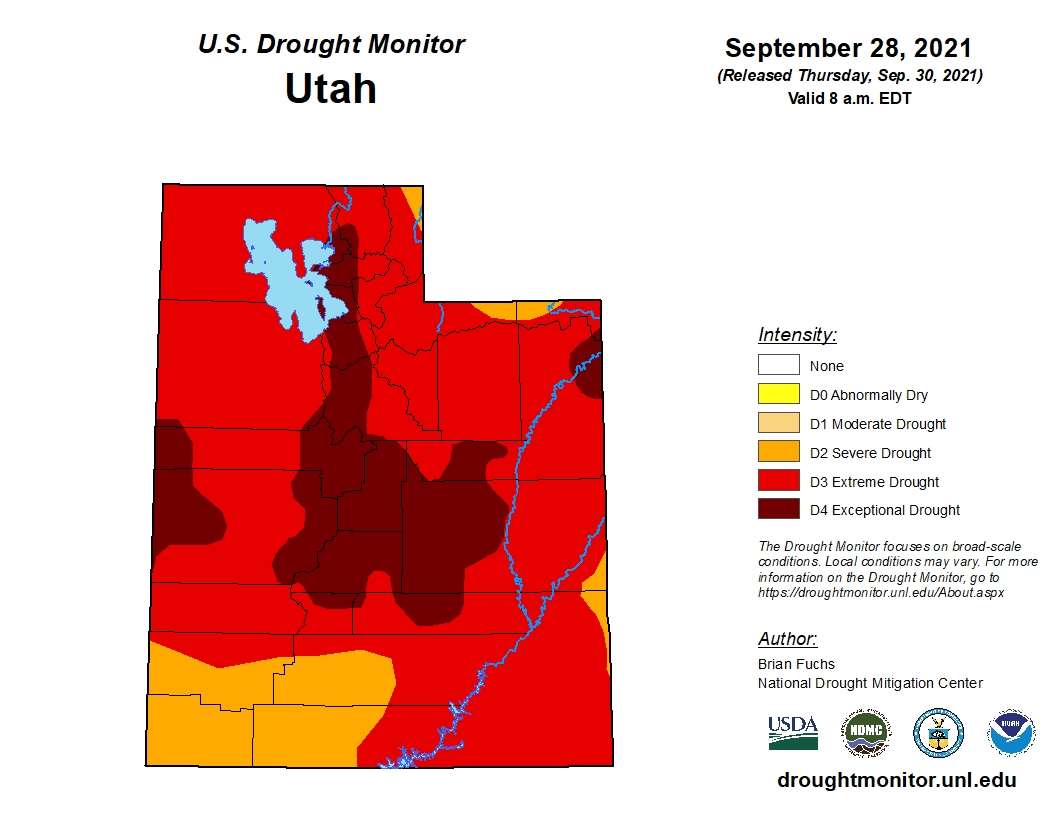 However, the monsoons, which Clayton described as "unusually strong this year," reduced Utah's wildfire risks and also laid the foundation for reservoirs to refill if Utah is able to receive a good snow season in the new water year. The Utah Department of Natural Resources reports that Utah's soil moisture levels have returned to 36%, which are much closer to the 37.8% average for this time of the year.
This means more of the water from rain and snowmelt is likely to end up in state reservoirs and not recharging groundwater.
"If we can go into our winter snowpack season with average, or above-average, soil moisture, we're going to get a better delivery of that snowmelt when it happens in the spring," Clayton said.
As for the start of the snow season, the National Weather Service Climate Prediction Center's outlook for the first three months of Utah's 2022 water year calls for warmer-than-average temperatures across Utah and dryer-than-average precipitation for most of the state. A northeastern portion of Utah is listed as in "equal chance" during this time period, meaning it's unclear if it will be dryer or wetter than average for the span of three months. The projections are based on emerging atmospheric trends and estimates, and not immediate forecasts.
Where Utahns made a difference
While there are signs that the 2022 water year be beneficial for the state's reservoirs, Clayton is also quick to point out that it likely won't solve all of Utah's water issues.
"It's going to take more than just one year of above-average snowpack to get us back on track," he said.
---
We're really hopeful that we won't have serious drought conditions heading into next year; but even if we have above-average snowpack, it's going to take a few years to replenish the water that has been lost during this drought.
–Gov. Spencer Cox
---
That's where drought mitigation steps during the 2021 water year have helped. Cox said state officials anticipated reservoir levels to reach record lows statewide this year but that wasn't the case because residents, businesses and government entities found ways to reduce their water consumption.
The governor said "billions and billions and billions of gallons" were saved this year because residents cut back on outdoor watering and water waste. Since there is no definitive way of knowing how successful the 2022 snow season will be, those cutbacks are critical.
"That's made it possible so that if we do have drought conditions extending (through) next year, we will have drinking water available," he said. "We're really hopeful that we won't have serious drought conditions heading into next year; but even if we have above-average snowpack, it's going to take a few years to replenish the water that has been lost during this drought. We still have a long ways to go, but I can tell that we're breathing a bit easier now than we were just two months ago."
With more and more people moving into the state creating a larger need for water supply, Cox added that he plans to work with the Utah Legislature on some key issues regarding water in future legislative sessions. Those issues include the division of water along the Colorado River Basin and help for the drying Great Salt Lake ecosystem.
Contributing: Jed Boal, KSL-TV
×
Related Stories